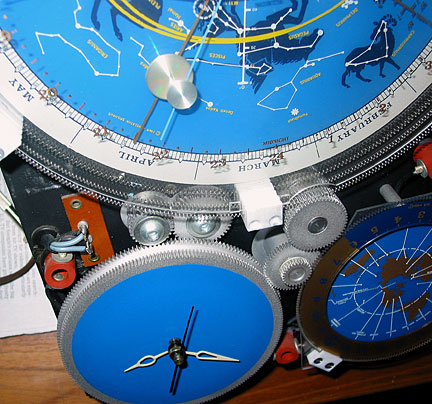 Spilhaus Space Clocks
One spring day in 1964, next door neighbor Jimmy Lohman flashed me a copy of the Edmund Scientific catalogue like bait, and ran towards his house.
I followed him inside and upstairs, where cuddling on his bed, we pored over a candy store of neat scientific gadgets assembled by Norman Edmund.
One hundred plus pages of magnets, prisms, little electric motors, telescopes, binoculars, black lights, chemistry sets, solar cells, all fueling our young minds with ideas.
For the first time, a huge two page spread advertised an elaborate electric "Space Clock" with three dials.   The lower left dial an ordinary 12 hour clock, like the one high on Jimmy's kitchen wall.  At lower right, surrounding a round world map, a blue and gold bezel with 24 time zones made one revolution daily.
Above those two dials, the showpiece main dial dished out a double barrel shotgun blast of information.  Five clear plastic disks, each edged with different numbers of gear teeth, rotated slowly and independently through an ungodly complex gearbox.  Each disk, lovingly detailed with color star maps, calendar dates, constellations, sun and moon symbols, tide scales, sunrise / sunset lines, plus whatever else Dr.Athelstan Spilhaus's overactive mind could think of to cram in there, all beautifully mounted in a solid cherry wood case with thick polished brass housing
One hundred fifty dollars FOB Barrington, New Jersey was a chunk of money when quarters were still made of silver, far above Christmas or birthday present range.
From that moment on, I eagerly watched our incoming mail for each new Edmund catalogue.  Brother Brad and I noted over the years how Dr. Spilhaus's clock climbed steadily in price, staying well beyond our reach no matter how much we wanted one.
Nearly 2000 clocks were made until production ceased in 1976, a victim of declining interest in "space" and climbing production cost.  As clocks aged, their numerous nylon gears outgassed and crumbled. Once produced in tens of thousands for Bell Telephone switchboards, the little 48 volt slide lamps illuminating that gorgeous blue main dial at night went out of production and became hard to replace. Edmund stopped repairs and spare parts sales. Original owners began dying off. Heirs stuffed inoperative old clocks into closets and attics to collect dust.
Along came EBAY.  Heirs quickly discovered that even broken Spilhauses with burned out lamps easily fetch $500-$600 in 2006 dollars.  Michael Sands in San Jose, son in law of an original owner, made it a labor of love to restore Spilhauses. 
I recently obtained two Spilhauses, one for me, one for Brad. On my unit, a superb machinist had long ago meticulously re-machined ten nylon gears and matching nylon housings in solid billet aluminum.  Micro Precision Parts of British Columbia made me a set of replacement delrin gears for brother Brad's clock.  Scrounging around old electronics stores turned up a small supply of telephone slide lamps in dusty boxes.
Brad once told me 12 years ago that as a realtor, he has been in a thousand homes and never once saw a Spilhaus on the mantle.  His fully restored Spilhaus, complete with plenty of spare lamps, will soon be on its way to his Massachusetts home.
Brother Brad does not know anything about any of this  ……. Yet !!
Bruce King