THE STAR AND CALENDAR
DISC (E) . .. HOW TO READ IT
This disc rotates counter-clockwise slightly faster than the Sun Disc (D), and the advance is shown to be one division on the calendar for each full revolution by the sun. The gold line through the sun points to the correct day and month as it appears on the star disc.

The stars and constellations are visible at your location whenever they lie within the light blue ellipse which represents the horizon on Disc (B).

The light blue arrow on Disc (E) points to the correct sidereal or star time. Sidereal time is read from the gold hour numerals on Disc (B).

Furthermore, the gold circular shape on Disc (E) is used as the reference for reading time of sunrise and sunset.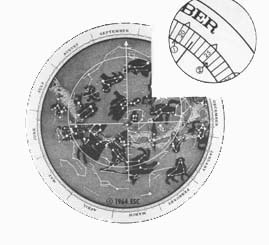 SETTING STAR AND CALENDAR DISC (E)
Setting this disc is very easy. Hold the gold knob on the back panel and rotate the
blue knob until the correct month and date on Star and Calendar Disc E is aligned
with the gold line through the Sun on Disc D. See magnified view of calendar in il-
illustration above. Midnight is the blue line (1.) between two day areas. Noon of each
day is (2.) the center of the rectangular white area. In the magnified view above, it
is noon of the 22nd day of the month.
More pictures of Spilhaus Space Clock and how to repair it.