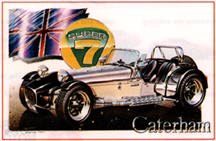 caterham cars, the company
Caterham still makes the cars today. They have expanded the distributors to include two and are now in the process of establishing dealerships. I know of one in Florida, Michigan, Texas, and California. Here is a specification sheet prepared by Robert Keller. Note prices and components were current in 1995.
Caterham Cars
Seven House
Town End
Caterham Hill Surrey
CR3 5UG
UK
phone: +44 883 346666
fax: +44 883 349086
---
United States Distributor
Rocky Mountain Sportscars, Inc.

1212 West Custer Place
Denver, CO 80223-2319
USA 720-570-3700
hal@rmsci.com
http://www.rmsci.com/