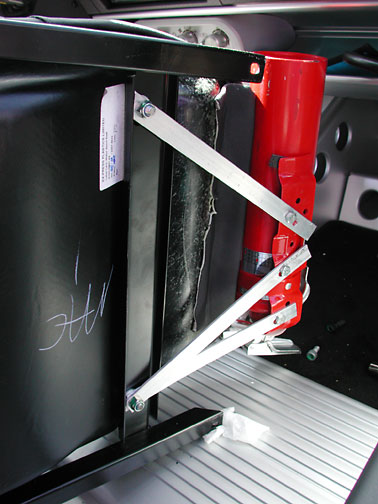 Caution: This section includes various modifications made to the Lotus Elise. Do not perform these modifications unless you know what you are doing. We accept no responsibility for damage to you or your car.
Modifications
These are some of the modifications we have performed on the Exige. Some are for cosmetic reasons, such as removing the LOTUS letters on the back, and some are to make the car safer and easier to drive. The EliseTalk community helped with ideas, pictures, and words, and I strongly recommend participation if you are going to maintain or modify your Exige.
driver's seatThe seat is raised one inch.
fire extinguisherA fire extinguisher is mounted in front of the passenger seat and using the existing seat mounting studs.
air hornreplace the original horn with a louder air horn
111R wheelhow to replace the Federal steering wheel with the steering wheel from the 111R European version. (many pictures, lengthy download time)
upgraded stereohow to replace the original equipment sound system in the Exige with a component speaker system and amplifier
---
See also: