Process of Restoration
The Sands Mechanical Museum offers restoration services for coin operated games. We do museum quality restorations and specialize in older games, usually manufactured between 1930 and 1960. We are now retired and are finally getting around to restoring our own games.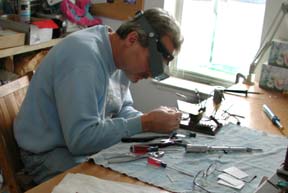 Museum Quality Restoration
Museum quality restorations are available at the Sands Mechanical Museum.
Equipment
I try to use as many of the same methods in fixing a game as were used to manufacture it. I do not have the same scale and there are certain things that need to be sent out to complete. See below for things that cannot be done on site.
jeweler's lathe (Vigor)
air brush (Paasche)
small welding set (Oxygen and Propane)
ultrasonic cleaner (Healthsonic and L&R)
tumbler (Thumbler's Tumbler, Ultra-Vibe 18)
bench grinder (buffer, Ohio Forge)
oscilloscope (HP and Tektronic)
digital volt meters (Fluke)
soldering irons (Weller)
small power tools (drill, saw, sander, rotary tools like Dremel)
digital level
hand tools (Sears and Snap On, mostly)
computer (Macintosh, PC, scanner, laser and ink jet printers)
digital camera (Nikon) (used to document and reproduce graphics)
bead blast cabinet (Chicago (junk) and compressor (Campbell Hausfield)
fire extinguisher (American La France)
Links
There are many sources of information on the Internet, including Pinball Pasture and the rec.games.pinball news group. The news group provides access to many pinball enthusiasts and repair professionals.
cfh This site provides detailed information on how to fix and maintain your pinball machine.
prewar pinball group This site contains great prewar pinball information and a pointer to the Yahoo Group, prewar pinball.
Partners
There are many restoration professionals. I have seen some of their work and will not hesitate to recommend some of the good ones. If possible you should seek out a service in your local area. Please contact me for references.
Patent Searches
The patent often contains a wealth of important information for a restoration. They contain mechanical drawings of many of the assemblies, schematics, and descriptions of the operation of a game. Most interesting are the objectives as described by the engineers themselves.
There is a branch patent office near the Sands Mechanical Museum and patent searches are available. The easiest searches result if there is a patent number on the game. Patent numbers on the coin slide are for the slide itself and are not helpful in obtaining information for the game itself. When no patent numbers can be found, company names, designer, and engineer names are often used to find games or mechanisms. Finding one game will often lead to other games.
I have significant patents for the Ray-o-lite system as used in Seeburg's Shoot the Bear and some from Stoner, manufacturer of pinball machines.
Patent searches can be completed at a discount and copies provided at minimal cost if available.
Restoration Notes and Articles
The following games have been restored at the Museum. Notes have been compiled for all of them and articles are provided with the games that show a link. Notes are provided only to the owners of the games.
Shoot the Bear (Seeburg, 1950)
Baffel Ball (Gottlieb, 1932)
Builder Upper (G. M. Laboratories, 1935)
Chicago Express (Daval Manufacturing, 1938)
Contact Jr (Pacific Amusement, 1933)
Drop-a-Card (Gottlieb, 1971)
High Speed (Williams, 1986)
Jigsaw (Rock-ola, 1933)
Jungle Lord (Williams, 1981)
Knockout (Gottlieb, 1950)
Ritz (Stoner Manufacturing, 1938)
Sportsman (Jennings, 1938)
World Series (Rock-ola, 1933)
Skills
Ray-o-Lite Systems used in Seeburg's Shoot the Bear
I have the diagnostic equipment and knowledge to rebuild and diagnose the Seeburg amplifiers used in the Ray-o-Lite systems. I have reproduced the transformers, a weak component and have a supply of cog belts used in the game.
Backglass Reproduction
I am working on a method of reproducing backglasses in small numbers. The paint used originally on pinball back glasses did not adhere well to the glass. Wide variations in temperature and humidity causes the paint to crack and flake off the glass.
Silk screen was the original method used to create and duplicate backglass art work. Stencils are created for each color and sequentially placed over the glass. Paint is applied through the stencil. This is expensive, time consuming, and requires a run of over 150 glasses to be cost effective. Often the art work is not reproduced faithfully. Glasses cost between $150 and $200.
Glasses from the 1950s seem particularly prone to flaking paint.
I am investigating a different method, using modern computer technology. I have tried various techniques with some success. My goal is to provide a low cost method for one or two glasses at a reasonable price.
An original glass can be scanned into the computer. The glass is placed on a flat bed scanner and portions of the art work scanned into the computer. These sections are stitched together, resulting in art work in the computer with a resolution of 300 dots per inch. While artwork can be brought into the computer from a digital photograph, it is not an ideal solution for a number of reasons. Often a flash is used and causes a reflection. There are also geometric distortions because the camera was not perfectly perpendicular to the glass and the lens has aberrations.
Once the image is in the computer, various applications can be used to fix problems in the art work. Photoshop, by Adobe, is excellent but needs the addition of some sophisticated selection plugins. Currently this effort is labor intensive, sometimes requiring many hours to fix the image.
Once a perfect image of the glass is in the computer's memory, the file can be taken to a computer service bureau and a Laser Master output produced. This is a transparency and can be sandwiched behind a plain glass. A mask, where light is obscured from shining through may be needed as well.
The LaserMaster output will cost somewhere between $80 and $40, depending on the size. Labor to create the perfect image in the computer is charged at $55, and may require 10 hours or more, depending on the complexity of the art. Any number of images can be created from the result.
Cleaning
Cleaning is complicated. It is dependent on a number of things, like the material being cleaned, what the dirt is, how accessable the dirt is, and how clean the item needs to be. I wrote a quick guide to the methods I used most often.
Cleaning can be fun, when I have a peaceful minute. Taking a game that is dirty and worn out from years of use and enjoyment, cleaning it and adjusting it, and making it like new, is relaxing and provides me a great amount of pleasure. Then the game can be enjoyed and appreciated for many years to come.
I have to admit I occasionally use modern technology to clean. I have an ultrasonic cleaner, a tumbler, and various media to use in both. The best method continues to be cleaning by hand. A variety of brushes, including the toothbrush, and a variety of cleaning agents are most often used.
Please do not clean pinball leaf switches with a file! You will ruin it, literally. The contacts on many games are gold plated. This prevents oxidation and allows a good electrical connection to be made. Clean the contacts with a rough business card or cheap paper plate cut into strips.
Things I Avoid
I generally try not to do the following. I can complete restoration work that requires these activities but will generally subcontract the work. I welcome inquiries from other restoration people that specialize in the following:
welding: I can do small brazing and soldering. I do not have welding equipment. I can do soldering which will repair some castings and other metal parts. I use TIX for example.
chrome: Chroming requires strong chemicals and special processes.
cabinet work: I do not have the precision woodworking equipment to do large cabinetry work. I can do some minor woodwork, such as replacing doors or restoring existing wood.
painting: I try to avoid large painting work. I can paint small areas and also I specialize in color matching and air brush work. However these are small areas on an existing base. Large cabinet paint requires equipment I do not have.
Restoration versus Preservation:
Denise McCluggage wrote a column for AutoWeek Magazine on September 22, 2003 that talked about the differences between restoring and preserving automobiles and specifically about the Monterey Weekend.
A wondrous thing it is to walk around a gleaming vintage car wrested to dimension from baskets of rusting parts. And, too, it's indescribibly moving to spot across the lawn a relic bearing it originality with ineffable dignity. Preservation joins a fading yesterday with the present in an evocative continuum of life. Restoration evokes an era with an unavoidable dimension of myrth in its perfection. Which is most important depends on which is most relevant to a car's survival.

Also important: the active realization of a car's function. Its need to be driven.
---
The Sands Mechanical Museum
Michael Sands and wife
1652 Kennewick Drive
Sunnyvale, California 94087
USA
phone: +1 408-773-1170
email: