Coon Hunt
Seeburg 1952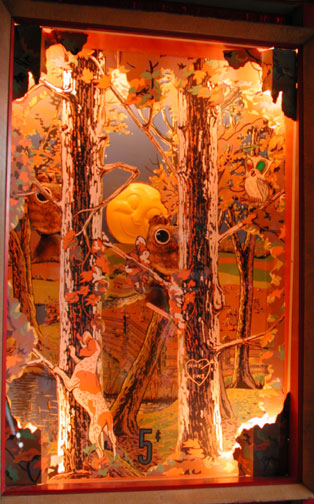 The Coon Hunt by Seeburg was one of the last in a long series of Rayolite rifle range games. The two raccoons would run up either side of the tree, hid behind the tree and fall to the bottom, and then start again. Upon being shot, the coon would squeal and hid behind the tree until the player shot at the other coon or the other coon reached the top.
The mechanism, which I call a transmission, is one of the most complicated purely mechanical devices I have worked on. There are planetary gears, locking solenoids, spiral cut screws, and differentials. The adjustment is critical on all components and figuring out which to adjust is very difficult. I have not figured out a way to animate it and put it in my mechanism section. I do have a QuickTime video.
As a result the restoration is one of the most complicated I have encountered, from a mechanical perspective. It is like rebuilding a tranmission in a car and is complicated by some difficult adjustments to make the coons move correctly.
I will write an article detailing the restoration soon. I also provide information on how to setup and test your restored Coon Hunt. I do not recommend plugging in a game that has been sitting for some time, just to see if it will work. See an explanation of why included in the Coon Hunt setup article.