Driving Force Steering Wheel
Logitech 2001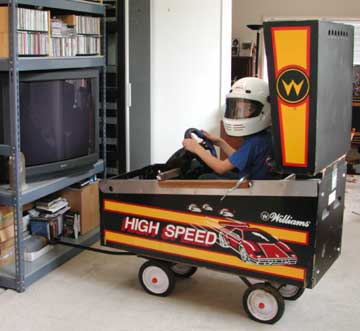 I always liked this picture. My son is sitting in a High Speed pinball cabinet, holding on to the Logitech Steering Wheel and playing Gran Turismo 3 on the Playstation 2.
I really enjoy driving and have had several exotic sports cars. Playing GT3 was fun, and while not the same as really driving on the track, it is lot less expensive. I took my wife's BMW M3, my Lotus Seven, and my Honda NSX to Laguna Seca on many occasions and was very familiar with the track. It was fun comparing the real experience with the video game.
As I progressed in the game, I found I was having problems braking as hard as some of the competing cars. I was attempting to get all golds in the various license tests and found it getting very difficult when trying to do so for my Super License. In looking at the replays, I found I was unable to brake 100% even when I was pressing the pedal all the way.
Research shows this to be a known problem with the Logitech Driving Force Steering Wheel, even though it was designed specifically for this game!
I designed a fix for the problem, called the GT3fix. After some experimentation, I found the reference voltage to the analog to digital converter was not a full five volts. I thought I might add a bit of voltage to the reference wires in the hopes of getting full braking. I was lucky and it worked. I designed a solution that plugged between the pedals and the wheel, allowing people to make it and not dig into the guts of the wheel.
I get 400 hits a month on the fix page on my web site, demonstrating the problem is of interest to some people. I get the occasional request to build one. I get lots of feedback from others that have built one. I hope it is not a problem with GT4, which I eagerly await!