Lotus Elise: Autocar and Motor
January 5, 1994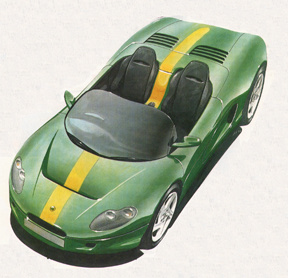 A SCORCHING new mid-engined Lotus 'Seven' capable of out-sprinting a Ferrari 512TR will go on sale in spring 1996.
The two-seat roadster will be a back-to-basics, no-frills sports car that's high on driving enjoyment and low on creature comforts. The target price is £20,000.
A functional interior and a very basic canvas hood will ram home the message that the new Lotus is for serious drivers who thrive on rapid, opentop motoring.
Engineers at Lotus's Hethel headquarters are working furiously to finish the concept stage, after getting the go-ahead for the project from parent company Bugatti at the start of December. A detailed specification will be drawn up next month.
One of the main targets is a stunning power-to-weight ratio of 300 bhp per tonneñ compared with a Ferrari 512TR's 285 bhp per tonne.
This should be enough for a 0-60 mph time of 5sec and a top speed of 1 40 mph-plus.
The styling of the bodywork could come from any number of sources. Lotus, under chief designer Julian Thompson, will put together its own proposal, but Bugatti has asked other designers to come up with alternatives.
Thompson is thought to favour a bang-up-to-date design rather than a retro look.
A mid-engined layout has emerged as favorite over the 36-year-old Seven's traditional front engined, rear-drive design and should endow the new Seven with balanced handling and grip to go with the stunning performance.It will also keep costs down by allowing Lotus to buy an existing front transaxle off the shelf and slot it behind the driver to give an instant mid-engined layout.
At the moment Ford, Rover and Vauxhall are the favorites to supply the powertrain. In the running are Ford's Zetec, Rover's K-series and Vauxhall's four-cylinder Ecotec.
Lotus is familiar with the engines through its consultancy business. For example, the 109 bhp 16-valve Ecotec from the Corsa GSi was entirely developed at Hethel.

However, with Rover bringing out a new, mid-engined MG Midget in 1995 with K-series power and Vauxhall launching the Tigra coupe late next year, Ford must the favorite.
Remember that a turbocharged two-litre Zetec with about 200 bhp was developed and then shelved in favour of a V6 for performance versions of the Mondeo.
A powerplant from outside Europe is unlikely because Lotus fears that adverse currency fluctuations could easily wreck the economics of the project.
An outside possibility, however, could be a Lotus version a new range of powerplants that Lotus engineering is developing under the title 'Common Engine' for the emerging Taiwanese motor industry. Work has been going on for two years on an eight-valve 1.2-litre four, but there could be sportier, larger-capacity versions.
As much effort will go into making the new Seven a featherweight. Engineers hope to get as close as possible to the Caterham 7 HPC's 600 kgña tough target. Realistically, 700 kg is more likely.
With such a light car, 210 bhp would give Lotus its goal. But even with 180 bhp, Lotus would have 250 bhp per tonneñ enough to take the car to 60mph from rest in close to 5sec.
With weight control a major aim, the structure of the new Seven is vital. So much so that Lotus has adopted GM's 'bubble-up' development process for the early programme stages.Under the plan, engineers think freely about all the aspects of the car, building test rigs to evaluate various ideas before plumping for the best structure, powerplant, performance and handling package.
While the form the structure of the car will take is still undecided, the most likely is a much up-dated version of Lotus's favoriteñthe backbone chassisñ used to such great effect on the Esprit and Elan made from carbon-fibre composite or extruded aluminium. On it would sit a non-structural composite body.
However, also in the running are an aluminium spaceframe using either leading-edge hydro-formed piping or extruded aluminium sections.
One of the advantages of using a backbone chassis is the ease of engineering doors. An earlier plan to ditch doors in the interests of simplicity and lightness is thought to have been abandoned after tests on a mock-up of the cockpit showed it caused too many access problems.
One of the main aims is to make the structure as stiff as possible, race-car style, so that the suspension can be tuned for maximum grip and handling pleasure.
Autocar and Motor
January 5, 1997