111R, North American, Exige
The Service Notes for the 111R, the North American Elise, and the Exige (model year 2004 onwards) are available from the Lotus Cars USA website, in the technical section. The manual is available as high quality pdf documents. You must pay $25 to access the site for one day or more if you want access for longer periods of time. It is possible to download the manual in less than an hour. The current version is dated 2004/04. Please let me know if there is a more recent version available.
111R, Federal
and Toyota Exige
contents and introduction
technical data - engine
TDL
technical data - chassis
TDQ
chassis
AH
body care and repair
BQ
body fittings
BR
front suspension
CI
rear suspension
DH
engine management
EMP
engine
EH
transmission
FJ
wheels and tires
GH
steering
HG
brakes
JJ
engine cooling
KH
fuel system
LK
electrics
MP
maintenance and lubrication
OI
air conditioning, heating and ventilation
PL
clutch
QH
airbag system
WD
Toyota Manuals online
Toyota also makes the manuals avaialble online in pdf format. However the manuals needed for the Elise are available in Europe at the Belgium website. The price is 16 Euros at http://techdoc.toyota-europe.com/default1.asp Be prepared to take a long time to download the manuals as they are listed as individual chapters. There are hundreds and it is difficult to keep track of them all. Hopefully Toyota will rectify this soon.
RM733E is under the Celica
Toyota name: English Repair Manual ENGINE (2000-->) vehicle id: ZZT231
RM929E is under the Corolla
Toyota name: English Repair Manual ENGINE (2001-->) vehicle id: ZZE123 From Oct. 2001 production.
RM930E is for the C64 manual transmission
Toyota name: English Repair Manual CHASSIS + BODY (2001-->) vehicle id: ZZE123 C64 Manual Transaxle
Toyota Manuals from Lotus, engine and gear box
Three manuals are required for servicing the engine and transmission and are Toyota part numbers. The are the same as those three listed above. They are paper and include:
Engine Repair Manual B120TO327J
Engine Repair Supliment C120T0327J
Manual Transmission D120T0327J
Technical Service Bulletins
The following Technical Service Bulletins are available from the Lotus technical website as of December 2005:
2004/11 Throttle setting procedure for Elise 111R/'04 Exige
To specify throttle body stop screw adjustment for correct idle control.
2004/18 Lift Tube
Rectification of sticking gear lever lift tube. (On some cars, out of tolerance components may result in the lift tube sticking in the raised position and in possible baulking on hurried 3rd to 2nd downchanges if the lever is pushed too far to the left.) (Lift tube is otherwise known as the reverse lock out ring.)
2004/21 Cooler Union
Hose connection checks on North American Elise with front mounted oil coolers.
2004/27 Visor Seal
Rectification of water ingress via sunvisor brackets.
2005/01 AC Probe
Optimum position of a.c. temperature probe.
2005/03 Scan 3 (software installation notes)
A compact disc (CD) containing the latest Lotus Scn 3 programming software is being issued to all USA dealers.
2005/04 Lightweight
New features of 'Performance Pack' and 'Lightweight' options. (This includes no air conditioning, steel seat belt mounting frame and roll hoop, and chassis rear brace kit.)
2005/05 Oil Cooler fitment change (how to add the second oil cooler for those built after February)
2005/10 Security of Insulated Top Lining
An insulated lining for the soft top roof was introduced as an option. If the lining should become detached from the cant rails, it should be re-fixed using mechanical clamping for improved security.
2005/11 Toe-Link Locknut Check
Toe-link locknut check. (Michael: I will post a summary of this on my website in the maintenance section.)
2005/14 Introduction of New Transmission Options for USA Elise:
1. Lotus electronic traction control
2. Limited slip differential in conjunctino with Lotus traction control
Any misspellings are my own, as we always used to say...
---
Early 111 Elise
There are pdf versions of the Series I manuals on the Internet. I have included some manuals in the miscellaneous section of the information pages. However it is important that these only be downloaded if you have obtained Lotus original paper documents due to copyright considerations.
---
The Lotus Elise Service Notes were published July, 1996. Dave Massey is the Senior Technical Author. It contains all the expected chapters on vehicle, suspension, and brakes. It also contains the Rover engine.
An update in August 1996 for engine management and transmission. And yet other updates in October and December included sections for recommended service times, and electrical, brakes, and maintenance.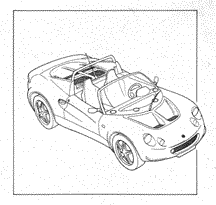 This picture appears on the cover of the binder containing the service notes. The binder and cover are black with gold lines.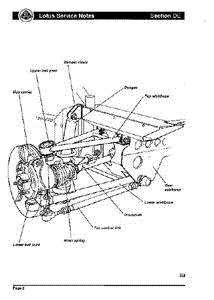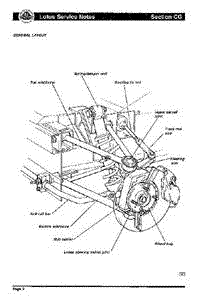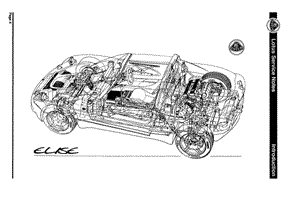 This is the only cut away of the car I have seen. It appears at the beginning of several sections in the Service Notes.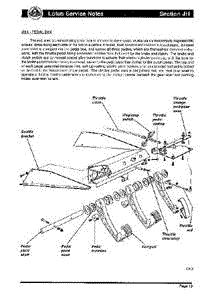 This shows the pedal extrusisons and the pedal assembly and mounting bracket extrusions.
---
Service Bulletins (very incomplete, send me more and I will add):