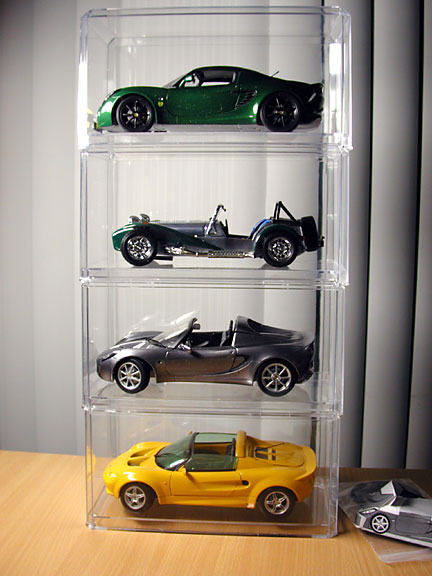 Lotus Elise and other Car in Miniature
Jadi Lotus Elise Heritage 25 S2(1:18)
Kiyosho Lotus Super Seven (1:18)
Jadi Lotus Elise 111S(repainted by author) (1:18)
Chronos Lotus Elise S1 (1:18)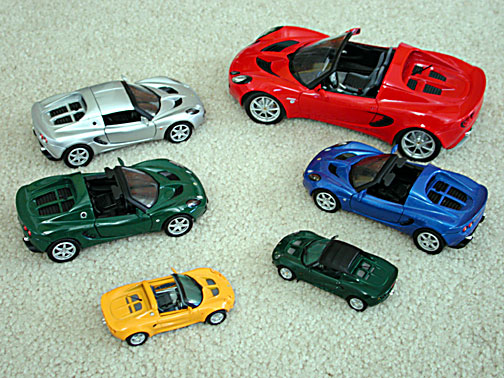 Saico Lotus Elise S2 (1:28)
Saico Lotus Elise S2 (1:28)
Vitesse Lotus Elise S1 (1:43)
Jadi Lotus Elise 111S red (1:18)
Saico Lotus Elise S2 (1:28)
Vitesse Lotus Elise S1 (1:43)
---
---
Jadi Lotus Elise S2 1:18
Jadi Modelcraft has created this 1:18 scale model of the Lotus Elise Mk II, model 111S. The model comes in red, blue and yellow and is made in China. It is die cast metal with plastic interior, base, and trim.
Revell (Germany) sells the same model but in right hand drive configuration.It comes in a box labeled Revell but the bottom of the model identifies the manufacturer as Jadi.
You can find out more about the Jadi model, see some pictures contributed by others, and see the model disassembled. I painted the model below, removed some grille material, created a hard top in order to match my real car and taken more pictures of the completed model.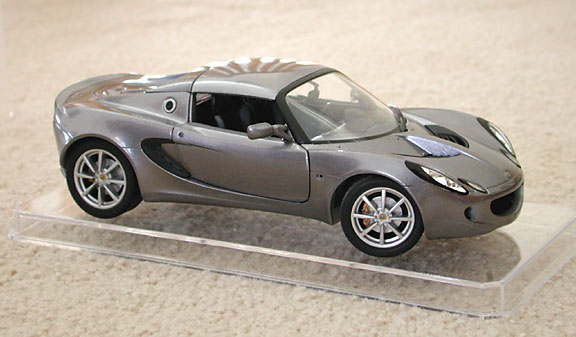 ---
AutoArt Lotus Elise S2 (1:43)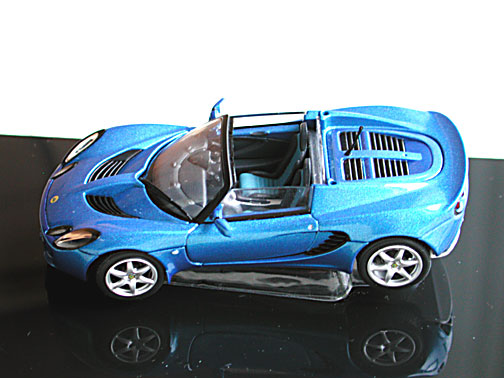 ---
Chronos Lotus Elise S1 (1:18)
Chronos made a die cast metal miniature of the Lotus Elise Mk I. Unfortunately this model is becoming increasingly difficult to find.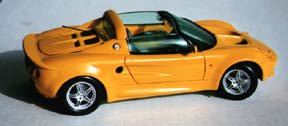 ---
SMTS Lotus Elise S1 1:43
SMTS also released a 1:43 die cast kit. Included here is a picture of the parts. Please feel free to email me if you have questions about this particular kit.
SMTS
Brunel Road, Hastings
Sussex TN38 9RT
United Kingdom

and can be ordered from:

Grand Prix Models
3 Noke Lane Business Centre
St. Albans
Herts AL2 3NY
England

01727 845645
01727 845858 fax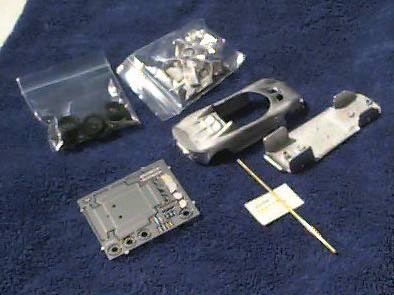 ---
Tamiya and HPI Lotus Elise S2 1:10 (Radio Control)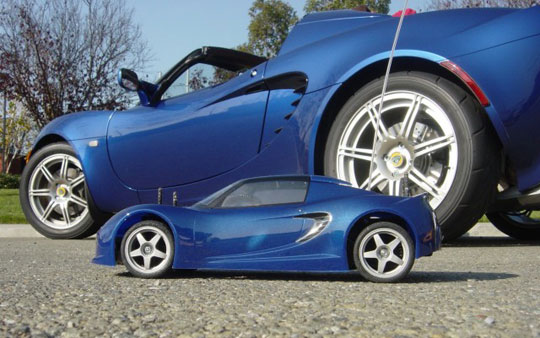 Kiyoshi built a small radio control model and painted it the same color as his real car.
The body is by HPI and is 190mm 2000 Elise body. It's also available in a 200mm size that's for nitro cars. The bodies can fit nearly any touring car chassis. It uses a Tamiya TA01 chassis.
Shaft Driven Four Wheel Drive with front and rear gear differentials
Front and Rear Double Wishbone Suspension
Coil Spring Damped Suspension System
Polycarbonate Monocoque Type Frame
TL01 Chassis with mid-motor mount in front of the rear wheels
Shocks: coil spring damped (not oil filled)
Tires:

O.D.: 65mm
I.D.: 46mm (1.9") (front and rear tires have the
Width: 26mm (1.0") same dimension
Wheels adapter type: standard hexagonal (same as Kyosho)

Length: @ 18.2"
Width: @ 200mm
Height: @ 125mm
Wheel Base: @ 260mm
---
Nitro 1:10 RS4 3 Lotus Elise Sport 

Features:
* Pro front and rear suspension with adjustable camber.
* Four wheel drive system for high grip on parking lot surfaces.
* Powerful .12E Nitro Star engine with fuel tank and tuned muffler.
* Four wheel independent suspension.
* Oil-filled shock absorbers with nylon bodies and bladders.
* Highly efficient triple belt drive with front and rear gear differentials.
* 2mm aluminum chassis to keep the engine cool.
* HPI Racing wheels and high grip Super Radial tires with foam inserts.
* Fiber reinforced nylon suspension arms with adjustable width.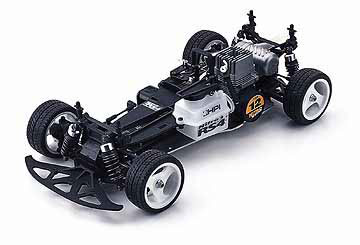 Manufactured by: HPI
---
Hot Wheels and Matchbox
231 Lotus Project M250
128 Lotus Elise 340R
036 Lotus Sport Elise (gold)
036 Lotus Sport Elise (yellow)
6 Opel Speedster (Matchbox from the UK)
49 Lotus Elise S1 (Matchbox from the UK, not shown)