Lotus Elise: AutoCar
AutoCar
LOTUS ELISE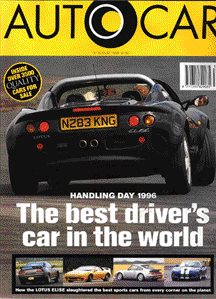 POWER TO WEIGHT
l63bhp/tonne
LAP TIME 1:19.64
WEIGHT DISTRIBUTlON F/R 39/61

There is no other car in the world that provides more safe fun, much less one costing under £20,000. Its steering is simply the finest of any oar in production, so full of feel yet freakish devoid of kickback, while its balance and agility are such that it will forgive the most unforgivable mistakes while keeping the smile firmly rooted to your face. In addition, despite its kerb weight of just 724kg, it coped with the bumps on both road and track better than all bar the Esprit. But perhaps its greatest achievement is the way it allows you, the driver, to brake later into any comer and drive harder through it than you ever thought such a car could, and remains utterly unflustered throughout. It is such a reassuring car, a trait that can create boredom in lesser cars, and such an inspirational one too. In its need for a better gearbox and more gutsy engine, there's room for improvement. Peter Robinson had not driven Lotus's masterpiece until this exercise. After just 10 minutes in the car, it was his suggestion that every car maker in the world to whom rids and handling is even an issue should buy and examine every inch of one, which said it best.

VERDICT
The cars sorted themselves into three distinct groups. At these events there is always at least one car that disappoints and this year there were two: the Chrysler Viper GTS and the BMW Z3. For almost entirely opposing reasons, both failed to strike the balance between fun and reassurance that are so crucially important in any sporting car on road or track. Almost all the others come in the remaining group, cars which, regardless of size, shape. power or the method of its delivery, proved a delight to drive on the road and a joy on the track. The overall standard of this group is higher than ever and each included in its number has good reason to be proud of its product.
The final group comprises just one car, the Lotus Elise, a car which beats every other by what we believe is an unprecedented margin. It proves that pure driving pleasure need require neither a bulging bank balance nor the sacrifice of every conceivable comfort. It resets entirely not only the standards by which its classmates should be judged but also those of every sporting car. It is the finest sports car in the world.
FINAL ORDER
1 LOTUS ELISE
2 CATERHAM 7 SUPERLIGHT
3 LOTUs ESPRIT V8
4 LAMORGHINI IIABLO SV
S NISSAN SKYLINE GTR (V-SPEC)
S PORSORE 911 RS
7 RENAUlT SPORT SPIDER
S PEUGEOT 306 GTI-6
9 BMW Z3
10 CHRYSLER VIPER GTS

---
AutoCar Magazine (August 21, 1996)