Lotus Elise: Autoweek
November 11, 1996
Lotus position settled.
After a year of secrecy and speculation, rumors and lies, and more tangents than a London roundabout, it was all over in 20 minutes: Lotus finally has new ownership.
We met, talked, agreed on a price, shook on it and that was that," said Yahaya Ahmad of his meeting with Romano Artioli.
Ahmad is chairman of Proton, the Malaysian automaker, and Artioli retains 20 percent of Lotus, as well as his ownership of Bugatti.
Proton paid $83.4 million for its 80 percent of Lotus; it will add a $20 million loan to cover existing debt. The cash will bring relief to Lotus' long-sutfering suppliers, whose extended credit has bankrolled Lotus in recent months.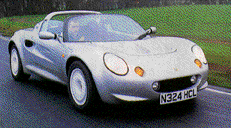 Lotus' new Malaysian owners plan to boost Elise production and add a coupe version.
Ahmad ' s company (DRB-Hicom) owns 26 percent of Proton, the Malaysian government owns 25 percent, Mitsubishi owns 16 percent, and the rest is split among institutional investors. The deal, culminated in a three-page contract, is in stark contrast to the negotiations Artioli had with Daewoo. His dealings with the South Korean firm lasted 10 months, and a legal agreement between the two stretched to 100 pages. But with the additional debt assumption, Proton's was the better offer.
Proton plans include immediately boosting Elise production, and beginning work on a coupe version.
"We are starting work on new variants, and envision total production of 5000 a year, split halt:and-half between the United Kingdom and Malaysia," Ahmad said.
U.K. production will feed Europe while Malaysia will supply Japan and the Far East. Lotus will have to negotiate a new contract to increase the number of k-series engines it gets from Rover, which provides 2500 annually under the current agreement. Then there's General Motors, Lotus Engineering's key customer. Those in the know say GM will stick with Lotus in the short term to complete vital works in progress, but will stop placing new contracts to prevent trade secrets from falling into the hands of Proton, or even Mitsubishi. Currently, 150 of Lotus Engineering's staff of 800 employees work on a new range of world engines for GM.
Lotus' second biggest client is Daewoo, for which it does emissions compliance work and other projects, and was to design and engineer a luxurycar platform. It's expected that Daewoo will cancel its contracts immediately.
Lotus' strong relationship with Kia is also in jeopardy, because Proton is a direct competitor.
However, other work could flow in to replace the lost contracts, as some potential customers stayed away from Lotus during the turmoil. Now that it's resolved, new projects are available. One, called "Timor," is a new engine for Indonesia's emerging car industry.
AUTOWEEK NOVEMBER 11, 1996