Lotus Elise: Autoweek May 6, 1996
WORLD NEWS
This Week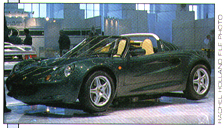 Whither Elise?
Lotus is considering a V6 version of the lightweight Elise sports car, and that's good news for interested parties in America. U.S. Lotus importers can't bring us the Elise as it is because its standard Rover 1.8-liter K four isn't certified for the U.S. market-it's the onboard diagnostics requiremcnts that hold things up.
But the Rover 2.5-liter KV6 (which will appear in the U.S.-bound Land Rover CB40, ) is U.S.-certified, and that's the engine Lotus has in mind for its new sports car. The KV6 delivers 173 hp and has a fiat torque curve. It weighs about 110 lbs more than the four.
The six has been widely praised in its only application this far, the Rover 800, even thought the rest of that moribund machine has been widely panned.
As for Lotus' for-sale sign, it's still up. Group Lotus has reportedly shunned Daewoo, and refuses to name any other potential buyers, though there is a rumor that high-level double-secret meetings are being held with an American automaker.
Autoweek May 6, 1996