Just For Fun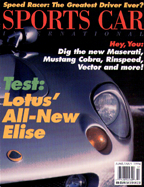 Ian Kuah gets his paws on the first Lotus elise to be driven and photographed by a civilian. Forget the bodgy showcar, he says-this one's a real Lotus.
The Lotus Elise has been breaking records even though the first production car has yet to turn a wheel. Conceived in January of 1994, the first prototype was running on Christmas Eve of the following year and the initial production units will roll off the assembly line this summer. That's barely 28 months from sketches to production!
More than any car since the seminal Lotus Seven, the Elise is a return to the company's roots–a statement of speed through light weight and engineering by subtraction. It's a basic machine as well, with an innovative but simple extruded-aluminum chassis and a standard GRP body. The Elise is light, at 1490 pounds–half the weight of a Porsche 911 Carrera–and agile, with a wheel at each corner. It's also quick, thanks to the MGF-spec, 1.8-liter Rover engine, and potentially reliable. And when the button is finally pushed for production come April '96, it will be the most thoroughly tested car in Lotus' long–if checkered, reliability-wise–history.
In the last few months, three Elise prototypes have been thrashed to within inches of their lives in some of the most severe endurance testing known to man. At the Millbrook Proving Ground, each car survived the General Motors Pl durability cycle eight times. One such cycle is equivalent to a year's abuse by an unsympathetic owner, and includes maximum-effort cornering on fast and hilly road sections, a handling course, gravel track sections, and the worst Belgian blocks anywhere. Things as large as radiators fell off the earliest Elise prototypes subjected to such tortures, but of course that's exactly how you make sure it won't happen on the customer's car.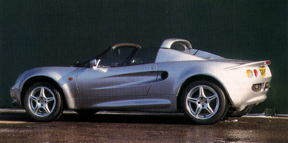 In British Racing Green, it
looked like a dispirited frog;
in metallic silver, the Elise
combines the best bits of the
Ferrari 206 Dine, Ford
GT40, and Lotus Europe.
Test Subjects
I'm not testing at Millbrook today, thank God, but at the Lotus factory test track that skirts the perimeter of its administrative and production facilities, a former airfield whose short runway chute forms the main straight and the whose perimeter roads make up the squiggly bits. Car-to-car photography can only be done on the Hethel track's straight, as the surface everywhere else is too rough and demanding–Lotus chooses to leave it that way to retain an element of realism. English roads, after all, are tsar from refined.
This will be the first drive anyone outside the factory has had in an undisguised preproduction car, but while I'm eager to get it on, I can't help but stand back and admire the Lotus first. Out here in the open, away from the confines of a motorshow stand and the press of the crowd, it's terribly obvious that the Elise is a thoroughly color dependent design. The first showcar was done up in British Racing Green, and it looked, quite frankly, like a somewhat dispirited frog. The more high-tech silver hue on my test car, however, enhances the shape's already dynamic form and highlights some of its very clever detailing. When painted up properly, the shape seems to combine the best bits of the Ferrari 206 Dine, Ford GT40, and Lotus Europa in a cute and compact roadster with a cheeky grin on its face. What a relief!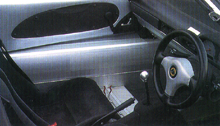 I pull the feather-light door open, clamber over the wide sill, and plop into the seat, which is positioned low in the car for the benefit of tall drivers. With the roof on, getting in and out will be a tad more difficult, but the Elise is so small that there's never much of a reach to get settled. Once snug behind the wheel, it is easy to see the corners of the car thanks to those lovely curved front tenders; crane your neck around and the flip-up tail spoiler gives a fair guide to the rear. At 146.7 inches long and 67.0 inches wide, the Elise is considerably more compact than the MGF, Mazda Miata, Fiat Barchetta, BMW Z3, et a1.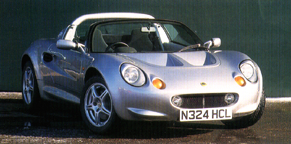 Sybarites will hate this car–the interior is as naked as a jaybird. But for the true enthusiast, the lack of unnecessary junk is a revelation–lots of bare aluminum and basic carpet mats are all you get on the panels, rather than the numbing padded trim of most other modern cars. Up front, the minimalist Stack instrument panel, with its big, clear speedo and tach and digital readouts for the minor functions, provides minimum distraction and maximum info.
Driving, not posing, is what this car is all about, and driving is what we're about to do. Moving smartly off the line, the controls immediately prove light, but the gearshift feels a bit long. Shotgun-riding development engineer Matthew Becker says not to worry–-the shifter will be shortened on the production car. Then I feel out the engine. Light weight and a high-grunt powerplant are usually a recipe for flight, and true to form I soon find that in the ultralight Lotus, the torquey mill practically throws the car down the road. Without the soundproofing of the MGF, the Elise is also a far more-e immediate experience, with a throaty, sporting sound that generates no complaints from me. Of course, what it would be like in traffic with the roof on remains to be seen.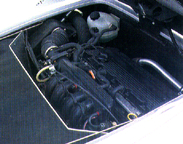 The other thing I like about the so-called 1.8 engine (compared to its 143-horse VVC variably timed sibling) is the change in engine note around 5000 rpm. From there, Rover's Four takes on a deeper, more purposeful roar, and this scream is amplified in the Elise. Although peak power arrives at 5500, the engine will happily sing to seven grand. In this application, there's certainly no reason to wish for much more.
Handling is what Lotus cars have traditionally been about, and the Elise is no exception. It feels extremely fleet of foot, with beautifully responsive steering once you're on the move and as crisp a turn-in as you could hope for–it's that low mass again, doing Favors everywhere. The ride also comes off nicely for such a light and sporting car; on the bumpy bits at Hethel the Elise deploys its power well, showing that its spring and shock rates are spot-on and its choice of footwear appropriate. I'll have to wait for a proper road test of a production car to make my final verdict, but so tar this package is extremely impressive.
The Naked Truth
With the shell stripped away in the workshop, the construction of the Elise is so simple and clever it almost hurts. The chassis is formed from extruded aluminum components made by Hydro Aluminum Structures of Denmark and bonded together with state-of-the-art aerospace adhesives developed by Ciba-Geigy. The entire unit weighs just 143 pounds, yet proves incredibly strong and rigid.
Other weight-saving ideas were also explored with the Elise. Another world's first is the use of aluminum for the brake discs in a production car. Lanxide's competition aluminum discs are fit to each corner, while the fully-adjustable suspension is made up of tubular alloy wishbones, coil springs, and standard Koni dampers. Lotus says the system is tuned for high speed stability and low-speed oversteer, both of which I can vouch for personally. The 5 spoke alloy wheels and tires are smaller in the front (15x5.5 inches with 185/55R 15s) than the hack (16x7 and 205/50R16s). The Michelin Pilot SX tires are unique to the car.
Shorn of its GRP skin, some of the Elise's inner detailings are simply gorgeous to behold. Head of communications Patrick Peal handed me the aluminum piece of sculpture that forms the accelerator pedal: It's a lovely curved arc with strategically removed sections, making it strong enough to bear up under load but probably a touch too light to make an effective paperweight!
The engine-cover release is located behind the driver's seat. Pop it open and you can see most of the transversely mounted engine. This fuel-injected DOHC 16-valver is carried over from the MGF complete with gearbox, although the exhaust has been modified. Currently good for 118 bhp @ 5500 rpm and 122 Ibs. of torque @ 3000, these figures may increase slightly in production. Even now, there's enough power to give a 0-60 time of less than six seconds and a 0- 100 leap in 16.5. The top speed will be a thoroughly adequate 125 or so mph.
Ultimately, a more powerful Elise–naturally carrying the 143-bhp VVC–will appear, and Lotus has been quite candid about sponsoring a one-make race championship in the immediate future. More interesting than either of those developments is the revelation that Lotus needs to sell just 70() cars per year to break even with the Elise. By February of 1996, many of their dealers had already taken deposits On cars stretching well into the 1997 production run, so financially things look rosy for Lotus at last. Since they couldn't match the amortization rates of an MX5 or a Barchetta, they exploited radical new ways to lower the initial costs. Brilliant.
They've also parted with their mainstream rivals in creating a truly dedicated sports machine that offers so few sacrifices to luxury that it's essentially not a competitor to its better-financed brethren. Instead, this is a pure-fun car like the Lotus or Caterham Seven–it's immeasurably more modern, civilized, and drivable than this predecessor, but it honors the same goals.
Smaller Toys
There comes a point where a sports car becomes so civilized that you can use it every day. This is an environment where the BMW, Barchetta, and MX5 excel. But while you could use an Elise every day as well, this quite minimalist car actually leans more heavily to being a weekend machine aimed at maximum driving pleasure.
Unadorned with items like soundproofing, power steering, air conditioning, or electric-assisted bupkis, it's really just 100% pure, unadulterated fun. Better still, in a nice, light, metallic paint job, it looks great to boot!
Sports Car International
June/July 1996