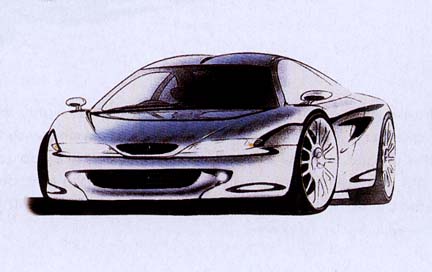 Lotus Briefing
Autocar 5 May 1999
Lotus is working flat-out on a top secret, highly advanced baby Esprit which will be unveiled at next year's British Motor Show and will go on sale early in 2001 priced at about L45,000. If it succeeds, the new Boxsterbuster will double the size of Lotus's car building operations, underscore the firm's emerging status as a well-rounded automotive group and turn Hethel into a bigger sports car building centre than Maranello.
Codenamed Emas - the Malaysian word for gold - the new Lotus is a mid-engined two-seater with an Elise-style extruded aluminium chassis, a Lotus-designed V6 engine of about 220bhp and a governed top speed of 155mph.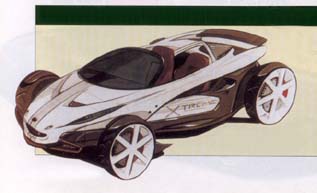 Its task is not only to fill the gap between the Elise and the long-lived Esprit, but also to showcase a revolutionary 20month design and development system which Lotus claims can bring a new model to market faster than any other.
Buoyed by their second successive profitable year and continuing strong demand for the three-year-old Elise, ebullient Lotus executives claim their new car has a purity of concept to rival Porsche's original 911, and will make Stuttgart's forthcoming Boxster S "look very mainstream". Our drawing is based on official renderings shown exclusively to Autocar.
One sure sign of Lotus's improved financial health is the apparent ease with which it is raising the estimated 115 million it will need to develop the new car and reorganise the Hethel site to build it. Chief executive Chris Knight s the precise source of the funds is yet to be decided, but he is "quite sure" that there will be no shortage of options.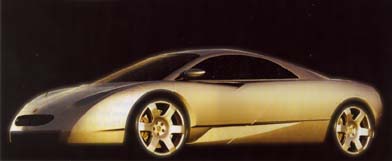 The baby Esprit is being designed and styled by a 24-man task force set up by recently appointed Lotus Cars managing director Graham Peel. It has the traditional Lotus values of nimble handling and high performance through light weight, says Peel, but also advances the chassis principles of the Elise. Like Elise, Emas carries its occupants and mechanical parts in an extremely rigid and crashworthy extruded aluminium. tub. The chassis supplier is again the Danish firm Hydro Raufoss Automotive, which has opened a new factory in Worcester which will build 10,000 aluminium chassis a year. The move streamlines a production process which until now has been expensive and tortuous.
Lotus bosses expect demand for Emas to match Elise, carrying total Lotus car production towards 7000 units a year and shattering the previous record of 4400 units set in the kit car era, 30 years ago.
In size, the new Lotus fits neatly between Elise and Esprit, adopting their formula of long wheelbase (to accommodate a mid-mounted engine) with very short overhangs front and rear. Materials and construction (adhesive bonded aluminium. chassis, Hethel-built composite body) follow Elise practice closely, except that the new car's chassis is larger in all directions and, according to Peel, incorporates lessons learned about rigidity, lightness and production efficiency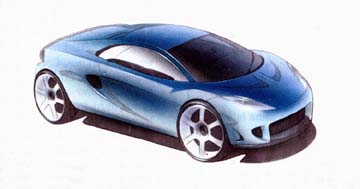 Engineers say Emas needs to be decisively smaller than Esprit, which will be retained and developed, because it is at "bulk borderline" for today's driving conditions.
In reality, it is the width of Emas which Lotus most wants to keep under control. The Porsche Boxster, a key Emas competitor, is only 50mm shorter than an Esprit at 4250mm, but is a whopping 750mm narrower. The new Lotus will probably be almost as long as an Esprit, but about 300mm narrower.
Styling boss Russell Carr describes Emas's exterior as "a compact shape with some distinctive essential forms, which stresses litheness and agility rather than just trying to be a superear". The new Lotus, he contends, is much. more Lancia Stratos than Larnborghini Diablo.
Sophisticated aerodynamics are a certainty, because Lotus promises a 155mph top speed from an engine that it says "isn't in the big horsepower league"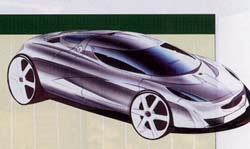 Both open and closed versions of Emas are proposed, but the coupe version will probably use a Hethel-designed system of lift-out roof panels, which can easily be carried in the car when not in use. Carr and his colleagues see no need to provide power assistance for a Lotus hard-top, but believe a leave-at-home roof isn't right for most buyers in this price range. Nor will modern buyers have to cope with the access and headroom restrictions of the' Esprit. Emas's cockpit is being designed to house the tallest and biggest drivers - including 6ft 5in Stephen Swift, Lotus's new head of chassis development. Details of Emas's cockpit design are sketchy, but Carr says it will lean more towards the Elise's strictly-for-drivers environment, rather than raditional wood and leather.
All the signs are that the car will use a Hethel-designed, normally aspirated V6 engine. Lotus has usually designed its own engines, or adapted a convenient block and designed more advanced heads. Knight believes it's an important part of Lotus heritage to carry the company's name on an engine's cam covers.
The Emas V6 will certainly have four valves per cylinder and four overhead camshafts, will most likely have its block and heads in aluminium alloy, and may use variable valve timing to extend the useable range of what will need to be a fairly high output engine. A capacity of 2.6 to 3.0 litres looks likely, with a power output of about 220bhp.
Lotus claims it hasn't yet decided which engine Emas will use, but insiders say it will have ,'more than four cylinders - probably six". A normally aspirated V6 surely beckons, and Lotus Engineering has certainly designed a variety of those for clients in recent years. A V6 derived from the Esprit's 3.5-litre V8 could be a contender, given that Hethel 4 always claimed that the V8 was modular, and thus capable of spawning brother versions from V4 to V10. Many components (liners, pistons, rods, head shapes, valve gear) could be carried over. But the V8's 90deg angle between the cylinder banks wouldn't be ideal for a V6 - many use 60deg, the Honda NSX is 72deg, and there are some with 120deg - but the right angle would certainly help keep the engine's mass low, and Lotus's formidable band of engine designers should be able to solve any vibration problems.
Likewise, there's no decision yet about whether to mount Emas's engine longitudinally or transversely, but Hethel has definitely done detailed packaging work on a longitudinal set-up, which looks the more appealing. A north-south layout would:
Discard the uncomfortable link that exists between relatively pricey transverse mid-engined sports cars and cheap donor hatchbacks that usually provide their powerplants.
Give Lotus's chassis designers the space to use a "proper" double wishbone or five-link rear suspension design, which an east-west layout does not allow.
Provide design sophistication to justify Lotus's claim that Emas will "reinvent the sports car in its price category", as the company believes the Elise has done in its own. 9 Lend itself easily for development into a serious racing car, perhaps using the turbocharged V8.
Allow Lotus to use a common transaxle with the Esprit V8, and possibly some common rear suspension parts.
The Esprit still has a Renault-built five-speed transaxle used on the Alpine A310 and A610 coupes before their demise. In effect, Renault switches on the production line now and then to provide Lotus with the 200-odd Esprit gearboxes it needs annually, and has incorporated Lotus mods from time to time to increase the torque handling capability. In the long run, however, six-speed transaxles like the unit from the 265bhp Audi S4, or the manual Audi S8, would probably provide better options.
Based on the standard Elise's 700kg kerb weight, Emas could be expected to weigh considerably less than 1000kg, which undercuts the Porsche Boxster by about 250kg, and the 911 by 400kg. This ought to mean it will have searing acceleration to match its 155mph, along with the nimbleness and good braking which light weight brings.
Lotus has much to do over the next 18 months to get its new car to market. And in a sports car market as competitive as the UK's, there are no guarantees of success. But with a power-toweight ratio approaching 250bhp per tonne, it looks as if the Lotus Emas will be able to offer Porsche 911 performance, using an engine only a little more powerful than a Boxster - and at a Boxster price.
If the promise is borne out, the queue for the new car may not quite reach from Hethel to Stuttgart, but it will be long indeed.
Steve Cropley


AUTOCAR 5 MAY 1999