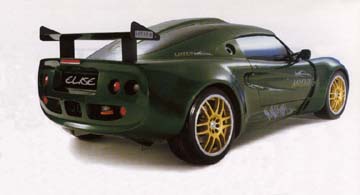 L50,000 Pit Pass
Motor Racing Lotus Elise
There was a time when you had to have the words "Ayrton" and "Senna" on your helpment to drive a Lotus works race car. Now you need money.
Having scored a huge hit with the Elise as a road car, Lotus aims to make it just as prominent on the track. New competitions boss Chris Arnold plans a three-pronged approach: Lotus will supply competition parts to owners, it will build individual cars to meet any regulations that customers require, and it has ambitious plans for an Elise race series which will take competitors and their sponsors around Britain and into Europe.
The plan is to assemble fields of 25-30 identical cars, all built at Hethel to an identical specification, and to race them on Europe's finest circuits. Of a proposed 15 meetings per season, about five will be held on the Continent. Drivers will compete on an arrive-and-drive basis, having stumped up about L50,000 for the privilege - around half what it costs for a season in Formula Palmer Audi,
the arrive-and-drive series for open-wheeled racing cars. Arnold also aims to attract sponsors for individual cars, as well as overall series sponsors. Drivers will be allocated cars random throughout the season but will be allowed access to them at practice sessions before each round to allow them to set up the car to their liking.
"We will have race technicians on hand to provide advice," says Arnold, "because our aim is to make the racing as close as it can be."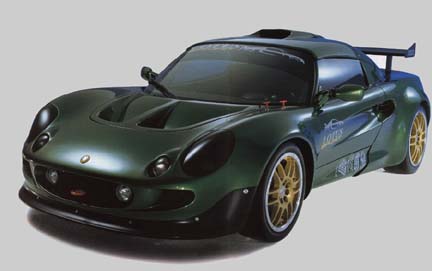 The idea is to run two championships, one for drivers and one for cars. The true competition will be the driver's championship, because as the rules are drafted at present it will not be possible for individual sponsors to arrange to have a top driver in their car. Car sponsors are likely to be businesses which want to provide their customers with a focal point for corporate hospitality at some of Europe's best circuits. Sponsorship for a car will cost about L50,000, but will depend on individual requirements for circuit hospitality and associated benefits such as customer driving days. Sponsors will be able to paint cars more or less to their own designs, though there will be space for the driver's sponsors too.
The race car itself is a highly developed Elise, with standard chassis and suspension, powered by the ubiquitous 1.8-litre Rover K-series engine tuned to produce more than 200bhp. The standard gearbox gets straight-cut close-ratio gears and a limited-slip differential.
The closed bodywork has already been styled by Russell Carr and his team at Lotus Design, and it looks so good that customers are already asking if it can appear on a road car. The answer is no - homnologation is too difficult. Every car gets a top-spec FIA roll cage and the result resembles a mini Le Mans racer.
The tyres are racing slicks on 16 and 17-inch wheels. Though the suspension pick-ups are the same, the suspension will be fully adjustable, with a variety of modifications to the springs and dampers. The front brakes are AP racing discs with four-pot calipers. The cars will be very quick, says Arnold, who is about to begin a six-month test programme.
When competition begins next Easter, the Elise will at last be doing justice to its race potential. Lessons learned from this programme will be applied to next year's bigger, more powerful Lotus, code-named Emas. At Hethel, they're certain Colin Chapman would have approved heartily.
Auto Car May 5, 1999