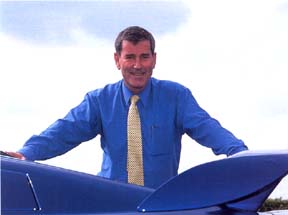 Man of the Year
Winner: Chris Knight (Chief Executive, Lotus)
The intriguing thing about Chris Knight, this year's Autocar man of the year, and Lotus chief executive for the past two years, is how little he resembles Colin Chapman, the Hethel sports car company's legendary founder.
Whereas Chapman attracted good people to Lotus by the sheer brilliance of his ideas (and raged at them the instant things went wrong), Knight attracts good degree of freedom. Chapman had a Vesuvian temper; Knight is calmness personified. And while Chapman always knew exactly what the next Lotus race or road car should be like - and lost interest in it as soon as his theories were proven - Knight concentrates on knowing exactly where his company is heading, and it is to the greater good of Lotus's customers and dealers that he hasn't lost interest yet.
The one thing Knight shares with the founder is a taste for high performance: Chapman raced the Lotus works drivers in his own cars, Knight takes holidays on his 170mph Kawasaki ZZR1100 motorbike.
For all their differences, the two men have achieved remarkably similar objectives. Chapman established Lotus as the most exciting, most inventive, highest profile and biggest selling sports car company in the country. He also made it a winner on the track. When Lotus won a race or launched could learn. The same thing is happening in 1999, but with knobs on.
Knight has also brought a sense of order to Lotus, which it never had in Chapman's time. His was an era of regular wrangles with the bank over whether the employees would be paid at the end of the month. Modern life at Lotus is a far cry from that. You can tell it from the spring in the step of Hethel employees, and the way the HQ's lawns are mown and hedges manicured. Customers of Lotus Engineering, the consultancy arm, who threatened to desert in droves when parent company Proton struck financial problems, have been completely reassured.
On the car side, Lotus has speeded up Elise production, improved the economics of its manufacture and hatched a couple of enticing attractiveness of the ageing Esprit and work is now well advanced on the 140,000 M250, potentially an Elise-level seller from 2001. Next season there will be a racing series for Elise-based GT cars already very well subscribed with drivers and entrants.
It is fortunate for Lotus that Knight is such a sure-footed manager. A former chairman of Shell Malaysia (where he met the arrived in Hethel with the job of progressing the business on all fronts, but especially with developing it as a resource for improving Proton's own vehicles. Then the Asian economies crashed and for a time Proton fell out of the equation. Tragically, the Malaysian group's leading light and Knight's best ally within Proton was killed a couple of months later. Elises were selling all the while, but component shortages and thehigh cost of the chassis were into the economics.
Knight kept calm and made plans, which seems to be his answer to everything. Slowly the results started to come, and today the outlook at Lotus is extremely positive.
Lotus long-timers have often talked about Hethel becoming an enclave of car-making excellence to rival Porsche, but hope and reality have never been too close together. Now, though, even the sceptics are forecasting that, for Lotus, they are soon to converge.