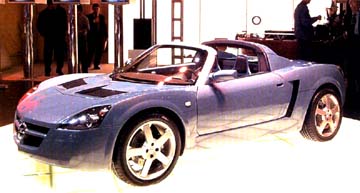 OPEL Speedster
OPEL'S NEW MID-ENGINE TWO-SEATER concept attracted much attention at Geneva, and rightly so: It's a taut, muscular -looking car. Opel's new aluminum 2.2-liter ECOTEC four-cylinder, producing 147 hp, is good enough for a o-to-6o-mph time of just less than six seconds. The aluminum chassis, based on the Lotus Elise, features independent double-wishbone suspension,
and four-wheel disc brakes. Sources in Germany have said it won't make it to North America with Pontiac badges, as first rumored (News,AW, March 8), but we can't help but think it would offer the perfect boost to Pontiac's enthusiast image. Some GM insiders agree. Let's hope they can convince the powers that be at GM's Renaissance Center world headquarters to reconsider.

Lotus M250
Almost unnoticed was one of the most exciting cars in the messe, the Lotus M250. Taking the aluminum chassis technology perfected on the Elise and expanding it to a new, larger car with fixed roof, Lotus designers built a sports car that slots between the Elise and the Esprit. Graham Peel, managing director of Lotus Cars, says the M250 is "the next true Lotus," and promises it will deliver "unrivalled driving pleasure." Sure look like it will.

The bonded aluminum/composite tub and aluminum/composite structure keep weight at less than 2200 pounds. With a Lotus tuned, 250 horsepower, 3.0 Liter 24-valve V6 (probably the Saab/GM Europe V6, though Peel wouldn't say). The power-to-weight ratio promises to be almost unrivaled. Will it ever come to our shores? "In its current form, no," said Peel. "But with new bumpers and a U.S.-spec engine we'd love to sell it in America."