Lotus Elise: Car Magazine
December 1997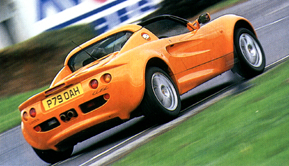 PRICE £20,950
ENGINE 1795cc dohc 16V four
POWER 120bhp
TORQUE 1221b ft
FRONT SUSPENSION
Double wishbones coil springs
REAR SUSPENSION
Double wishbones, coil springs
STEERING Rack and pinion
BRAKES F/R Ventilated discs
TYRES F/R 185/55 R15, 205/50 VR16
0-60MPH 6.0sec
TOP SPEED 126mph
FORM GUIDE: Light, incredibly communicative, madly capable, and last year's winner. Wet roads are its downfall and the competition is hotting up
Small, light, mid-engined. No roof, no surplus equipment, no power steering, no brake servo, no assisted anything. Sounds like a racer? Yes, it does. But it's no barely-sprung track-biased boneshaker either. It's a gloriously friendly and usable device on road or racetrack.
Thank the lumpy, heaving tarmac around Lotus's headquarters in Norfolk for the Elise's suppleness, the way its longtravel suspension can swallow nastiness without bouncing off course. Because you sit low, almost centrally amid the four wheels, you don't feel body roll or pitch, even though the chassis is relatively soft. You do feel a level and controlled flightpath.
The Elise has a tiny steering wheel, but efforts aren't high because the tyres carry little weight. The brakes, like the steering, are wonderfully effective and intimate: no sog/ no snatch, no numbness, just controlled and if necessary ferocious power.
On a lumpy road, though, the Elise can feel imprecise at first. Down the straights, the wheel wants to swing through quite considerable left-right arcs as the wheels strike bumps. Don't worry: your course will be straight, so it's best to grip it lightly and let it jiggle around. So does this mean that on a smooth track there will be slack about the dead-ahead? No. Because it takes such little force to deflect the nose of an Elise, the tiniest input gets an action.
The Elise is agile, pouncing like a cat into a corner, with quite marvelously comprehensive steering feel.
Hold that rim softly and enjoy the messages that come through it. There's no physical labour in driving this car hard.Once cornering loads build up, the basic thing to know is it's neutral - wonderfully balanced unless you choose for it not to be. The ultimate cornering limit isn't phenomenally high, but it's so clearly telegraphed that it's easy to reach, and the agility means there's no flab to slow down your flic-flac dive through S-bends. The Elise makes superb use of its little engine if you keep it on the boil with that light, quick if spindly gearlever.
No, there's not the power to boot out the tail in the dry except in low-gear bends, though if you insist you can back off to provoke it further. But watch it during very fast bends, especially in the damp, for the Elise has too little downforce at the back, and can let go quite suddenly if you back off. We've heard of that happening to racers and Lotus testers. But even at the Combe's quickish bends, it didn't happen to us.
The Elise is all about feel, not ultimate speed. Nothing is allowed to break the feedback loop between driver and car and driver. It's about making use of what power it has, and what skill you have. To us, that's more of a luxury than carpet or air-conditioning.
DECEMBER 1997 CAR MAGAZINE