Lotus Elise: Kings of the Road
Classic and Sports Car Magazine
Fall 1999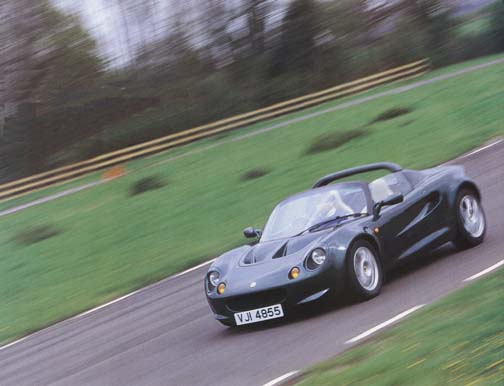 As a glut of pretty two-seater sportsters engulfed the mid-1990s, Lotus decided it was time to re-educate the big boys as to what a sports car was really all about. And it needed to after the disappointing, front-wheel drive Elan.
Among the reshell-jobs on 318s and Puntos, Lotus worked its magic on equally humble ingredients but cooked up a design as eye catching as it is breathtaking to drive. It's been called minimalist - it's been called squat and ugly - but the Elise is a great captor of drivers' hearts. Even the Renault Sport Spider - with its roofless racing pretensions and the Tommy ZZ (Japan's madcap road racer) don't measure up to the Lotus combination of performance, drivability or civilised charm.
Though it shares its rear mid-engined layout with the Europa, the ethos is pure Elan for the 1990s. That, and the fact that it is the first car of any marque to better the Seven, is why it represents Lotus here. It is living proof that the hallmarks of Hethel have transcended the loss of Chapman and the subsequent company shenanigans. Surtees agrees: "Colin would definitely have approved."
It was John's first acquaintance with the Elise - carrying K-series all-alloy twin-cam 1796cc 16-valve in-line four - and he admired the compromise between 1990s road car and 1960s sportster. It's worrying, though, that possibly the least compromised of all today's cars is still a sop to comfort and idiot-proof driver demands. A Autocar called the Elise 'a reference point in the history of the motor car', partly due to its bonded aluminium chassis and double wishbone, coils and monotube damper suspension, but more because of its usability as an everyday car.
The big question was whether it could dump its everyday habits and perform on the track? Any doubts raised by the meagre 118bhp at 5500rpm and 122 1b ft at 3000 rpm output are counteracted by its awesome 173bhp per tonne power-to-weight ratio (founded on a mass of just 723kg) and willingness to rev right up to 7000 rpm. In Surtees' hands the little 1.8 (capable of 0-60mph in 5.5 secs and topping out at 124mph) set electrifying times. In both sectors his third lap was the fastest at 15.681 (0.318 quicker than his first lap). Through the twistv bits while on the straight he blasted an 11.698 time setting a best overall lap of 27.379. It beat the Porsche by more than half a second and left this pair miles ahead (only the Miura also managed to creep under 3 0 secs). The times are all the more remarkable as Surtees didn't seem overly impressed with the car (even though it revived memories of racing the Lotus 18 in 1960), picking out the 2.7 turn lock-to-lock rack and pinion steering as one substandard aspect: "It doesn't give much feel at all. You get a feeling from what the overall attitude of the car is and you adjust it on the wheel rather than the wheel giving you a message as to exactly how it's sitting on the road. It's not entirely unpleasant once you get acquainted with the car, but initially it's a little disconcerting in that you do feel a little bit removed."
The cable-operated gear change allied to tall-geared standard five-speed MGF unit was also castigated: "I don't particularly like the gearbox. The whole essence of a thing like this is that you play runes whistling it in and out, particularly when you haven't got a large engine. I went across and up into fifth a couple of times instead of going into third. You have to concentrate on it rather than changes happening naturally and it lacks that precision of the rest of the car."
He also pointed out that, away from Curborough the low top speed and diminishing acceleration might prove a disappointment, but the traction afforded by the transverse rear mid-engined layout was perfectly suited to the track.There ended the gripes, however, as John sketched the links between the Elise and the '60s Chapman babies: "It fits very much in the Lotus vein even when we go back to the Lotus 18s that I first drove. They were never like a Cooper which gave you a lot of feedback and reaction, they were a car that one had to acquire knowledge of to get the very best out of."
The Elise's closely stacked pedals (perfect for heel and toeing), braking from unservoed, 282 mm ventilated ally discs (a production car first) and adhesion (provided by 185/55VR15s on the front and 205/50VR16s on the rear) all aided the driving experience.
Surtees also enjoyed the uniquely controllable understeer: "It has a reasonable degree of understeer coming on to the straight, but then all the cars I've driven today have because of the nature of the circuit and that comer. The way it breaks away isn't vicious at all, although you've got to sense it rather than really feel it communicating it to you. And it's quite controllable. A couple of times I thought: 'Right I've Lot some understeer here, so let's do it differently, let's set the thing up.' And I just wound on a lot of lock and it stayed quite stable without doing -a whiplash as I straightened out.
"You could drive it up to a certain point no problem, but to get the optimum out of it, in the sense of a race car, you would need to learn it. On the other hand you have to remember that it's a road car and the compromise has to be taken into account."
Even though it's a road car, it retains the build methods which might be applied to real racers. As Surtees says: "A great deal of modem features, such as power steering, have been designed out. If you were designing a car to go out and perform on a circuit then you would make changes, but as a road car with a sporting heritage it's pretty good and I think it's in the Chapman tradition.
"When we were racing our Lotus 18s, if they crunched you went and bought some more tube from a local furniture manufacturer and got Triumph Herald uprights to repair it, but this was the finest Grand Prix car of its time."
As to where its stands in the pantheon of greats he has wheeled immediately previously, John is quick to emphasise the change in attitude. "It is probably as important a sports car today as any of the others was in its era. In fact it's refreshing to see a 1990s car which, while fitting all the modern demands, does retain the sporting spirit of the past.
"Colin was one of the great innovators of our age and so it gives great pleasure to see Lotus produce a car like this today. Also, Ken Sears, the chap who was largely responsible for building all Team Surtees' F1 cars, went off to Lotus and he's still there today. So there's still a bit of Team Surtees in Lotus!" JE
Classic & Sports Car