Lotus Elise: Whither Goest Lotus?
By Dan Neil
European Car, August 1998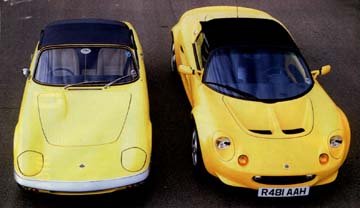 When Arnie Johnson tells people he works for Lotus, "They think I'm in software," said the new chief executive officer for Lotus Cars USA. Johnson is also technical service director and-in an organization with a grand total of eight employees- he may also be cook and bottle-washer.
Johnson took the post in November 1997, and there must have been times since then when he wished he was in the computer biz. For months he has heard complaints that the phones at headquarters were going unanswered. Car & Driver editors recently explained that they didn't include the Lotus Esprit in the Best-Handling Cars competition because they couldn't get their hands on one.
"We went through a bad stretch there," Johnson said. "Our staff was way down."
The good news is that fortunes have turned brighter for Lotus Group International Ltd. The bad news is help may arrive too late to save the American sales organization.
The story, in brief, so far: Lotus was 50 years old as of March 28 (the date Colin Chapman rolled his first car out of the garage at Hornsey, as near as anybody can tell). The company went public in 1968. Chapman died in 1982, and his company was bought by General Motors in 1986. A crisis-struck, GM sold Group Lotus Ltd. to the Arteoli-led Bugatti company in 1992, which in turn went bankrupt in spectacular fashion. Arteoli brokered the sale of Lotus to the Malaysian multinational DRB HICOM in 1996 (the Italian magnate retains a seat on the board and large percentage of stock).
In March 1997, DRB HICOM's chairman, Tansri Yahaya Ammad, was killed in a helicopter crash. Shortly thereafter, the Malaysian currency went through a frightening devaluation.
Some at Lotus must wonder if the company is a jinx. Everybody who owns it winds up in financial shoals, or maybe dead.
Nonetheless, Lotus has shrugged off adversity and is soldiering forward with a new seriousness. "We've become more aware of our shareholders' expectations in the past 18 months," said Simon Wood, director of operations. A lean and serious man who was project manager on the Bugatti EB 110, Wood's most casual conversation is riddled with management jargon like "business case" and "cost analysis."
"I'm the miserable git here," allowed Wood.
The engineering side of Lotus is doing a brisk $75 million a year in business. In the past two years, the engineering sales staff has grown from seven to 14. The company has been contracted to tune the suspensions on all of GM Europe's new products. Meanwhile, the 400 power train engineers have been busy with a series of hush-hush projects, including a 1.6-liter, 16-valve, air-assisted injection, all-aluminum motor for...well, let's say, a very large car company.
" The morale is better now," said Morris Dowton, manufacturing manager. "We have a new lease on life." This year Lotus will receive Underwriters Laboratories ISO 9000 Quality Assurance certification.
In the building across the way, the Elise sports car assembly line is heaving and sweating to keep up. Sales of Elise in Europe and Asia are running about 3,800 per year; yearly production at Hethel is about 3,000. To make up the difference, the company has begun shipping complete knockdown kits to Malaysia to be assembled. Can they be built more cheaply off-shore?
"We just don't know," said Dowton. "We'll find out."
These days, Lotus execs are in deep, consternated thought as to whether they should bring the Elise to the United States. It would not be easy. Simon Wood estimated that it would cost as much to homologate the car - around $7.5 million - as it did to develop it in the first place.
Unless Lotus can attain waivers from the U.S. Department of Transportation, the Elise would need airbags, new bumpers and a new, OBD-11 compliant engine. The current motor-a Rover-built, 1.8liter, 118-hp twin-cam four (transversely mounted and bolted to a Honda-sourced five speed)--can't be retrofitted.
"Besides," said Arnie Johnson, "it would need more horsepower over here," to compensate for the extra weight of equipment considered mandatory in the picky American market, like air conditioning, carpet, better seats and other creature comforts.
On the day I visited the factory's test track, an Elise Sport was orbiting, piercing the air with a snoot-full-of-bees, full-race exhaust note. A competition version of the Elise, the Sport is powered by a ported-and-polished polished, free breathing version of the Rover four, with variable intake-valve timing. Alas, that motor cannot be made OBD-11 friendly, either. Currently the basis for a spec race series in Italy, there are no real obstacles to bringing the Sport to America for a similar series.
Whatever. happens, Arnie Johnson hopes it happens soon. Lotus Cars USA is foundering. Annual sales of the company's sole offering, the Esprit V8, is around 125 (spread among 42 dealers in the U.S. and Canada) and dropping. Despite intensive upgrading--the company has spent as much on the Esprit in the past two years as it has on the entire Elise project - the car is tired.
"We need a new car," said Johnson. "In a perfect world, a replacement for the Esprit. Until we have a new model we're never going to realize any more volume, and it will be a struggle to maintain what we have."
An Esprit replacement-and there's no indication one is on the way-is at least three years away. Can Lotus Cars USA survive until then?
"Not easily," he responded. "We need the Elise. Soon. It's the hottest-selling product in the last 20 years and we don't have it."
Plainly, everyone is tempted. But their memories are stalked by a one-word boogie monster: Elan. Developed during GM's ownership of the company, the Elan was considered overpriced (at $40,000), under powered (a 1500cc engine with, get this, Isuzu logos on the cam covers) and, worst of all, unenthusiastic: Elan was front-wheel drive. Beginning in recession-racked 1991, it took Lotus Cars USA three years to sell a mere 546.
So, Lotus' confidence in judging the American market is a little shaken. And in the land of the comfy chair, the Elise might not receive so warm a welcome. There's its minimalist, bare-aluminum ethos. And there's getting into it. Boarding an Elise with the top on is like climbing into an overturned steamer chest.
"We couldn't change the step-in without making it a hard-top," said Johnson. "Probably the biggest negative on the car is getting into it [with the top on]. But I've floated cars to dealers and they don't see the top as being a problem. It's a nice day car, it will be a third car. One dealer said make the top optional-no one will need it."
Johnson reckons that he could sell the car for $35,000 with air-conditioning. "Anything higher than that and it would invite comparisons to the Boxster, and it's a very different car." And he believes he could sell around 300 per year. "To sell any more than that the car would have to grow...."
Back in England, that sort of talk makes the project engineers chew on their knuckles. "I'm not opposed to selling. the car anywhere," said Alastair McQueen, a Lotus test driver of some 30 years standing. "But I would be opposed to changing the essence of the car."
Ah, idealism. There is a feeling at Hethel that, having rediscovered the soul of Lotus in the Elise-with all its Chapman-esque virtues, the clever matching of power to weight, the elegant engineering, and terrific handling - it would be stupid to soften and fatten the car to suit the unsophisticated American market.
"Elise is a watershed," said head of chassis engineering, Roger Becker. "It revitalizes all the truths about Lotus, after a period when the marketing freaks took over."
For his part, Johnson is less concerned about romanticism gripping the company heart as fear. "You have to be bold," he says, hoping to be heard overseas, "You have to take risks. You can't have every decision dictated by the business plan."