Lotus Elise: Auto Express January 2001
updated September 2001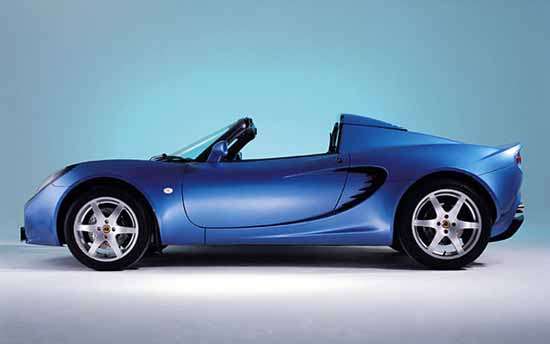 If you are an Elise owner, turn over the page now because what you see here could well reduce you to tears. It's the secret model redesign from manufacturer Lotus.
Making its first public appearance at the Motor Show, the heavily reworked sports car will undoubtedly reaffirm the company as the maker of the most sought after and entertaining enthusiasts' cars on sale today. Hitting showrooms in November, a price rise of only L350, taking it to L22,995, the fresh version is as striking as its predecessor was attention-grabbing when it appeared
The official family face cloaked around the M250 concept makes its way on to the Elise, delivering a brand identity for the manufacturer.
But should you find it hard to stomach that Lotus has turned out something as arresting as this, take some satisfaction from the knowledge that it has ditched the 111S and Sport 160 variants from the line-up, leaving only the basic and slowest entry-level model for buyers. Wider and longer, but also lower, the car's new appearance is intended to emphasize its sporting stance with a more squat look. But at the same time, it is aimed at bettering the previously average practicality with wider door apertures and narrower side sills.
Inside, the funky, new cabin is far more inviting and dynamic than the previous model's, Two new trim packs are on offer: the Sports Touring (L3,195) which adds leather trim and carpets; and Race Tech (L2,995) with Alcantara trim and carbon fibre inserts.
Meanwhile, larger wheels plus uprated suspension and new Bridgestone tyres - designed specifically for this car – enhance its already legendary handling ability. A tiny rise in both power and torque, along with an improved engine management system, should add further to the driving appeal. But if it's not your thing and the old Elise remains an absolute must-have, then get your order in now. Lotus is still building them for a few more months to satisfy demand.
Auto Express Motor Show Edition 2001