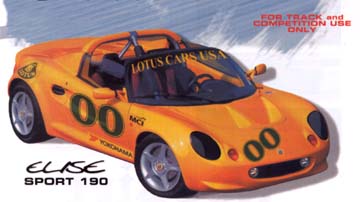 Grassroots Motorsports
January 2001
The new Lotus Elise models may not be a common sight in the U.S.-unless you play a lot of Gran Turismo 2 on the Sony PlayStation-but Lotus Cars USA is importing these track-ready cars to the States. We recently checked them out first-hand.
The Lotus Elise Sport 190, based on the open-top Elise road car available overseas, is sold strictly for track use in the U.S. It features an FIA-approved roll cage, competition seat, catalytic converter replacement pipe, electri-cal kill switch, dry-break fuel system and a removable steering wheel. The 1.8-liter engine produces 190 horsepower, and the car only weighs 1477 pounds. While the car is not legal for use on U.S. roads, HSR does have a racing series for it.
We will do a full-on test at a later date, as our quick spin around the block left us wanting more. The ex-haust note is perfect, the driver position leaves nothing to be desired, and the car fits like a glove. Plus, you don't have to be a math major to see that the power-to-weight ratio is awesome.
If the Elise Sport 190 is impressive, then the Motorsports Elise buries the needle. Thanks to the adjustable rear wing, overhead air scoop and front split-ter, the Motorsports Elise looks like a scaled-down prototype racer-which is appropriate, since it is also designed for track use only.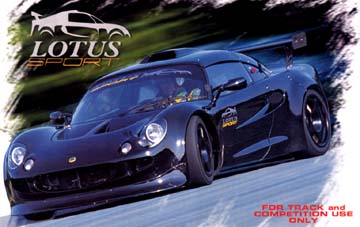 The Motorsports Elise's 1.8-liter engine makes 200 horsepower and only has to propel a 1544-pound car. Yokohama race tires are fitted at each corner, and AP multi-pis- ton brake calipers and a Stack datalogging system are listed on the spec sheet.
In addition to the Elise Sport 190 and the Motorsports Elise, Lotus Cars USA will soon also import the Exige. This model has the running gear of the Elise Sport 190 but a look similar to the Motorsports car.
All three cars are available directly from Lotus Cars USA, located near Atlanta (phone 770-822-4566 or 800-24-LOTUS). The Elise Sport 190 sells for $55,620, while the Motorsport Elise carries a $75,945 price tag. (Removing some options can drop about $5000 from that total.) The Exige will sell for about $57,000.