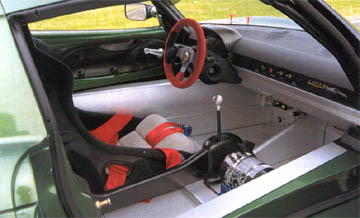 The Power Elise
by Ian Kuah, photos by the author
Next Year, a grid of Lotus Sport Elises will compete in a one-make series. We drive one of thse purpose-built racers in its natuural environment.
A race track is the natural habitat for Lotus' new Sport Elise. Fittingly, the company recently began upgrading the famous test track at their Hethel factory-built on the site of a WWII-era US Army Air Force bomber base-to more closely approximate a racing circuit. Like several other British race tracks such as Goodwood, the Lotus test course was adapted from the airfield's perimeter road system. Over the years, however, the concrete surface slowly crumbled. It eventually came to closely resemble a badly maintained country lane, so much so that cars developed here tended to gain good handling and bump steer characteristics as a matter of course!
Resurfacing work is not quite finished at this point, but the re-routing of the road to include a sequence of two S-shaped bends has quite dramatically improved its worth as a race track. The extra twists increase the length of a lap to 2.4 miles, and the new high grip tarmac coating means that cars can now generate punishing grip on slick tires. This helps the test drivers push the cars to their limits in a more realistic race track environment.
The idea of a one-make championship featuring an Elise race car was discussed early this year, and Lotus decided to back it. Things moved very quickly from that point. The styling boys came up with new roof sections, spoilers and other changes, while Lotus Engineering took charge of engine and suspension development. In all, a 20-person core team took nine weeks from start to finish to create the Sport Elise unveiled by Lotus at Geneva in early March, 1999.
"It was a real racing car team timescale," says Chris Arnold, Lotus' motorsport manager. "The positive response to the car was even greater than we had hoped for. We knew we were onto a good thing, and, since we had the looks obviously right, we brought our Motorsport technical team on board and also started looking for specialists from outside the company."
Chris Dinnage, who had been on the 1982 Tyrell team with drivers Ayrton Senna and Nelson Piquet, was the first to arrive. Dinnage was soon joined by Steve Hardy from the Arrows FI team. Next was Myles Lubbock, former design manager at Dynamic Suspension and Benetton's set-up and data logging specialist. Last but not least was design engineer and aerodynamicist Greg Taylor from Triumph motorcycles.
One of the strengths of Group Lotus is the flexibility of staff movement within the company. It is hard to believe that this small firm actually employs 1400 people, 800 of whom are engineers! "We don't need 200 people in Motorsport," Arnold explains, "so we can borrow people internally as and when their expertise is required. Everyone wants to work on the race team, so we are never short of volunteers."
One Size Fits All
The Sport Elise program centers around a one-make championship for the year 2000. All the cars are factory prepared and the engines sealed to make sure everyone has an equal chance. The only variations allowed are in suspension set-up, which is obviously down to an individual driver's style on a particular track.
There are three parts to the program. First, every component available for the race cars is a bolt-on-sump, brakes, bodywork, spoilers and the decal pack. (When the Sport Elise was unveiled at Geneva, it fueled speculation that there would be an Elise coupe, which Lotus continues to deny. Any of the parts on the Sport Elise, however, can be individually purchased for use on a standard road car, and Lotus expects many club racers and hill climb drivers will do so.)
Second, the factory will prepare custom race cars for privateers. There has been so much interest since this service was announced that so far ten customers have ordered cars. "We would like to do even more cars, but we don't have the capacity at this point ' " says Arnold. "We had to cap the number at ten because we have to find the time to build these ten cars and the 25 Challenge race cars, plus a few spares in case of accidents." Of course, Lotus will entertain the odd extra car if it is for a worthy cause--one gentleman in Australia is having a car built for the Targa Tasmania race.
The final part of the program is the development of special competition parts. "We don't sponsor any team or driver, but we will put money into helping with the development of special parts," says Arnold. "This is good for both customers and ourselves in the long run, so we look at it as a worthwhile investment." Components like carbon bodywork, the competition sump and wind tunnel testing fall into that category.
Another area of testing where a customer can get factory help is in suspension set-up. "We have one suspension specification for a season," Arnold explains, "but we have variations on front splitters, anti-roll bars and suspension geometry settings to suit different circuits and driver styles. We test everything and build up a data bank of options for participants to choose from."
The "secret weapon" the factory uses to help them achieve these settings consists of four very experienced test drivers drawn from a pool of high profile race drivers and their own test engineers. This team tests the cars at the tracks where the Sport Elise races are to be held and also at a few others.
There is no point in setting up a car that only suits one driver, so the four have been selected for their differing styles. The two test engineers are Gavin Kershaw and Matthew Becker, who have thousands of hours of high speed testing behind them. The two racers are Martin Donnolly, who has a wealth of experience in various formulas, and Darren Turner, runner-up in the 1998 Formula Palmer series.
"Each of these drivers has a different style and some prefer more oversteer than others in the bends," Arnold explains, "so the information gathered has relevance to a wide range of customer driving styles.
"We have made contact with all the people who will be driving Elises in club racing and they know they can call upon this service as and when they need to. They can even bring their cars to Hethel for set-up and track testing. After all, we want to see them beat the opposition!"
The Sport Elise Series appeals to the younger race drivers who see it as a stepping stone to higher profile championships. The registration fee is E2,000 ($3200) and the season's package costs E55,000 ($88,000), which includes running the car. The only extras payable are for crash damage-the Elise's carbon-Kevlar panels are too costly for Lotus to pick up the tab.
Podium finishes in this series will certainly be noted by the public and potential sponsors, especially since the championship will be run as support races to the British Touring Car Championship. Incidentally, the BTCC has the highest UK ratings for televised motorsport short of Formula One. So far, 94 drivers have registered their interest in the Sport Elise Series.
The basic hydro-formed and bonded aluminium tub is identical to the one used on the road cars. Apart from the doors, however, the clamshell bodywork sections with front splitter and adjustable rear wing are all new. The already stiff basic structure is augmented by the bolted-in SafetyDevices roll cage. Additionally, the massive standard side sill sections and door bars provide adequate side impact protection.
The wheel and tire pack is upgraded from 15- and Winch diameter to 16- and 17-inch, and the race cars will have centerlock wheels like the limited production 340R road car. Yokohama has been chosen as the control tire supplier and will have a new bespoke racing slick in production by the time you read this. This tire will then be made available to club racers as well.
The road car's aluminium brake discs have been ditched in favor of conventional 295 mm diameter steel cross-drilled vented units with AP Racing four-piston calipers in front. The rear discs are clamped by standard Elise front calipers.
The race-spec Koni 28 Series dampers are adjustable for compression and rebound, and the track control ends are Rose jointed. The other bushings use heavy-duty rubber inserts to avoid premature component fatigue. The cars have been engineered with an emphasis on reliability, as some drivers may wish to contest long distance races, maybe even of 24-hour duration.
Under the new engine cover, which incorporates an air intake on the roof for engine bay cooling, a huge carbon air plenum dominates the induction side of the four-cylinder motor. Twin cams, 16 valves and one throttle per cylinder come standard on this 1.8-liter Rover engine, whose life-giving lubricants now arrive after a useful dialogue with a big oil cooler in the car's nose. But instead of the standard car's 118 hp or even the 143 hp of the 11 IS, power in the Sport Elise has been boosted to around 200 hp thanks to more radical cam timing, Motorsport intake and exhaust and a modified ECU. In a car that tips the scales at just 1540 lbs., that makes for a pretty amazing power-to-weight ratio.
A standard Elise cabin is pretty Spartan, with wall-to-wall aluminium serving as the main visual delight. The racecar is even more so, with just a driver's seat, huge fire extinguisher and, a big tachometer in front of the driver for in-car entertainment.
Entertainment is something the Sport Elise delivers in huge measure. The moment you fire up the engine, you just know that this small and agile car is going to put a big grin on your face.
The really big sensory experience starts with a loud vroom from the induction and a rasp from the sports exhaust. At some European venues without noise restrictions, the Sport Elise will pick up a few more horses thanks to straight-through exhausts, but the cars are limited to 105 db for UK rounds. In a cabin where soundproofing is absent, every throttle movement makes your eardrums sing for their supper unless you are wearing a helmet. Luckily, it's a nice noise. The carbon fiber induction box gives the four intake pipes a deeper, throatier tone, while the sports exhaust is purposeful rather than just loud for loudness' sake.
Once on the track, the aural delights become nothing more than a measure of how hard and fast this highly-tuned motor can rev through each of its five closely spaced straight-cut gears. Throttle response is lightning quick and, thanks to good torque and a low curb weight, flexibility is impressive. Its character is undoubtedly more race than road, but at the same time, there is a soft side to its nature that allows you to poodle along if you want to without danger of stalling or jerking.
Drop the hammer, though, and the tuned motor pulls strongly with everincreasing noise until you reach about 4500 rpm. After that, it explodes into a manic frenzy of back-punching acceleration, accompanied by a soundtrack that goes from deep growl to primal race car scream. All this is choreographed in the lower gear ratios by a tachometer that seems to be moving too quickly to be read, much like the scenery blurring past.
A rifle bolt-like gear change helps keep things on the boil when screaming from one bend to the next, and a clutch that seemed just a touch sharp off the line becomes a well-honed instrument to facilitate those lightning shifts.
The brakes are simply stunning. Once they have done their work on the approach to a bend, the Sport Elise answers the helm like a true racer. Aided by perfectly weighted steering with a direct line to the road surface, it darts into a corner like a big shifter kart, the back end tracking the front perfectly.
The huge level of adhesion offered by the slick tires caught me unawares as my ever increasing familiarity let me push the car harder. Even one banzai attempt to shake the back loose in a powerslide was mockingly shrugged off by this amazing car.
A stock Elise, especially a I 11 S, has a huge amount of grip, but the racer on slicks seems to have at least twice as much. A colleague said he could not unstick the back in the wet, so it seemed that I would have to enter a bend at suicidal speeds to succeed in the dry. Suicide was not on the agenda today, so I gave up and just enjoyed the remaining laps.
Like the series for Caterham 7s, the new Sport Elise series is a one-make championship where the cars have the feel of a real racer and are actually are quick and grippy enough to seriously challenge the skill of their drivers. Skill, and lots of it, is what it will take to win races, for all the cars are as equal as Lotus can make them. There is absolutely no doubt that the lucky 25 who get to race in the Sport Elise series next year are going to have lots of fun. 0
SPORTS CAR INTERNATIONAL Dec/Jan 2ooo