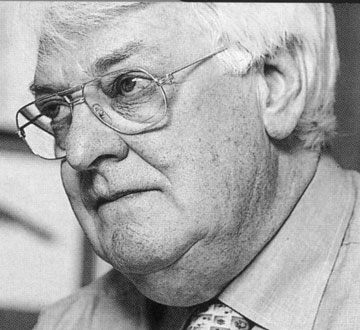 The Latest Storm Has Burst
Terry Playle's abrupt departure as Group Lotus chief executive - after just 11 months in the job - throws up one key question: why on earth is he leaving now?
It's too early to tell how Playle's much-vaunted restructuring is faring. The job cuts keep on coming and redundancies may simply exacerbate Lotus's financial position: losses of E42.6m during the financial year to March 2001. And rumours continue to ebb and flow over whether Lotus's owner, Proton, will sell up, to garner the hard currency it badly needs.
The party line is that the 69year-old's departure was always planned for this time; that he wanted to go before his 70th birthday. And spokesmen say he might stay on as an advisor - but the same claims were made for the previous CEO, Chris Knight.
In December, when Lotus and Playle invited Autocar to Hethel to lay out his revival plan, there was no hint that Playle planned to relinquish his leadership barely four months later. He did speak of appointing a chief executive "soon", but said he expected to lead the company through its recovery period from the posidon of chairman. "This is not just a hobby for me," he vowed "I intend to stay involved."
Early in his appintment, Playle told the financial community that Lotus had received a takeover offer from Ford, but he believed the Norfolk sports car maker was more likely to seek flotation on the stock exchange as a means to raising finance to expand. The clear implication was that he would still be around for the flotation.
Lotus now says Playle will be replaced by a temporary successor as chief executive. He is Victor Kiam, "a Chinese Malaysian who for a time was finance director of Proton's UK sales company". But there is no suggestion that Playle has been involved in choosing or appointing him. Lotus's cryptic statement about Playle's retirement says only that that the company expects to announce the appointment of a new chief executive "within the next few months".
Another ex-Proton UK appointee, Tenku Hasmadi, is the new commercial director of Lotus Cars. The new management's version of events is that Lotus's performance has "improved considerably" in Playle's time at the helm, but since production was at a virtual standstill when he assumed command, that is no grand claim. The company does assert it had strong sales in the run-up to Christmas. "It sounds good,"
says one retailer, "but it comes more under the heading of filling up the pipefine."
Meanwhile, the current atmosphere inside Hethel is described as "desperately quiet, like a morgue".
Proton's intentions for Lotus are far from clear. There is considerable evidence that in Playle's time, the company was offered for sale to several suitors.
The Sunday Times reported at one stage that MG Rover had been approached. "That story caused a huge storm, and soured loose discussions MG Rover was having with Proton over platforms and components," says one insider.
At one stage the Hethel works was visited and inspected by Tom Walkinshaw, boss of engineering firm TWR. And Ford's offer for Lotus was scuppered by a serious financial over-run on Lotus's E20m development programme for the Aston Vanquish.
There were rumours, for a time, of a management buy-out being cooked up. And some pundits have even suggested that Ion Moulton's Alchemy venture capitalists, unsuccessful in their bid to take over Rover from BMW, had plans for Lotus.
One school of thought is that Playle's long-term intentions may have been at odds with Proton's own. The Malaysian company, which counts the country's prime minister Dr Mahathir Mohamad among its directors, seems intent on keeping Lotus for the time being, either as a technology flagship, or as a bargaining chip in financial challenges ahead.
The company, which controls two-thirds of the Malaysian car market but made less than 120m last year (and L6m before that) will begin losing its control from next year when tariffs on imported goods (set presently at up to 300 percent) start to fall across a new South-East Asian free trade area that includes Malaysia.
"Proton has invested very little in Lotus since its stake in Lotus increased to 80 percent in 1998," says industry analyst John Wormald, of Autopolis. "With domestic import restrictions likely to be lifted next year, Proton may be stockpiling cash to deal with difficulties in cash flow - leaving little to invest in Britain. It is also very dependent on other manufacturers for its technology."
The car world's biggest manufacturers seem to have little interest in Lotus's plight. GM boss Bob Lutz recently told Autocar that his company's involvement with the Hethelbased company (which builds the Vauxhall VX220/Opel Speedster) was "about as close to Lotus as we want to get". Ford has lost interest following the Aston Vanquish problems, and it struck profit trouble in the US and Europe.
The future course of Britain's troubled sports car company is far from clear at present, but enthusiasts continue to hope it has much further to travel.
Steve Cropley
---
Elise is Key to Success
Lotus plans eventually to produce three distinct models - all with Elisestyle extruded aluminium chassis - and to build a total of 10,000 cars per year. For now the Elise is key: the company sold 700 in the last three months of 2001 and claims success with the current Sport 135. It has a 160bhp model coming (using MG Rover's K-series VVT engine). The Vauxhall VX220 deal with GM continues to the end of 2003, but sales have been disappointing: only 400 have been sold in the UK to date, far less than Vauxhall's planned 1000 a year. A turbo version is due before the end of this year.
Plans to sell Elises in the US will probably force Lotus to drop the K-series engine by 2004. The company has made the car legal for US roads and is believed to have chosen a 1.8-litre, 1 90bhp VVTL-i Toyota engine (from five contenders) to power US and next-generation European cars. Lotus wants eventually to launch a US-legal, V6-engined replacement for its stillborn M250 'Boxsterchaser' as well as an extruded chassis V8 replacement for the Esprit. But it has no firm launch plans for either.