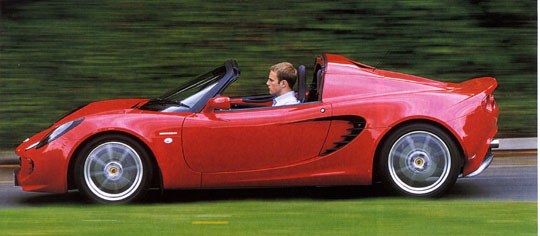 Road Test: Lotus Elise 111S
NICHE MARKETING takes on a completely new meaning when your model range comprises three near identicallooking cars that share the same engine block and are separated by just 40bhp, but that's the strange world of the Lotus Elise. The freshest, most powerful and costliest member of the sweet-handling Lotus clan is the new E27,995 111 S.
But its core values aren't what you might expect of a flagship Elise. It sits at the top of the tree not as the performance pinnacle, but as a means of attracting customers less interested in bare-aluminium tubs and power-to-weight ratio boasts down the pub. It's a car for less sporting souls, those keener on carpet and fuel economy. This is an Elise in comfort spec, and in many ways is touting itse f as a budget Boxster alternative.
Which means a first appearance in the latest-shape Elise for Rover's venerable VVC variable valve-equipped K-series engine. Still displacing 1796cc but with the benefit of Lotus's own engine management - the first time anyone has been allowed to tamper with the Rover lump - power is up to 156bhp at 70OOrpm and torque rises slightly to 1291b ft at 4650rpm. A unique gear set looks to capitalise on the powerplant's useful torque characteristic by stacking the intermediate ratios close together and lengthening fifth gear enough to give the 111S real cruising ability.
And that's pretty much where the mechanical alterations end - which, given how startling the standard package is, can only be a good thing. Those looking for evidence on the spec sheet that can justify the extra outlay will find nothing in the suspension set-up - it's identical double wishbones all round and the same spring and damper rates. Nor the brakes, which are still 282mm, ventilated items. But the wheels are different. Their obvious benefit is aesthetic, but the in-house design has managed to shave 1.5kg from each corner, and that's a big reduction in something that weighs just 780kg at the kerb.
For a car with the ability to crack 60mph from rest in 5.Osec and 100mph in just 14.5sec, the 111S feels remarkably undramatic from behind the wheel. As ever with a featherweight mid-engined sports car, initial traction is staggering, but from then on it's the sheer refinement of the drivetrain that sticks in the mind.
This is a car whose performance potential has been cleverly matched to the vagaries of everyday UK motoring. Thrash it to the limiter in every gear and you'll match the numbers on the opposite page, but knock the effort back 30 per cent and you'll still be rewarded with 90 per cent of the 111's pace. Much Eke the original 1996 Elise, this is a car that serves up its fun in the mid-range. It gives you ample grunt from 2500rpm and wonderful overtaking flexibility; a fact borne out by an Elise Sport 135 we tested back in January. That car posted an identical 0-100mph sprint but was a full 1.4sec shy of the 111S's 6.3sec 50-70mph time in fifth gear, despite the fact that the new car has a taller top gear.
But despite the extra refinement and improved mid-range, the engine isn't the perfect urban companion. There's a frustrating inch of dead travel at the top of the throttle pedal that's completely at odds with something so sharp and responsive. It makes pulling away from standstill a pain and leaves a nagging doubt in the back of your mind every time you want to dart out into a gap. Not a big issue for a track day car, but a real pain where Lotus wants this car to be accepted: as an everyday road car.
Still, mechanical refinement is excellent, with very little vibration in the cabin and far less exhaust and induction noise than the Sport 135. The 111 Ss taller gearing also makes it an infinitely more capable tourer. But Lotus has added some spice to its most refined Elise in the form of a cheeky exhaust system. Get beyond 4000rpin with your foot flat on the floor and 70 per cent of the spent gas fires straight through to the right-hand pipe. Clever - and yes, it sounds fantastic.
The bespoke Bridgestone RE040 tyres are carried over unchanged from the lesser models. Disappointing, you might think, but when said rubber is as grippy as any you'll find it's a cause for celebration, not complaint.
This is a sensational sports car; one that changes direction, steers, grips and most important, entertains like little else. And does the reduction in unsprung mass work? To be honest we didn't spot a big difference, other than the fact that this car felt a little stiffer at speed than a 135. Not exactly ideal if you're chasing the comfort market.
And this is where the 111S buying proposition will either become more coherent or disintegrate for most people. It is an inherently impractical car. Yes, it rides well, is comfortable and has a buffet-free cabin with the roof off. But it's a pain to get in and out of with the (now slightly shorter and easier to remove) roof on. And despite a semi-bearable hi-fi, air-con (a pricey E 1295 option) and a splash of carpet, it is not, nor ever will be, a genuinely comfortable car.
But it is a perfectly sensible everyday proposition. One that boasts a 52mpg combined fuel consumption and managed to average 29mpg in our hands, including a punishing session at the track.
And with a faintly ridiculous C02 emis sion figure of 163g/km popping it in the lowest emissions bracket, the 111S starts to make sense as a company car. With one proviso: that you accept it is at heart a pared down sports car; that it will occasionally leak a drip of water, or not swallow enough bags of shopping. Do that, and you'll be mentally prepared to five with the Lotus.

It may not be the best Elise to drive - the 135 is more invigorating - but the 111S is a fine compromise between dynamic excellence and usability.