Back On Track
By Richard Bremner, Photography by Matt Vosper
November 2003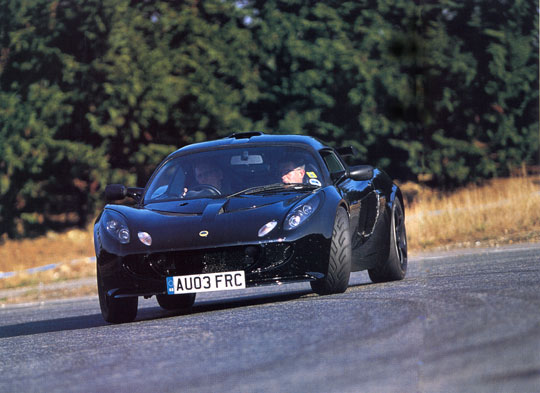 Lotus has been out of the headlines for a while now, but behind the scenes it has been quietly re-grouping. The new Toyota-engined Exige, whch we drive here exclusively, is the first car to emerge from the radio silence - but also on the way is a new Esprit, a new Boxster rival and even a return to racing.
And so we're romping toward the Senna esses, engine yelling in third, accelerator plunged deep. A small, firm wheel-twist trains the billow of an Exige front wing at the cone marking the curve's apex, triggering a brisk, measured and immediate response. The direction change is instant, the Lotus sinking slightly on its outside tyres as it settles, just before you turn the wheel the other way to round a fast-looming right-hander.
The rim lightens momentarily as it swivels past the straight ahead before resistance builds again, the wavering tug at your hands revealing that: a) you're really going rather fast; and b) the crust of this Hethel test track hasn't seen a resurfacing in a while. And that means - yesss - we are driving a modem car with some steering feel. Real steering feel.
Not that you'd expect anything less from a Lotus, because thats a major point of its products. Few manufacturers create cars conceived for driving pleasure and almost nothing else. The last Exige served exquisitely raw steering feel too, as well as offering 190bhp from a highly-strung, variable valve-timed engine. At least it did if you ordered a special version of Rover's K-series, wrung out to issue another 16bhp a nanosecond before the rev limiter, and your ears, called a halt.
This new Exige, however, is powered by a Toyota engine, the 2.0-fitre VVT-i motor from the Celica Coupe, and brings with it more torque, a greater will to rev, an extra gear and (a little) less din.
Because the Exige is still an extreme car for extreme driving, it is unfortunately likely to come at an extreme price when released next March. Lotus says it will be asking 132-35,000, the wide variation down to an as yet undetermined option count and the desire for some last-minute flexibility. The last Exige was not cheap either at L38,000. Yet Lotus eventually found more than 600 buyers once it cut the price, and dealers now report a resurgence in popularity for used examples, perhaps suggesting that a hard core of enthusiasts is beginning to appreciate what the Exige format has to offer.
But you do have to drink hard about it. Consider that a standard Elise costs L22,995 - over L9000 less, assuming Lotus pitches the Exige at the lowest end of the scale - and offers much the same array of sensations, with the bonus of a removable roof. Consider also that for L31,630 you can have a Porsche Boxster - admittedly offering a slightly different confection of abilities, but in a high-quality, well-rounded package - and you begin to wonder where the value in the Exige lies.
Before you grapple with this troublesome thought, however, here's what the new version has to offer over the old. Fans and the sharp-eyed might well spot its fresh look, but more important is the arrival of a new option on the price-fist: air conditioning. Those who have never driven an Exige on a hot - no, warm - day may scoff at such feeble desires, but believe us, this car needs chilled air, the confined, poorly ventilated cockpit brewing up faster than a bunch of layabout builders. It will probably be an option, but unless you enjoy parboiling, we wouldn't leave the showroom without it.
Another radical development is the appearance of a proper boot - granted, It's not terribly big, but it's better than no boot at all - and you'll be able to have electric windows and central locking, too. There's one more surprise on the specification sheet - anti-lock brakes, which are standard. Once you've explored the outer ledges of this Exige's performance envelope you'll see the sense in this, not least because, just like an Elise, this car goads you into going faster even if the bald performance figures aren't a great deal different from the old car's.
Senior project manager Geoff Grose reckons it will break 60 mph in under five seconds, 100 mph in less than 13 sec and exceed 140 MPH But, in real terms, the car, is quicker because it has usefully more twist action, as proven by Lotus wheelman Gavan Kersha's two-second-quicker circumnavigations of the Hethel test track.
Torque is hardly the strong suit of this Toyota engine, even if it will rip the skin from a rice pudding larger than the K series motor could. The 1331b ft peak lofts at a heady 6800rpm, just 10OOrpm short of the 190blippowermaximum, compared to the 1211b ft mustered by the 1.8 K-series at a rather more sane 2750rpm. But Grose's torque curves reveal that what you actually get is similar torque to the K low down, followed by an electrifying rip of power at the top triggered by the switch to meatier cam profiles at around 62OOrpm. Still, you can't help wondering whether a fight pressure turbo four, or a sweet-revving, lightweight six, might be a more appropriate power plant for a car of this price.
Lotus chose the Toyota engine because it best matched the need for 190200bhp, because it would package in the car and because it is developing the Elise for the USA, where the promise of Japanese reliability should provide useful reassurance. The company has a good relationship with Toyota - there's mutual respect, says Grose - and the initial contact was eased by the fact that the two have done business before.
Lotus has developed its own engine management hardware and software for the Toyota motor, which comes bolted to a six-speed gearbox - the old Exige did with five - and the total power train weighs in at 35kg more than the Rover unit. That enables the Exige to weigh in at under 900kg - not bad compared to the base Elise's 806kg. For the record, a base Boxster weighs 1275kg and needs 6.3sec to spear 60mph. At least as important as the performanc6 is the agility conferred by the absence of mass, and its fine honed suspension. No car from the Elise family has ever been deficient in this respect, but each iteration, be It Lotus or Vauxhall, has brought subtle improvements and this Eidge is no exception.
Where the previous model diverged a little from its open-topped brother was in tyre choice, fatter Yokohama A059S generating grip that made spectacular use of the 80kg of down force generated at 100mph by those wings and splitters. That figure is identical for the new version. As before, a quartet of significantly wider Yokohamas, this time A048s, yield more grip than the average Elise, while refinements learnt while developing the VX220 Turbo, (Project Tornado) have been applied to this car (Project Zolder).There ate also freshly, calibrated Bilstein dampers and snubbers fitted to the forward bushes of the lower wishbones, these increasing longitudinal compliance for, improved suppleness over sharp bumps.
Don't walk off with the idea that the snubbers, the modest new boot, electric windows, the air-con option and anti-lock have turned this diminutive coupe into a refined car, because they haven't - it's, as noisy as the racer it resembles. The original car, if you remember, was born of the one-make race series for the Elise, a heap of screaming coupe with centre-mounted seats battling for tarmac as a support race to the British Touring Car Series.
That first Exige looked what it was - a racer reconfigured for the road. However, this new one, though very obviously the same idea in essence, has a more finished look about it. That's no accident because this iteration was thought about at the time the Series II Elise was conceived by Steve Crijns, the principal designer, and the result is a car that looks far better integrated than before - a dinkily pretty object that begs for a hard drive.
Design boss Russell Carr says the principle styling theme was to create an Elise on steroids. It's a car for track use and lap times are crucial, so from the aerodynamics standpoint, we've included a front splitter, a rearwing and a smooth underside which helps down force. What with these and the mass of grilles about the car both for ingesting and exhausting air - the Exige is a busy little design. But it's also an attractive one, bar the ladder of grilles, in the engine lid, perhaps. Carr says they resemble a martial arts mask and replace the simpler rear window of the 4 old car, but the effect is fussy, especially as the rear spoiler sprouts on a pair of close-set spars from among them.
Still, as plant-on wings go it's not an inelegant device, and it certainly adds drama. So does the stronger-looking body. 'We've pulled the arches over the tyres, which helps the aerodynamics and makes the car look more planted, explains Carr.
In profile, the Exige has more sophistication about it, too. The engine lid drops less steeply from the roof than before, the roof being lower owing to the shorter rollover bar, while in plan form the car has more of a waist to it. The arches cover dramatic soot-black wheels whose spider web of spokes are made by a British company called Rimstock.
And now it's time to make those wheels turn. This car is far from fully finished, but it's a fair approximation of the final item in mechanical terms, even if the gearshift has a way to go. Clambering in is as awkward as it ever was, and four-point belts slow you further - they're optional this time - but once aboard it's impossible not to get excited. The Toyota motor doesn't sound so different from the K-series - there's that same, gruff four-cylinder idle and it all sounds very close. Stir in some revs and noise gushes through the cabin. Refinement? Pah! Move off and the car feels as familiar as the Elise that, in essence, it is.
But there are differences. The engine pulls with greater conviction, even on a fight throttle, and if you're hardly wrestling to control the beast, the performance doesn't feel as slight, as dependent on the car's low weight for its zest. The thing is more tractable, better mannered and, a good development this, largely free of the grating resonances issued by the K-series at high crank speeds. But so far, it doesn't feel blindingly quick.
For that, you must stretch the engine, spin it past the 62OOrpm moment when the cam profiles switch, the drone drops an octave and the Exige rams forward with renewed venom. The sensation is electrifying; the speed, the noise and the cocooned nature of your station reinforcing the idea that you're in a race car. Find yourself an empty string of bends and it's very hard not to drive as if you're in a race too. The Exige, of course, has been conceived not merely to round bends, but consume them. Dispatch one and you can't wait to get to the next, the little wheel aiming the Lotus with the precision of an Ian Hislop barb, the sticky Yokohamas hanging on despite cornering forces that are squeezing your body out of its seat. it is possible to dislodge the rear cover's grip, but you'll need a tight, second-gear comer, red-mist commitment and a bootful of power to do it, at which point the Exige swings sideways with amazing grace and, happily, terrific controllability.
What you can't do, at least in the dry, is have the tail slithering with a throttle shutdown mid-bend - the extra weight of the new power pack has barely disturbed its balance. It stops sensationally too, but in this development car at least, slight slack in the pedal movement makes you less willing to lean on the stoppers like you do in an Elise. That's the effect of the antilock, but perhaps it can be developed out and in no way does it prevent you from developing a blinding rhythm on a lap.
The Exige is almost unsurpassed as a track car and after a few laps of Hethel, you're left hungering for more. But to get the best of it, that's what you must use it for. Sensational though it is, the Exige is not an everyday car - unless you were previously using a Caterham - and its high price should not fool you into thinking otherwise. The original Exige took some buyers a while to understand - Lotus had to cut the price and residual values weren't so strong. But now they're rising, suggesting that this extreme machine has found its place. Great news, then, that Lotus has seen fit to perform this reprise.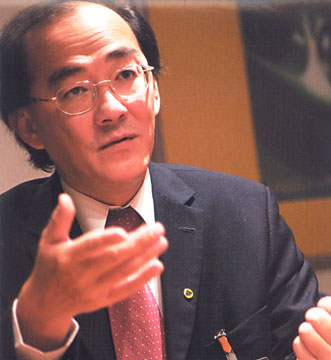 Lotus Deputy Chairman
By Steve Cropley
WHEN VICTOR KIAM landed at Lotus two years ago, it was difficult, at first, to look past his name. It simply seemed too extraordinary a twist of fate that a Malaysian financial fixer installed by Lotus's owner, Proton, should bear the same name (but for a stray 'i') as a white-haired Yankee businessman, now deceased, who famously bought the Remington company because he liked it, then went on TV to tell the world.
In all the hubbub and hilarity, Lotus's Victor and his important mission were glossed over. Then, when the dust settled, it became clear that Kiam was in town to do some very dirty jobs: to retrench several hundred Lotus staff (including engineers, hitherto in short supply) with the aim of cutting costs to get the company back on a solid financial footing, a task begun by his short-lived predecessor Terry Playle.
Lotus was in serious trouble. It had recently announced a 243 million loss, it was having trouble getting its revised Elise into production, its deal with GM to build the VX220 (aka Opel Speedster) was in difficulty because it couldn't meet speed and quality targets, and it had publicly committed itself to a model between Elise and Esprit, code-named M250.
In support of these things it had built new factories and revised old ones, launched an expensive Elise racing series and upgraded its famous Hethel test track. Then, after 11 September 2001, the engineering consultancy, which had been on the wane, hit the buffers. Clients baled out in droves, taking projects back in-house. Something had to be done quickly.
Playle summarily killed the M250 project because it was too expensive and too 'Eurocentric'. What was more, the company had already diverted too many staff from its engineering consultancy to chase problems with car production, and the M250 timetables simply could not be met. Playle left the door open for Lotus to produce such a car in future, but only if it could be a worldwide seller. Then he turned 70 and retired.
Victor Kiam arrived from the management of Proton UK, and Lotus's belt began to tighten even further. The new boss - his official title is deputy chairman - didn't have much good news to spread and wasn't used to talking to the press anyway, so the company went into a long period of silence, coming out of its shell only to publicise some pretty doubtful I needs must' Elise special editions, and to try to quell the worst of the job-cuts stories in the local press.
Silence, as Kiam explains it, should not be taken for inactivity. There was plenty to do, notably to get to know the business. "I knew very little about Lotus, only that they made sports cars and that they had always seemed to struggle over the previous 10 years. I'd been involved in the original acquisition - and I'd seen that they always seemed to need money for some new project or other, without much idea how it would be paid back."
As soon as he starts to speak, you warm to Kiam. He talks rapidly, the thoughts tumbling out almost faster than he can form the words, but he has an Asian humility and willingness to listen which is at odds with the Western way of doing things. It's the speed of his brain that conveys authority, not bombast.
The official story is that Lotus is now managed by consensus, with half a dozen experienced Hethel senior managers like Simon Wood, long-serving director of Lotus Engineering, to provide what Kiam terms the 'tekkie' input. But its pretty clear Kiam's agenda is the one that matters, and first on his priority list is building Lotus into a stable, profitable company.
It is happening. 'We stopped losing money last year,' he explains. 'Until then we had been operating at a loss. But each year since the L43 million loss we have improved our operating profit by L15-20 million , and we are now making money at the operating level. Our net profits aren't very good yet, because the company is still highly geared - its borrowings and interest charges are too high - but we are working on that, too. At the worst, we owed about L80 million, but we've more than halved that, and we have plans to reduce it more.'
After the Elise hits the US market early next year, Kiam expects cash flow to speed up. After selling about 100 cars across the pond in the past few years, he's hoping volume can rise to between 2000 and 3000 cars a year. That will be the move that decisively restores Lotus to profitability, he believes.
Beyond that, it's a matter of launching new models to entice buyers: continuing upgrades and advances for the Elise - and two new models. Work is beginning now on a new Esprit, the mid-engined supercar, with a plan to launch it for the 2007 model year, and there will be an M250-style car as well, targeted at Porsche's Boxster, 12 to 18 months later (see news story on page 13).
Kiam's plan for Lotus, five years hence, is that it will be a company with a E350 million turnover (L150 million now) with the earnings split two-to-one in favour of car production (at present it's about equal). By then Lotus should be producing 6000 cars a year in three models: 3000 Elise and Exige, 2000 Boxster-chasers; 1000 Esprits - and about half of them targeted towards the US.
At that stage Lotus's shareholder (only Proton, since it acquired Romano Artioli's 20 per cent last year) will be getting what Kiam terms 'a proper return on its years of investment'.
Racing will always be important to Lotus, he believes, but only the kind that involves production cars. F1, he believes, is a bit too expensive. But after a period of stringency the company will come back to supporting racing series around the world, and produce the performance equipment (through its Lotus Sport and Performance arm, on site at Hethel) which competitors will need.
Contrary to his man-of-mystery image, Kiam is a day-to-day Norfolk resident, whose work base is in Hethel, and who sends his kids to the same school as Simon Wood's. He travels a lot, choosing and appointing importers (as you read this, he's just back from Mexico), and enjoys the independence of operating a little company far away from the smoke in Norfolk. The quality of dealers and importers is one of his hobby horses: Lotus halved its German network some time ago, because Kiam wanted quality, not quantity.
The big question is whether the Malaysian backroom boy will be around to see his remedial work prosper. He hopes so, though he admits this will be a matter decided in Malaysia. 'I enjoy every minute with this company,' he says, departing momentarily from his Asian mildness of manner, 'and I would definitely like to see things through, at least to get to a point where the shareholders feel comfortable to hand on to someone else. Luckily, there is still very much to do.