The All-New Lotus Esprit

Author:  Steve Cropley
In a privileged glimpse behind the scenes, Lotus engineers have given us a fist sight of what the stunning new Esprit supercar (right) will probably look like.  It's just one of a raft of visionary new designs coming out of Hethel.  Steve Cropley was given an exclusive look at some of the radical cars that could soon wear a Lotus badge.  And turn to p48 to see how the new Toyota-powered Elie 111R cuts it against the VX220 Turbo…
LOTUS IS working at top speed to design and develop a secret new L75,000 supercar to replace the 25-year-old Esprit in two years' time. Depicted top right is an official Lotus drawing and, below, enhanced by computer design, the new Esprit - a mid-engined two-door coup6 with compact styling and dimensions, sophisticated aerodynamics, ultra-agile handling and a top speed close to 200 mph - is being engineered to suit all the major car markets of the world. Lotus aims to offer markedly better performance and value for money than established opponents like the Porsche 911, Ferrari 360 and Lamborghini Gallardo.
Another new Hethel supercar will be launched about a year later, in 2007, to fill the price gap between the Elise and Esprit. The car is in its earliest planning stages, but is likely to be a two-plus-two front-engined coupe priced at around L50,000. Though quite different in mechanical layout to the others, the coup6 will share a remarkable number of its chassis components and running gear with them, using latest Lotus technology. This new three-tier product fine-up shows for the first time how Lotus plans to fulfill the forecast made last year by the company's deputy chairman, Victor Kiam, to develop Hethel as a 10,000-a-year sports car manufacturing business.
Previous Lotus expansion plans over the years have foundered on cost grounds, but Kiam and his engineers believe the difference this time is that these models will pioneer a new Lotus developed process called Versatile Vehicle Architecture (VVA), which allows models as disparate as a front-engined four-seater and a mid-engined two-seater to share high-investment chassis parts, leading to a dramatic cut in development and manufacturing costs. The process is so flexible, say Lotus engineers, that it will eventually be adopted for all three Lotus models: the L25,000 transverse mid-engined roadster (the Elise replacement); a L50,000 front-engined two-plus-two coup6; and a L75,000, 200 mph mid-engined supercar (seen here). Behind the new plans is a realisation at Hethel that the trendsetting 'tub' monocoque chassis of the Elise, made up of a light but very rigid combination of aluminium castings and extrusions, is even more versatile than its designers first realised.
'The Elise chassis design was optimised for lightness, so we compromised on ease of entry and exit,' says Richard Rackham, Lotus's chief vehicle architect. 'Buyers were so thrilled when they drove the car that they overlooked the difficulties of getting in and out of it. But when we tried to scale an Elise chassis up for bigger cars, we found it didn't work very well. More expensive cars built with the same compromises wouldn't please the buyers, we felt. So we've spent the past year finding out how to use Elise chassis principles without the other drawbacks!
In essence, Lotus is designing intricately cast, ultralight dogleg-positioned castings at the four lower comers of a car's cabin space to connect Elise-style boxed side sections with optimised load-bearing (and crashable) structures front and rear, without reducing either door size or cabin. Richard Rackham and his team reckon they have come up with components versatile enough to work in a wide variety of vehicles: front-engined or mid-engined, transverse four to longitudinal V12, two seats or four. It's a bit like striking the chassis engineer's jackpot.
'These castings are easily the most expensive components in a chassis of this type,' says Rackham.  'We've learnt that if we design them carefully, they can be used not only in cars of disparate mechanical layout, but re-used in the placements for those vehicles in the future. A lot of our work over the past year has been about forecasting the cars we might like to build in years to come and devising chassis parts that would work in every case.'  These future developments were revealed to Autocar in a round-table meeting at Hethel last week, chaired by Lotus's UK general manager, Ansar Ali, and attended by Clive Dopson (manufacturing director), Russell Carr (head of design), Richard Rackham (head of vehicle architecture), Roger Becker (chassis development expert), Tony Shute (head of Lotus's new product team) and Rupert Williams (project engineer for the new supercar).
Two years from launch, the team was reluctant to go into too much detail about the new supercar; although much of its packaging has been decided, its 'look' is still fluid and the Norfolk engineers don't want to feed information to rivals.
Autocar's own deductions about the new mid-engined supercar and its future are as follows:
Despite being referred to internally and by us here as the new Esprit, it will probably not use the Esprit name. The construction method will be so different and the level of design sophistication so much greater than the old car's, that the two would have little in common.  'For the time being,' said one engineer, with a smirk, I we're calling it Elvis...'
It will use a longitudinally mounted engine, probably a forced-induction V8, mounted behind the occupants' heads, possibly supplied by Toyota. Lotus now says it 'did the deal' to use the 190 bhp 1.8 litre in-line four, recently adopted for USspec and new-generation European Elises, over two years ago, and found they still had friends at Toyota from the time, more than a decade ago, when the Japanese had a major stake in Lotus.
Lotus may, however, eventually build its own engine for the top two models, whose volume could reach 2000-3000 a year (1000-1500 of each), though the Elise-level model will use the Toyota unit.
The car's 1300kg weight and 1900mm width targets will make it a very agile car. Lotus is already admitting its dimensions will probably allow a return to racing for the quickest versions. The old Esprit did well in both European GT and SCCA racing well along in its career, thanks to fine handling and low weight.
The two-seat supercar's launch is probably being planned for Geneva 2006, because the original production Esprit made its debut there in 1975.
Package efficiency will be a higher priority in the new Lotus models than ever before. Though proud of its heritage, the modem Lotus company is sick of its reputation as a producer of cars for occupants of 5ft 7in (Colin Chapman's height). Richard Rackham has carefully tracked research into the increasing stature of sports car customers and believes one of VVAs key benefits is to improve ease of entry and egress, one of the chief criticisms of the Elise and Exige.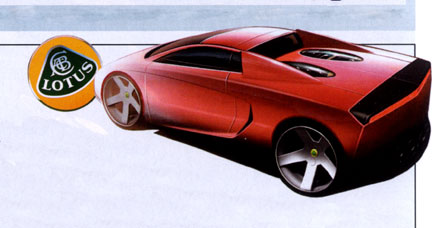 Russell Carr has not arrived at a final shape for the new Esprit, as the variety of sketches reproduced here - some redrawn by Autocars own artist - make clear. Carr will have to produce one within a few months. He lists the key Esprit styling components for us: the save-the-wedge shape, the flat or near-flat windscreen, the unique side-window shapes, the clean almost geometrical body sides (contrast them with the Elise's scoops and scallops), the flip-up quad headlights and the flat rear screen, with or without louvers, depending on which James Bond movie you saw. As the engineers work at designing and locating the car's main mechanical parts (one fascinating, hastily covered document we spotted in Lotus's design studio was a full-size package drawing), Carr says he has been investigating two different design approaches.
'One way is to evolve the car by theme and detail,' Carr says, 'along the same lines as the Porsche 911 or the Range Rover or new Mini. The latest models are quite different cars from their predecessors, but anyone can tell what they're supposed to be. You look at the main elements, lights and window shapes, and you know instantly.  The other way is to let the Esprit's spirit evolve - the same way the Elise has evolved from the first Elan.  They're completely different mechanically, but the Elise is definitely the kind of car likely to appeal to old Elan lovers 40 years on. There's no element of pastiche, but the car still pleases the right people!
There's no clue from the round table as to which line is about be adopted. Full size models from each side of the argument have been built and are being considered. But Autocars' impression is that some members of the Lotus team believe that there have been enough 'pastiche' cars, and that it would more appropriate to do a 'spiritual' design - along with a new name - using the way the Elise replaced the original Elan as a guide.
Our Lotus panel wouldn't even say for certain whether the 'third' model, the 2007 entry, would definitely be a front engined two-plus-two, as the Lotus sourced renderings we show here indicate. But Ansar Ali agreed that the logic was with the idea, since a slightly more sensible, liveable-with model gave Lotus buyers above and below something else to aspire to, and there were precedents from history in first the Elan Plus 2, then the Eclat/Excel range.
'It's four times more expensive to convert a Lotus buyer than to keep an existing one,' says Ansar,  'and part of our strategy is definitely to do a lot more repeat business in the future. The Lotus clubs say they're expecting a two-plus-two, which maybe a sip that there's a latent market!
One lesson Lotus learned from the M250 is that it was probably unwise to launch a model too close to the Elise, now so well developed. The Toyota-engined model has 15 per cent more weight but 50 percent more power than the original, facts, which would have made life hard for a bigger, V6-engined sibling. Better to have a brisk-performing two-plus-two between the agile roadster and the 200mph supercar. The round table soon fleshed out the M250's other shortcomings: it had very little load space, it wasn't engineered to world standards and the performance-feel of the unblown V6 engine just wasn't right for a Lotus. Live and learn.
Once again, Lotus is on the front foot. The company is on the look-out for talented people again and working on the kind of projects which have always enthused the engineers and designers who carry Colin Chapman's flame. There's a confidence at Hethel in what they've done lately: improved the Elise, given it more power and breeding, and launched it in the US. Elise annual mileages are rising as people find the cars easier to use, while warranty claims are falling. And nowadays, all things Lotus must fit the financial rules laid down by Proton's money man, Victor Kiam, who seems to be something Hethel has never previously had, a model of financial probity.
There is risk ahead. The promising US launch must translate into 1500-2000 Elise sales a year - a big task. The Toyota engined Elise must convert new hearts and minds in Europe. If the new supercar and GT models are to be worth building, VVA has to bring unprecedented efficiencies. And there are concerns if things get tough, such as the unavailability of development finance from Proton, which (one hears) is severely limited in its domestic market and pretty strapped for cash.
But Lotus hearts are upbeat and plans are impressive. Experienced hands like manufacturing director Clive Dopson, who designed engines before he took over production, reckon it can work. 'Roughly speaking,' he says, 'it costs about as much to develop an engine as it does the rest of the car. We think we have a project that can break that relationship and take a huge amount of cost from the car. We need this car, so we can show people how well it works.'
Autocar Magazine  3 February 2004