20 Questions Autocar 3 February 2004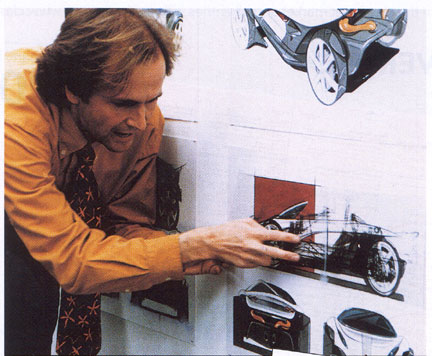 Russell Carr: Chief Designer at Lotus Design
If you were a car, what would you be? Julian Thomson said I'd be a Saab - endearing with some quirky features - but I consider myself to be a little bit flabbier than I would like, understated, reliable, but still able to excite. Maybe a black Porsche 911.
Where and what were you driving when you first topped 100mph? At Brands in '84 at an Austin Rover test day in something sexy like a Maestro Turbo and as a passenger in my dad's NSU Ro80 in the '70s'
What's the most embarrassing car you lusted after in your youth? I owned a TR7 convertible.
What should the speed limit be on a clear and empty UK motorway? In a perfect world on an empty road, a much higher speed limit, but this never happens so 70-80mph still seems the safest option.
What's your favourite road? The Pacific Coast Highway in California was pretty cool, but one that sticks in my mind is taking my Mini along the back road from school in Dorking to my home in Reigate in Surrey. Roads just frustrate me now because they're scattered with speed cameras.
What's your proudest-ever achievement? Becoming a father, but I guess the thing that gave me the biggest b u ZZ was working on the Lotus GT1.
What are the trends in your field that are just below the horizon? Designing for pedestrian impact is a particular problem if you're doing something low and sporty. The other big thing is designing a degree of passion into anything you do - be it styling like BMW's 'flame surfacing' or function like the Vauxhall Signum.
What achievement by a rival are you most envious of? Ken Okuyama at Pininfarina for his work on the Enzo and what Audi has done in recent years.
If you could switch careers, what would you do? That's easy, I'd be fighter pilot.
How much are you paid, and are you worth it? I can't say how much I'm paid and you'd have to ask other people if I'm worth it. If the work we do for Lotus is considered valuable and important, then we're worth it. But none of us are paid enough.
What's in your car stereo right now? Nothing, as I drive an Elise, but my CID wallet contains a mixture: Coldplay, Supergrass, some Frank Sinatra, the Stones and The Doors - nothing blindingly modern!
What would you do with your last gallon of fuel? I'd put it in a Formula One car... or pour it over any evidence that I once owned a TR7.
What was the last book you read? Colin Chapman: The Man and His Cars by Gerard Jabby Crombac and Rat Pack Confidential by Shawn Levy.
Describe yourself in one word.  Optimistic.
F1 - yes please/no thanks plus a 10-word explanation Yes please. Every time I watch it I complain about it, but it's a 35-year addiction that's difficult to break.
What's the maddest thing you've ever done in a car? The silliest was competing with Julian [Thomson] to see how far we could drive on a hot summer's day with the heating turned right up.
What cars would be parked in your million-pound garage? My Jaguar E-type, along with a Lamborghini Miura, a Lancia Stratos, Shelby Mustang, Renault Initiale concept, Ferrari P4, Lotus 25 or 72, Elise and an Audi RS6 as a sensible saloon.
What's the fastest you've ever driven on the public highway? I couldn't possibly say, it would be irresponsible, but I might have gone over 70mph once or twice.
What's the most amount of money you'd spend privately on a car? At the moment I find it difficult to justify spending any money on cars. The most I've ever spent was L15,000 on the family Audi.
What would you like them to write on your gravestone? The hearse would look better with 20in wheels and wasn't the second generation Esprit worth the wait?
AutoCar Magazine 3 February 2004