NEW ELISE OF LIFE FOR EXIGE
Autocar 30 March 2004
LOTUS EXIGE
PRICE E29.995
ON SALE Now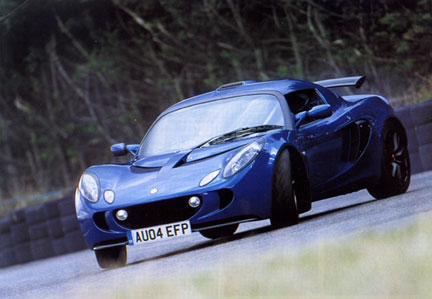 WHAT'S IN A NAME? Everything. And no sports car in the last 10 years has had a better name than the Lotus Exige. I don't know what it means, or to what it refers, but I know it sounds right. The instant visual connection it conjures when someone utters the word is uncanny. Hard-top Elise with pumped arches and eat-my-shorts rear wing. Three-fifths group C racer. I was certain that when Lotus decided to do the same to the Mk2 Elise a year ago, it could only ever be called an Exige once more.
But then a great name also serves to signify a known character, as much as provide seamless visual recognition. And in this case, having just driven it, I'm not quite so sure that this car should be called an Exige after all. Yes, the caf6racer inspiration remains, but Exige Two offers a very different driving experience. Foreign words have crept into the description book: comfort, anti-lock, servo-assistance. Even usability. Gulp.
For me, 12 months running an original car merely served to confirm just how extreme the Exige was. It deafened, lightly griddled and perpetually bashed my body into submission, and I was completely addicted to its charms. On two counts it was unbeatable at the time: you had to spend 10 times as much to get more people looking at you, and the track performance was superb because, mechanically, it was a significant step on from the Mk I Elise. Somehow it felt very Italian: prone to the odd breakdown, but so full of character you always forgave it.
The new Exige does answer one question about the original car's styling - was it the extra width or the aggressive spoiler treatment that really did the business? It was definitely those flared arches because Exige Two simply doesn't have the same circuit-refugee look. Wider front arches cover the 195/50 front Yokohamas, but the rear track and body width are shared with the Elise. A new front splitter and rather petite rear wing bring around 45kg of downforce at 100mph and the engine bay snorkels air through a slightly clumsy-looking set of side air intakes and a lovely roof-top air box. From the moment you first see it the name doesn't fit the face and I could only think of it as one thing: an Elise Coupe.
And I don't think Lotus will be horrified by that. This car is deliberately more mainstream and aimed at a much broader audience than its predecessor; a car that adds more track finesse but transforms its usability. Very few people drove the old car every day for good reason. The bodywork simply eroded over time and the old 190bhp K-series was flatulent below3000rpm.
You won't need to be a masochist to drive this one to and from work. It's no easier to clamber inside, but once settled you enter a world of sublime luxury for a car wearing this badge. The test car is fitted with all the kit: air conditioning, electric windows and a four-speaker hi-fi. You choose your spec in either the Performance pack (carbon bits, harness, roll-bar etc) or the Comfort pack (electric windows, carpets, stereo etc). The air-con is a L1295 option and an absolute must.
Twist the key, and you rouse the other reason why name doesn't quite fit character. The Exige shares the same Toyota engine as the Elise 11111 (see page 50), which means it burbles into fife with far more decorum than before and settles down to a well-mannered Japanese idle. No problem with that. Outputs are identical though: 189bhp at 7800rpm and 1331b It at 6800rpm. Surely an Exige should be more powerful than any Elise?
However, straight-line speed is only one part of the performance package and a series of fast laps around Hethel proves die point. An Elise - any Elise for that matter - wouldn't stand a chance of staying with this car on a circuit. While the powertrain boys were told to leave the oily bits well alone for this car, the chassis has come in for some special attention. Spring and damper rates are up over 10 percent on the I I I R (which itself is dramatically stiffer than before) and aYokohamaA048 tyre has been specially developed for it.
It's the most impressive so-called track tyre I have ever driven: virtually unstickable in the dry without provocation, and then totally reassuring and progressive when it does let go. And I stiff can't make a connection between its performance through standing water and the skimpy tread pattern. It looks like Aquaplane Central, but just sluices through puddles. Work on the construction and compound has meant the car can run very stiff in terms of ride, but still remains supple on the road.
Steering is exemplary, one of the very best racks on sale, and the six-speed 'box is a marked improvement over the old one. What a pity, then, that it doesn't have a set of ratios that better exploit the Toyota engine. With a claimed top speed of 149mph, third gear runs to nearly 100mph, meaning most UK circuits will only need the first four cogs. The engine itself is a real improvement over the old VHPD K-series, but performance is no stronger now that the car weighs 80kg more: 60mph takes 4.9sec and 100mph 13.2sec. Above 6200rpm, where the cams change, it makes a top noise.
For everything but pedal feel the new anti-lock brakes are excellent, but for the moment the middle pedal is too long and makes rolling onto the throttle a touch difficult. Having had plenty of lock-ups in my long termer, it's this anti-lock/decent tyre combination that transforms the Exige's everyday prospects. Noise of every type has been reduced, too. At 85mph YOU talk loudly at your passenger where YOU used to bellow.
At L29,995, the Exige isn't cheap, but then nothing for the money will lap as fast  and be so comfortable on the way home. But the name problem remains: it's very much an entry-level car, and even though Lotus wont be drawn on such matters, it's obvious it has more radical things planned for it. With more power and a closer set of gears, it would be far enough removed from the Elise to justify the name. But in my mind, despite being a very fine effort, this is very much an Elise Coupe.
Chris Harris  Auto Car Magazine 30 March 2004