Elise's New 'Toy'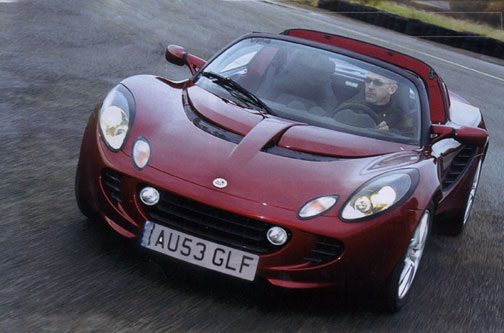 Author: Matt Davis
THE waiting is over! After months of rumour and speculation, Lotus has finally pulled the wraps from its new Toyota-engined Elise - and Auto Express is the first British magazine to get behind the wheel.
Powered by the Celica's 190bhp 1.8-litre VVIL-i unit, the car will appear at the Geneva Motor Show in March, before going on sale in the UK next summer Designed as a flagship for the Elise line-up, it will sell alongside the Rover K Series-engined version and is expected to cost L30,000.
For the moment, Lotus is concentrating on getting this more powerful, more luxurious newcomer ready for the company's push into the US market. However, this version is likely to have an equally big impact here, so we had to try it out - and brought along a current Elise for comparison.
Expectation is high as we head out on to Lotus's private test track. We've been huge fans of the Elise ever since it was launched in 1998. In our opinion, each evolution of the car has improved the design and driving appeal - so can the latest machine maintain this reputation? In short, absolutely But the new Elise is a very different sort of car to its Rover-engined brother Although it's more powerful, the Toyota unit adds weight, as do the twin airbags, antilock brakes and six-speed gearbox.
In fact, the newcomer is 90kg heavier Lotus says this won't matter, as it's targeting a different breed of driver To prove this, climate control and a Blaupunkt stereo feature, while the floor has been carpeted and there's a start button to the left of the steering wheel. The instruments are all different, too, reading bright white in the day and streetlight amber by night, instead of cobalt blue. Fuel capacity is up, and there's a half leather interior and remote locking.
Fortunately, all this doesn't seem t have slowed the Elise's pace much. Dashing round the test track at Lotus's Hethel HQ in Norflok, it feels responsive and lively. Under hard acceleration, the VVTL-i is extremely exciting. Thanks to Its hi-tech variable cam technology and 8,500rpm red line, it's more versatile than the lower-revving Rover engine. It's also smoother at idle and cruising speed. 
Another welcome change is the six speed gearbox. However, the additional kerbweight is noticeable, particularly under braking. The suspension is far softer, too, although Lotus says the Elise we drove was a US-spec model tuned for uneven roads. When the UK car is finalised, the double wishbone set-up is expected to have been revised.
Ultimately, the new Elise represents another significant step forward for the British company. We look forward to trying one on the open road.
26 Auto Express Winter Special