Long Time Gone
The hard-core enthusiasts dream car has arrived. How many people will care enough to buy one?
BY J.P. VETRRAINO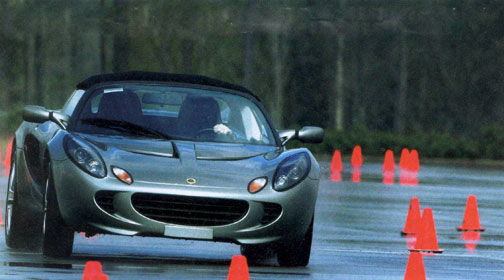 IF YOU'VE PAID ATTENTION THE last several years, you know the Lotus Elise. Perhaps you've lusted for one. We have now touched, smelled and driven the federalized Elise on U.S. soil. The first new Lotus in the United States in 14 years is everything we expected and most of what we hoped for.
The 2005 Elise weighs less than a subcompact and feels as rigid as sports cars that cost twice as much. Its engine sits two feet over your shoulder, in front of the rear axle, and you can't match its power-to-weight ratio for the money. Zero to 60 mph in 4.7 seconds, 150-mph top speed-those are almost supercar track numbers, with an honest 25 mpg. The Elise has bigger brakes than luxury sedans that weigh twice as much. On, track day it will keep the comers of your mouth pinned to your ear lobes, and it is not bad at all if you drive it to get somewhere. We would say it's cute in a Pokemon fashion, but we'll leave that up to you. If it looked like a Radio Flyer, we wouldn't care. It's that much fun.
Elise is true to Lotus founder Colin Chapman's vision of what motor transport should be, only better. It has near perfect Lotus dynamics and a bulletproof, still-screamin' Toyota drive train that ships to the Lotus factory in Hethel, England, in a crate. All this comes for the price of a loaded Lexus ES 330.
Maybe that's why Lotus Cars USA in Atlanta has high hopes for Elise. This is the car to relaunch the brand, fortify the dealer network and set the stage for expanding the line to three cars. To achieve these goals, Lotus USA need sell only 2200 Elises a year. Toyota sells that many Camrys a weekend, and the 39 Lotus dealers across the country have orders accounting for a year's supply. What can go wrong?
Ask yourself what went wrong with the Europa, or the 1991 Elan, or the Lotus F1 team, which accumulated the sport's most impressive record before it changed hands and went belly up in the 1990s. Sometimes business stinks.
The Elise represents what this magazine loves, from a company peppered with our kind of people. Elise tests the viability of a brand and its values, to be sure, but ultimately it might test our values, and their commercial strength circa 2005. They mean something, don't they?
Hope so, but the lessons of history and this nagging worry somewhere behind the Elise-induced grin don't inspire confidence.
THE LAST BEST CHANCE
Arnie Johnson has owned, raced or restored sedans, muscle cars, sports cars and motorcycles. Yet he owned only one Lotus-a 2+2 Elan-for only two days. For more than~ 30 years his company car was a Lotus.
Shortly after he finished a military tour of Southeast Asia, Johnson took a job at Duchess Auto Co. in Millerton, New York, which shortly became Lotus last one of five regional distributors in the United States. In 19179 Chapman bought out the distributors, launched a wholly owned subsidiary in Costa Mesa, California, and hired Johnson as national service manager. Over the next 25 years, which encompassed Chapman's death in 1982, the creation of Lotus Cars USA as a tax shelter for wealthy investors and subsequent ownership by General Motors, Bugatti and Malaysian automaker Proton, Johnson rose to sales manager, president, and in 1998 to CEO of Lotus Cars USA. In May, to the chagrin of Lotus enthusiasts and dealers, Johnson resigned. Duke Hale, head of the new Lotus Holdings umbrella group, had asked him to take a demotion to make room for longtime Mazda sales executive John English as CEO.
Lotus, in the States has been the redheaded stepchild of a financially challenged parent.  Globally, Lotus Engineering, the contract arm responsible for dozens, of automotive systems and engines, used by manufacturers around the world, has often been the barrier protecting Group Lotus from insolvency. Yet under Proton's control, Lotus Cars has also prospered. Demand, for Elise, has exceeded , expectations in Europe, and its U.S. sale was approved from the top. Of course, Lotus history here is full of optimistic launches.
Johnson remembers several.   Esprit, for example.
The Giugiaro-penned Esprit remains one of the most beautiful cars ever and when it was launched Stateside in1977, Lotus sold 700 copies. Unfortunately, shifting currency values drove the Esprit's, U.S. price from $15,600 to $32,000 in less than two years.  Sales tanked.
"They never came back," says Johnson. "There was a spike to 330 with the Esprit Turbo, but the average has been about 150."
Then there was the second Elan, launched during the GM era in 1991.  Despite its front-drive layout, pre-launch publicity brought pre-launch orders.  Yet between Elan's conception and introduction the economy slumped.  The car proved very expensive to build, and the target price of $25,000 became $39,000.  Lotus USA sold 546 Elans in 1991 and one from inventory in 1992.  Then Elan was gone.
Johnson believes the best year for Lotus here was roughly 1000 cars. He isn't sure, because it came during the Europa era in the early 1970s when there were "still five distributorships. In 2003 Lotus USA sold, 120 Esprit V8s. With the Elise launch, Esprit's 27-year run will end.
Johnson figures Elise is the company's last chance, who ever is running Lotus in the States.
At 100 cars a year, you won't build anything," he says. "Lotus has never made a product with the potential demand we see in Elise. It's a bit of a toy, but it's, outstanding. It's a head start for future product. The goal is three products within five I ears. It's optimistic, but not impossible.
FEDERALIZATION
Group Lotus directors, approved Elise U.S. sale in November 2002, six years after its launch in Europe. Roger Becker, and his staff in Hethel immediately went to work on the car, which had evolved into the Elise Mark, II. By November. 2003 they were driving U.S.-spec prototypes.
Becker is chief development engineer for Lotus Cars. He joined the company in 1966 and met Chapman shortly thereafter, when Chapman handed Becker keys to a Europa prototype and rather curtly demanded small changes in the location of the pedals. Chapman's intuitive grasp of "correctness" and his insistence on appropriate development driving left a lasting impression. Four decades later, Becker still pounds the dirt out of a car on a handling course. He will encourage you to do the same.
The U.S. Elise is six inches shorter than a Mazda Miata on a fractionally longer, 90.5-inch wheelbase, nearly five inches lower at the windshield header and 400 pounds lighter. Its foundation is Lotus's 155-pound extruded aluminum frame, with outer boxes, floor pan, uprights and crossmembers bonded with aerospace glue and riveted together. Even with equipment Lotus old-timers might consider superfluous (like air conditioning and a radio), the U.S. Elise weighs a svelte 1975 pounds.
The most prominent change for the States is the powertrain. To compensate for the weight increase, and perhaps for marketing value, Lotus has switched the European version Rover engine for a Toyota 1.8-liter four with Variable Valve Timing and Lift-intelligent, matched to a Toyota six-speed manual. We know this combination from the Toyota MR2 Spyder (also larger than Elise), Celica and Matrix/Pontiac Vibe. Lotus developed its own intake system, exhaust and control software. The engine develops 190 hp at 7800 rpm and 138 lb-ft of torque at 6800 rpm (10 hp and 5 lb-ft more than any Toyota application, and Becker insists it is nowhere near its durability limit.
The U.S. Elise required some work to meet crash standards, including front impact airbags. Market-driven equipment includes a/c, Alpine stereo, ABS and optional power windows. Finally, Lotus recalibrated shocks, springs and bushings for the extra weight. There was slight softening for perceived tastes and the condition of roads over here, but Becker insists his engineers never lost track of what they were working on.
"A Lotus is a driver's car developed by drivers, " Becker says. "It does what you tell it, whether you tell it right or not. If it behaves exactly as you told it to, it's a Lotus."
The U.S. Elise is a Lotus. What we've heard from Europe was keenly demonstrated in good ol' Birmingham, Alabama, USA, and if the Americanization of Elise has somehow dulled its wits or reflexes, we found no indication on a two-gear autocross course or the tricky, blind-corner road circuit at Barber Motorsports Park.
Elise's steering is exceptionally precise, and pure in sensations it feeds back through the hands. It is quick enough to do almost everything with hands at 10 and 2 o'clock. Feel during the unwind past an apex is a precise tool itself. Grip, release, grip, release, opening and closing your hands is enough to adjust your trajectory.
Load Elise into a medium bend and it understeers a hint. Inclination says "lift," but if you keep the power on and dial in a tick more steering, the car sniffs out the apex like a hound. Powerslides don't come naturally to Elise, though it will accommodate them with VVTL-i in the full-lift zone in a second-gear corner. The steering holds the tail, and a slight reduction in throttle will pull it back without fear a weight transfer will send you into a loop.
Driven hard, the Elise is as accommodating as any car we've encountered. It is not just extraordinary balance and fluid transitions. It is the confidence it inspires. More than obvious alternatives like Miata, MR2, Honda S2000 or Porsche Boxster, Elise makes us ham-hands feel like Clark or Andretti or anyone who won the world championship in a Lotus. Restraint is hard to muster; in the Elise, elan tends not to be a problem unless it is expressed too joyfully on public roads.
We tried Elise on the road, for 45 minutes in an orchestrated convoy led by a Lotus rep. We learned the gears are fairly widely spaced, so shifts are smoothest when you wind it out, even at part-throttle. That said, we also learned the Toyota engine is more tractable than any Esprit or Elan mill ever was, with decent low-end and a nice rocket-shot in the last 1500 revs before the redline. The ride tends toward stiff, but it won't bother anyone who appreciates the handling. Big bumps generate a bit of flex in the composite body panels, though the pilot cars Lotus provided had no audible rattles or excessive vibration inside. With the top off, noise in the cockpit never exceeds tolerable.
Switches are fairly easy to hit, except for the tiny stereo buttons. Exaggerated styling themes carry over inside; sills and other aluminum bits are exposed around standard for-Americans carpet inserts. Depending on sensibilities, it is cool or cheap-looking. Either way, Elise is certainly more appealing than the last new Lotus, the Isuzu-powered 41an that was supposed to sell for $25,000.
ONLY 2200 A YEAR
The first Elises should reach U.S. dealerships by the end of June, $40,780 with destination charge. Like the car, option packages are simple by design. The Touring pack ($1,395) delivers the full American ride, with full-leather seating, power windows, a stereo upgrade, double-insulated soft-top, additional sound insulation and full carpet. The Sports pack ($2,480) creates the 4.7-to-60 Elise (without it, Lotus claims 4.9 seconds): 17-inch forged wheels, Lotus sports suspension and Elise-specific Yokohama A048LTS tires. A hardtop is $1,475.
Lotus USA isn't quite sure who will buy Elise. About 500 deposits come from previous Lotus owners; next are hard-core baby boomer enthusiasts. The company expects some "young trendsetters" who appreciate the styling and reliability of a Toyota engine, and it insists import hot rodders are already enamored. The business plan is based on 2200 cars a year, so it should be a no-brainer. For a year or two. What happens when the hard-core has its Elises?
This car is tiny by American standards. The street-drive convoy, with all Elises in a line, might have delayed the realization, but it was driven home passing a maintenance truck at Barber Motorsports Park. The Elise can hide in the shadow of a Ford Focus.
At the pre-drive briefing, a bunch of crusty journalists were instructed on the correct way to get in and out of Elise. With two inside, the passenger must be wary of getting in the driver's way. The footwells narrow dramatically in front, restricting leg movement. There is less storage space than in nearly any car sold in the States. Elise is loud by sedan standards and the stereo isn't great, even if you manage to find your favorite stations as you're motoring along.
Elise succeeds admirably at going fast, and not much else. That's been the brief on Lotus production cars since day one, and Lotus USA has never moved more than 1000 units in a year. How many people care that Elise has it all over a Miata or MR2 Spyder on track day? Those cars cost $18,000 less.
To ante for Elise, you have to "get it." For the money, you can get a BMW 3 Series with the big engine, or that jewel-perfect ES 330. Then there's Corvette. Elise can't touch its power-to-weight ratio, and while we're still waiting for C6 prices, the 2004 C5 starts only $3,000 higher. And you can take your Vette or Miata or MR2 to that dealership on the comer for service and repair. We'd guess Lotus does not have a wide reputation for reliability, merited or not, and its resale values are well below average.
Lotus USA considers its 39 franchises a strength: They include the best exotic dealers in the country, and some have luxury brands that move 1000 cars a month. Yet they still must step from an average of three Esprits a year to 55 Elises. There will be bugs to work out and parts inventories to build. When the pre-launch orders (based on sixplus years of enthusiast exposure) are filled, those dealers are going to have to sell.
On the plus side the legend of Colin Chapman and Lotus F1 lingers. "The goodwill from consumers is tremendous," says Johnson. "They consider this an exotic car."
On the minus side history suggests Lotus has never been a brand here in the strict sense, measured by defined, widely held perceptions like those that identify Porsche or Toyota in the public's mind.
There are a hundred reasons Elise might not work, and a handful of reasons it can. It is built by an engineering company with righteous values, and it delivers as many grins per mile as any car anywhere.
"This car is my gift to America, my contribution to Lotus's heritage," says Becker. "I've been through tough times and I've tried not to lose track of what a Lotus is. I've tried to instill that in my engineers, in my sm. I'm not going to be here forever."
Becker was successful with his son. Matthew Becker did suspension tuning for the U.S. Elise, and he wouldn't work for any other car company.