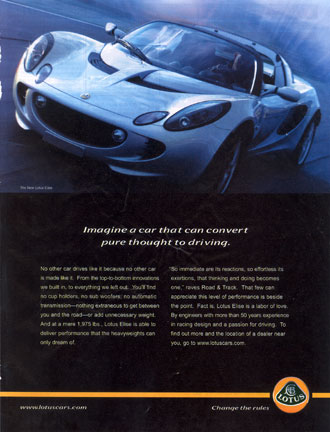 Autoweek Ad for US Lotus Elise
October 4, 200
Imagine a car that can convert pure thought into driving.
No other car drives like it because no other car is made like it. From the top-to-bottom innovations we built in, to everything we left out. You'll find no cup holders, no sub woofers, no automatic transmission - nothing extraneous to get between you and the road - or add unnecessary weight. And a mere 1,975 lbs., Lotus Elise is able to deliver performance that the heavyweights can only dream of.
"So immediate are its reactions, so effortless its exertions, that thinking and doing becomes one," raves Road & Track. That few can appreciate this level of performance is beside the point. Fact is, Lotus Elise is a labor of love. By engineers with more than 50 years of experience in racing design and a passion for driving. To find out more and the location of a dealer near you, go to www.lotuscars.com.
---
This is the first ad that I saw, advertising the Federal version of the Lotus Elise.