BIRMINGHAM, Ala.--Like many American consumers, what I know about Lotus, the legendary British sports car maker, I learned in the movies.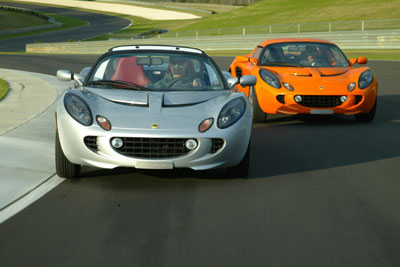 There was the memorable Lotus Esprit that did double-duty as a submarine ? complete with torpedoes and surface-to-air missiles ? in the James Bond movie, ?The Spy Who Loved Me. ?
In another James Bond adventure, ?For Your Eyes Only, ? the car of choice was another Lotus Esprit. And in ?Pretty Woman, ? Richard Gere won the heart of hooker Julie Roberts in a 1979 silver Lotus.
But the brand has languished here in recent years, as Lotus lovers waited for the newest model ? the 2005 Elise roadster ? to hit showrooms nearly eight years after the original debuted in Europe. The slowdown came as Lotus worked to bring the vehicle up to U.S. crash standards.
The rear-wheel-drive Elise will go on sale here on June 15 at a starting price of $40,780, including a $795 destination charge. The bad news is that the first-year run of about 2,000 vehicles is already spoken for, according to Lotus.
After a daylong drive on local country roads and the autocross handling course at the Barber Motorsports Park here, my impression of the Elise is very much in keeping with my movie memories of the brand.
The Elise is a little drama queen ? showy, sexy and fast (0-to-60 in 4.9 seconds with a top speed of 150 miles per hour), but ultimately demanding and not easy to live with.
It ?s also too pricey given the fact that it ?s just a toy.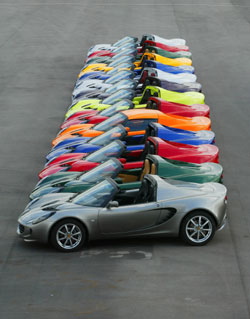 The Elise would be a fabulous $28,000 fun car to take out on weekends. But with the initial run virtually sold out, some Lotus dealers are expected to charge a hefty premium over the base price to take advantage of pent-up demand for the car.
As an ordinary consumer, I also worry about the fact that there are so few Lotus dealers in the United States ? the company says there are 39 dealers in 29 markets and only one Lotus dealer in Michigan. What happens if you get poor service from that single dealer? What other choices do you have?
American consumers like me who are used to a certain level of amenities in their cars ? cupholders and heated seats, for example ? will be stunned by what you don ?t get in the Elise.
No side air bags, no stability control, no traction control, no adjustable pedals, no automatic transmission, no rear-window defroster and no roadside assistance. Full carpeting is extra and part of a $1,350 touring package.
It is apparently noteworthy that the Elise now has the dual air bags, antilock brakes and air conditioning ? all standard features ? that it lacked up until now.
If you want to be spoiled with little automotive luxuries and have fingertip controls, the Elise is not a good choice. If you are uncomfortable looking out at other cars at license-plate level and hate feeling like a little ladybug next to a semi, the tiny Elise ? which is just shy of 44 inches tall ? is not a good choice, either.
But if you want a little roadster that swivels heads, much more so than a competitor like the Honda S2000, the Elise is a fine choice.
The little Lotus has a supple ride and is surprisingly easy to drive, even for people who wouldn ?t describe themselves as ?gearheads. ?
There are some quirks that I had trouble accepting on the esoteric Elise, however.
The removable black canvas soft-top requires tutoring before you get the hang of its installation.
To put it up, you have to jam two plastic rods into slots built into the windshield and rear window. Then you hoist the top between the two rods and carefully unfurl it, taking care to stuff the metal cables that line either end into the wells along the front and rear windows. Then you line up the small plastic rods on either side into the correct holes and pull until everything snaps into place. It ?s a prescription for disaster for those of us with acrylic nails.
I found the top difficult to remove and install. The optional $1,475 removable hardtop isn ?t much of an improvement, either. It can ?t be stowed in the car and undoubtedly will end up on the garage floor. There is no retractable roof (or other features like side air bags) because they only add weight and expense to this performance-oriented roadster.
Despite my struggles with the top, there ?s no doubt that the Elise faithfully draws on classic Lotus design cues.
It will not disappoint its audience ? ?newly divorced men who are looking for a new wife, ? according to Lotus President and CEO Arnie Johnson.
?You have to enjoy driving as opposed to pointing a minivan down the road, ? he said.
Advice to those new wives: Don ?t wear a skirt if you ride in the Elise. Getting in requires an effort because you have to take a big step over the threshold and then wriggle into the seat. In reality, the car was designed for you to hop into, not step into. That ?s what the aluminum tread plates located in front of the seats are for ? to keep you from sliding under the instrument panel when you jump into the Elise a la Fonzie on the TV show, ?Happy Days. ?
Oddly enough, it may make more sense for a woman to own ? or drive ? the Elise. Once inside, I seemed to fit in the driver ?s seat perfectly. And with the seat forward, there was plenty of room behind it to stow my purse.
The Elise ?s styling cues include a dramatic front end with a grinning smile that makes the car look like it ?s pleased with itself, a nipped-in waist and an overall wedge shape, thanks to 17-inch wheels in the rear and 16-inch wheels in the front. The Elise is also outfitted with unique Yokohama tires.
The car I drove was painted a screaming ?krypton green, ? a kind of pearly chartreuse color that costs an extra $1,200 and is named after the substance that disables Superman.
The Elise is also the first Lotus with highly stylized headlamps instead of more demure round lights. These swoopy headlamps give the Elise a kind of predatory, praying mantis look.
Roger Becker, the senior engineering consultant for Group Lotus PLC and the man they call ?Mr. Lotus ? because of his 38-year history with the company, says there is only one part of the new Elise that embarrasses him ? the plastic louvers next to the taillights.
?We are embarrassed because they are not functional, ? Becker says, covering a set with his hands. ?They were originally intended to provide ventilation. ?
The driving experience in the Elise is surprisingly pleasant and entertaining. Hit the starter button on the dashboard and you hear a raspy exhaust note with a distinct tonal change as you accelerate to give the driver a sense of ?ever-increasing urgency, ? according to Lotus engineers.
The lightweight Elise weighs under 2,000 pounds and is outfitted with a 1.8-liter dual-overhead cam I-4 engine made by Toyota Motor Co.p. that makes 190 horsepower at 7,800 rpm and 138 pounds-feet of torque at 6,800 rpm. It is mated to a six-speed manual transmission. The Elise gets an estimated 26 miles per gallon in city driving and 37 mpg on the highway.
If I had the extra cash for an automotive toy, I ?d probably end up with a Mazda Miata because I ?d get two cupholders and a rear defroster, and pay less than $23,000. Plus I ?d have a wider network of dealers. I know that attitude will anger Lotus aficionados, who undoubtedly will complain that I just don ?t get it.
Despite my complaints, I have to admit it was fun to spend an afternoon basking in the reflected glory of an outrageous performer like the Elise.