2005 Lotus Elise
Possibly the Best Handing Car You Can Buy
By Kevin Smith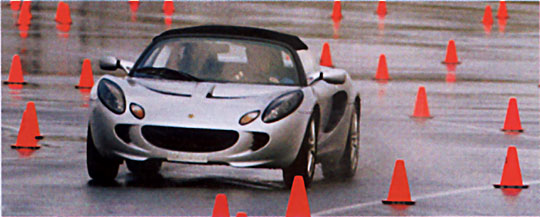 With great relief, we can report that the 2005 Lotus Elise apparently will demand no apologies and require no special considerations as it goes on sale in this country.  But that was hardly a foregone conclusion prior to our first drive of the new U.S.-spec Elise at the beautiful Barber Motorsports Park outside Birmingham, Alabama.  With this $40,000 car, lotus is effectively relaunching its brand in America (the marque has become almost invisible through years of dwindling sales of the dated Esprit), so a lot is riding on its success.  But give the checkered history of Lotus carries through the decades, we weren't sure what to expect.
The Hethel, England, company founded by Colin Chapman in the early 1050s has long been celebrated for its innovative approach to building simple, lightweight, delicate-handling sports and racing cars; but quality, durability, and reliability haven't been Lotus hallmarks.  The driving thrills often have required a certain kit-car attitude toward fit and finish and owner maintenance,, but none of that would be acceptable in a new-millennium production automobile.  Consumers today expect a car to be trouble-free, and no one would be prepared to cut Lotus any clack.
We don't think they'll have to.
One glance at the spec sheet and you figure the new Elise will uphold company tradition for drivability and performance.  It's a simple mid-engine roadster weighing 1975 pounds, with a 190-horsepower Toyota engine and six speed gearbox, plus chassis tuning by the same ride-and-handling wizards whose talents the company shops out to the world through the Lotus Engineering consultancy. The car Lotus's best-seller ever, by far-has been a delightful driver in European spec for some years, using a coarse and uninspiring Rover engine, so the Toyota-powered U.S. car could hardly miss being a joy to drive.
But would Lotus tradition also live on in the car's perceived quality and propensity to shed bits? That was our big concern. The final verdict must await a track record on the market, but the early indications look promising. The Elise is small (beefy occupants will rub elbows and everyone has to travel light) and simply trimmed (lots of bare structural aluminum shows). But those are necessary and reasonable compromises to make a car that's fight and supremely maneuverable. The quality of materials, the accuracy of assembly, and the likely reliability appear not at all compromised. Fit and finish are well in the game; there are no sloppy noises or sensations; and the car looks and feels stuck together in the manner we now expect of modern cars built by modern manufacturers.
The Elise begins with a sophisticated platform chassis of bonded aluminum sheets and extrusions. This structure weighs a mere 150 pounds, Lotus says, but it imparts a sense of rigidity (difficult in an open car) and provides the stiftness necessary to let a precisely tuned suspension perform as its engineers intended. This rigid foundation carries a control-arm suspension with gas-charged Bilstein dampers, disc brakes with enthusiast calibrated ABS, and light, modest-sized alloy wheels and custom-spec Yokohama tires. The powertrain nestled behind the cockpit is Toyota's 1.8-liter 2ZZ-GE engine and six-speed as fitted over the front wheels in the Celica GT-S and Matrix XRS. This longish-stroke engine uses variable valve timing and lift to give flexible midrange plus a mad top-end rush, but it feels lots different, and lots better, in the Lotus application than it does in any Toyota vehicle we've tried.
You don't have to drive it like you're angry with it, and it doesn't buzz and shriek back at you. In Toyotas, we usually feel we have to rev this engine hard and just put up with its intensity. The VVTL-i has always made a dramatic changeover to the high-speed cam profile at about 6400 rpm. It gets the job done, but doesn't feel as silky and happy as it might.
Lotus has turned the 1.8 into a much smoother, more elastic powerplant and not just by bolting it into a vastly lighter, less burdensome vehicle. A new engine-control computer programmed by Lotus significantly changes the character of the engine. Notably, the crossover from low-speed to high-speed valve events happens a couple hundred rpm sooner and feels much more seamless. It doesn't fall off the cam on upshifts, which enhances the engine's ability to provide ready torque and willing response whenever the driver asks.
And that gets to the real point of the Elise. The Lotus development team said they were after a Formula Ford car for the road, in the way it would take your input, react and communicate, forgive mistakes but not hide them, help you learn to drive better, and make sure you enjoy the lessons along the way. And they nailed it.
Drop into the pleasingly stark cockpit (which you can do open-wheeler-style if you're feeling jaunty, stepping over the door, standing on the seat, then wriggling down under the wheel), and you find yourself in a businesslike driving environment. You sit low to the ground, with very little car around you, though you're well-protected by the large windshield and the rear roof hoop (with fixed glass). Visibility is fine in all directions except to the rear quarters, and the upright, one-piece bucket seat, which magically accommodates a wide range of physiques, presents you to the smallish steering wheel in a way that immediately anticipates good things to come.
The engine fires to an eager but not too raspy blat, and as you orient on the pedals and snick the shifter into first, you notice two key points: First, spacing of the pedals isn't overly cramped, but you're still do better with skinny loafers than with wide-soled running shoes; and second, the slop-free linkage and light gate return springs Lotus has selected make this sixspeed a friendlier gearbox than it's ever been before.
It doesn't take much beyond a brisk walking pace to appreciate how the Elise harnesses the magic of lightweight. The delicate immediacy of fast-ratio, pure-manual steering, with little mass bearing down on smallish tire contact patches, is a delight to feel and to use. And a car weighing under a ton doesn't need a lot of technical frippery to help it change heading on a whim. Finally, 190 horsepower and 138 pound-feet may not sound like the stuff of speed-lust, but with only 1975 pounds of car to resist its will, that output can flat motivate. Lotus quotes a 0-to-60 time of 4.9 seconds, though that only hints at the real beauty of the Elise's power-to-weight ratio. Throttle is available to do more than just speed up and slow down. It also can be used to affect cornering attitude, giving the driver lively options to manage both ends of the car. Sweet.
An autocross course provides a safe and focused opportunity to examine the Elise's moves, and Lotus set one up in a Barber parking area. The most telling sections were the long, smooth arcs at each end, where we could experiment with cornering attitude, and where the Elise proved marvelously cooperative. On neutral throttle, it hooks around dead neutral, slip angles and grip evenly balanced between front and rear tires. Roll into some throttle and gentle understeer points you a bit wide, as the front tires unweight. Hop out of the gas and some lift-throttle oversteer eases the tail around and tightens your heading. Get back on the power with authority, and you can carry a lurid tail-out slide like you're a natural-born drifter. The Elise makes it easy.
Out on the road, where you'll hit trees instead of orange cones, you may not hang it out quite so casually. But the Elise is the same eager dance partner. It's flexible and hasslefree in traffic (though you do feel small), and any time the mood and opportunity strike, the car is ready to have a go. Freeway onramps become mood-altering experiences, just because of how the car flicks into a cornering stance and accelerates hard, grinning back at you all the while. On winding secondary roads, the Elise will flow as gracefully as you like or dive-bomb apexes like a shifter kart. You call the tune.
This kind of balanced, immediate, driver centric behavior really comes at only one cost: The new Lotus (like most all of them before, come to think of it) represents elemental transportation in the extreme. Have a big family to cart around? Need to be cosseted in luxury far removed from the passing world? Insist on bringing two golf bags with you? Forget it. You have a car that's 149 inches long and almost 44 high, so yo&e expected to make some sacrifices in utility.
And that's just fine, if you're in the right frame of mind. The serious simplicity of the Elise is the whole point, after all, and we even found ourselves wondering about the wisdom of the Touring Pack Lotus offers as an option. For $1350 over the base MSRP of $40,780, you can have leather seat faces, power windows, an upgraded stereo, more extensive carpeting inside, and additional sound-deadening material. But would you want that? We found the hand-crank windows perfectly appropriate to the light/simple/functional theme of the car, and there's no real convenience penalty; if you want to lower the passenger-side window, ies in easy reach across the snug cockpit.
More tempting is the Sport Pack option, intended for owners who'll take their Elise to the track. It uses firmer springs and dampers with greater adjustability and dry-grip-biased Yoko A048s (standard are AD07s) on lighter forged-aluminum wheels. Wheel and tire sizes are the same in back for both base and Sport Pack-17 by 7.5 inches and 225/45-but the fronts are upsized for more grip, and thus more oversteer, at the track: 195/50-16 tires mount on 6.5 inch rims in the Sport Pack, e the base car uses 175/55s on 16 by 5.5 7
A sports option sounds cool, and Lotus reports 40 percent of the early orders are specifying it. But the harder ride and heavier nibbly steering make for a somewhat less cheerful, compliant car, and we'd probably pass. The base car is hugely capable as it is, and its a tidier package all around. You might consider the one other option, the $1475 hard roof panel, if your climate reaches extremes.
When the plant in Hethel ramps up to full chum, it'll be capable of producing 2200 to 2400 U.S.-spec Elises. Lotus's 39 dealers here already have paid deposits from about 2000 buyers. So the cars won't be all that easy to get for a while.
Be patient and hang in there. If you're a fan of light, responsive, small racy cars, it'll be worth the wait, especially since there isn't anything else like it out there. Its 190 horsepower and 1975 pounds put the Elise in a class of one, regardless of price. Toyotas own MR2 makes only 138 horses and weighs 2215 pounds. Mazda's Miata has 142 horsepower and carries 2447 pounds (178 horses and 2579 pounds for the new turbocharged Mazdaspeed edition). And neither of those cars, as much as we love driving them, has the delicate balance and talkative reactions of the Lotus.
The Elise is, by most reasonable measures, the best-handling car you can buy today. We'll be looking for a road-car record when we get to run one through our slalom and Figure-Eight tests. We'll let you know.
MOTOR TREND JULY 2004 37