Between Heaven and Hethel
by Chris Chilton
Car, August 2005
Last year the Exige turned the way of many a heliraiser. It cleaned up its act, quit drinking and womanising and knuckled down to some good ol' clean living. Lotus's blaspheming son had found God.
Everybody in town agreed it was a nicer car to be around. It,) Toyota engine idled sensibly on cold mornings, forgave you sins such as backing off clumsily mid-corner, and was quiet enough to make the radio something more than mete dashboard jewellery. Heck, you could even have air conditioning to cool you down after a hard day spreading the Lord's word.
Well amen to that. Except that something wasn't quite right. Its chassis' brilliance wasn't in doubt, but it was almost too good, too easy to drive. Not scary enough. And as a result, just a little hit dull.
So enter the Exige's evil twin, the £43,995 240R. Just 50 of these animals will roll from Hethel's gates, each one having been snapped up within minutes of the cars unveiling this spring. We very nearly made that - by performing our own NCAP test with the help of a small deer, But as Hethels chassis supremo Gavin Kershaw said, better a small deer than an old one.
The 240 refers to the output of the Exige's engine, which climbs 50bhp thanks to the appearance of an Eaton supercharger on the side of the block. More interestingly. torque gets a useful shot in the arm, swelling from 133lb ft to 174lb ft. but it still peaks at 7000rpm.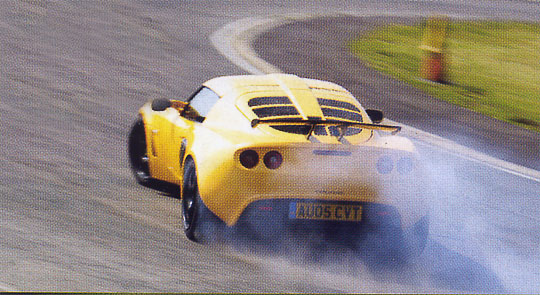 That's good. because it fills out the muscle lower down the rev range and smooths the naturally aspirated car's rather crude-feeling cam phase shift at 6200rpm, yet still rewards drivers who make the effort to hunt the tactic's red line.
Unlike Vauxhall's VXT - a muscular turbo'd 2.0-litre with all the charisma of a diesel MPV - the supercharged Toyota lump feels just like a very strong naturally aspirated unit and revs to a mighty 8500rpm. The two post very similar figures. though. the Exige just nosing ahead to crack 60-mph in 3.9 seconds and 100mph 6.0 sec further down the road. But such is the torque available at any revs that it's easy to mooch about in fourth gear when you're not in the mood.
On the road you need more arm effort than before to overcome the effect of the slightly wider five-spoke alloys, but the Ohlins dampers fully adjustable for rebound and compression ensure movement is better controlled than an ayatollah's wife. Lotus recommends specific road and track settings: on road it's superb if a little patterv but on track little comes close. It's incredibly stable through Hethel's numerous transitions, playful when you want to redirect its 930kg kerb weight, and amazingly tolerant of mistakes. You can tweak the front anti-roll bar settings and order an optional limited slip diff but the upgraded brakes, full harnesses and Accusump oil reservoir back-up are all standard. It's a turnkey racer.
While Lotus claims 240R production will be limited to units, in private insiders admit there's scope for other products to get this blown engine. Sadly Elise owners will be denied such pleasures, as the intercooler's position on top of the engine means it just won't fit under the open car's flat deck lid. That's a shame, because while an Exige 240R makes the perfect trackday tool, an Elise 240 would make a brilliant day-to-day road car,