Mototrend Review of the Lotus Elise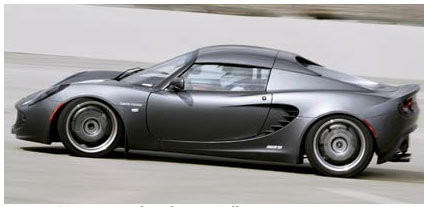 Turbo power + insane grip = a 1.04g whiz
By John Kiewicz
Photography by the author
Motor Trend, June 2005
Light weight, strong power, and outstanding grip are key elements for a competitive race car. Lotus's new (for North America, that is) 190-horse Elise melds those traits with a license plate and daily-driver reliability. At our test track, a stock Elise put down some of the strongest performance figures we've achieved with an OEM-certified street car; a lot of credit goes to the fact that it weighs just 1945 pounds. But due to its micro size, you'll be staring up at everything that passes by, Minis included. On the track, however, few can touch it--except a tuned and turbo'd Elise from Forced Fed.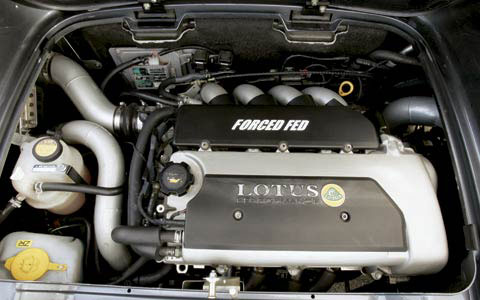 Well known for its Mitsubishi Evolution and Subaru WRX/STI performance packages, Forced Fed now offers a complete forced-induction setup for the Elise. Opting for the $7200 Sport 275 package nets 85 more horsepower thanks to 7psi boost, courtesy of a Garrett GT28R ball-bearing turbocharger. For more repeatable power, a Spearco intercooler lowers the charge temp before it's routed into the Elise's I-4. A custom intake manifold, a host of handmade pipework, oversize fuel injectors, and proprietary computer-programming team to crank the most out of the 1.8-liter Toyota engine as it buzzes to 8500 rpm. For added reliability, a larger-capacity oil pan with internal baffles and an engine-restraint system have been added. Forced Fed also adds a mandrel-bent three-inch downpipe that funnels to a T-304 stainless-steel exhaust system. At idle, this ripped and fueled Elise is mellow, but once on boost, the whining turbo tells everyone this is no stocker.
Turbo spool-up is quick with little to no lag, yet the mods do a lot to heighten the Elise's soft low-to-mid-range torque curve. While the stock I-4 doesn't generate grins until 6200 rpm (when the variable cams kick in), the Forced Fed turbo system is charging hard by 3500 rpm. Results? How about a 12.5-second quarter mile teamed with far better low-rpm passing power on the street?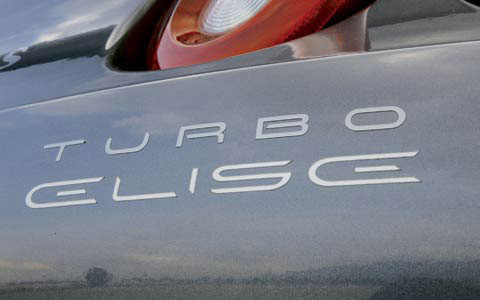 Not enough? Forced Fed is finalizing a 400-horse Race 400 package ($11,000 over the Sport 275) including a 1.9-liter engine with a stroker crank, Crower rods, custom pistons, more radical intake manifold, a bigger turbo, limited-slip differential, and revised transmission gearing.
A bone-stock Elise delivers Porsche Turbo-beating handling, but Forced Fed ups that game, too. Ohlins double-adjustable coil-over shocks ($2400) deliver a smoother ride than stock yet keep the SSR 17x7.5-inch forged-aluminum wheels ($1600) and Toyo Proxes R888 ($800) tires tracking better as the Elise devours the 600-foot slalom with a 73.7-mph speed. For comparison, a Ferrari Enzo runs the cones at 71.0 mph and is more knife-edged doing so. Another attractive notion with the Forced Fed Elise is that--save for the race-issue wheels/tires--it looks bone stock. Lifting the rear hood reveals a near-factory-issue-appearing powerplant.
| | | |
| --- | --- | --- |
|   | '05 Lotus Elise Touring | Forced Fed Elise |
| Power/torque | 190 hp/138 lb-ft | 275 hp/200 lb-ft |
| 0-60 mph | 5.1 sec | 4.0 sec |
| Quarter mile | 13.5 @ 102.9 | 12.5 @ 110.5 |
| Braking, 60-0 mph | 114 ft | 105 ft |
| 600-ft slalom | 73.2 mph | 73.7 mph |
| Lateral acceleration | 0.99 g | 1.04 g |