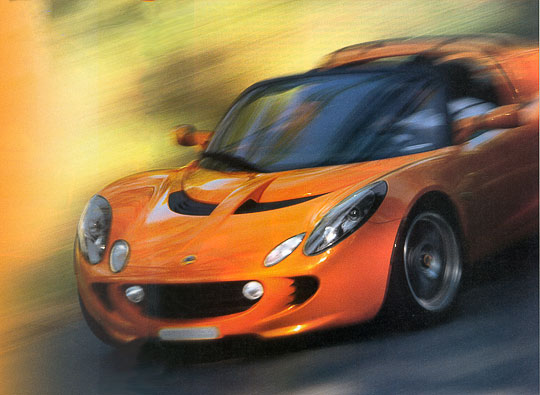 Elise, Featherweight Flyer
By Kim Wolfkill
Pictures by Bert Swift
Road and Track, August 2005
Once upon a time, not so long ago, sports cars were about simplicity, balance and light weight. Horsepower was certainly welcome, though not necessarily essential, as handling and agility were at least as important as outright speed. Throughout the '50s and '60s, featherweights like the Porsche 550 Spyder and Lotus Seven exemplified this
"handling over horsepower" approach to going fast, driving circles around scores of heavier, more powerful competitors.
Fast-forward to 2004 and the sports-car landscape has changed significantly. The machinery is undeniably faster and more powerful, but with these improvements have also come corresponding increases in size, complexity and most important, weight. Festooned with a dizzying array of creature comforts and high-tech wizardry, the modern sports car has packed on a few pounds over the past 40-plus years.
To compensate for this increased bulk, most of today's contenders possess increasingly potent powerplants (usually 300-500 bhp) to keep their 3000-plus-lb. bodies briskly in motion. The added thrust no doubt helps them get down the road quickly, but there's also no getting around the effects such mass has on a car's agility. Simply put, a 3000-lb. vehicle accelerates, brakes and corners very differently than one weighing 2000.
Which brings us to the Lotus Elise. Tipping the scales at a gravity-defying 1950 lb., the diminutive Elise remains faithful to the Hethel company's less-is-more school of vehicle production. Like the famous Seven and Elan, lightweight roadsters that helped put Lotus road cars on the map, the Elise is built around the same concept of joining an exceptionally light, nimble chassis to a flexible and responsive 4-cylinder engine. With so little mass to haul around, the Elise doesn't need a ton of horsepower to go fast, huge brakes to slow down or massive wheels and tires to handle well.
From the moment you swing open the composite door and drop into the leathertrimmed aluminum cockpit, there's no mistaking the Elise for anything but a no-nonsense lightweight sports car. Other than 21st-century necessities like dual airbags, air conditioning and a CD player, there's nothing extraneous inside the cabin. The dashboard, pedals and shift knob are all crafted out of aluminum. The steering wheel is small and purposeful, the seats are lightly upholstered one-piece composite shells with fore-aft adjustment for the driver only. Carpeting covers select areas of the interior; everywhere else the exposed aluminum chassis proudly shows through.
Start it up and anyone familiar with the European-spec Elise will immediately notice a difference. Gone is the venerable Rover K-Series engine, replaced by Toyota's 2ZZ-GE 1.8-liter 16-valve four, the same dohc unit found in the Celica GT-S. Left alone internally, the only major changes are a revised intake system, different exhaust and a Lotus-tuned ECU. Shifting duties are ably handled by the GT-S's stock 6-speed manual transmission, which delivers relatively short, quick throws well suited to the Elise's fast-twitch temperament. In Lotus guise, the engine tweaks are good for 190 bhp at 7800 rpm and 138 lb.-ft. of torque at 6800 rpm.

Lotus
Elise
Chevrolet Corvette Z06
Dodge
Viper SRT-10
Ferrari
360 Modena
Porsche
911 GT3
price
$39,985
$52,185
$81,901
$157,767
$99,900
layout
mid engine/ rear drive
front engine/ rear drive
front engine/ rear drive
mid engine/ rear drive
rear engine/ rear drive
engine
18-liter
inline-4
5. 7-liter
V-8
8.3-liter
V-10
3.6-liter
V-8
3.6-liter
flat-6
horsepower
190 bhp @
7800 rpm
405 bhp @
6000 rpm
500 bhp @
5600 rpm
400 bhp @
8500 rpm
380 bhp @
7400 rpm
torque
138 lb-ft @
6800 rpm
400 lb-ft @
4800 rpm
525 lb-ft @
4200 rpm
275 lb-ft @
4750 rpm
285 lb-ft @
5000 rpm
weight
1950 lb

3100 lb
3390 lb
3065 lb
3160 lb
power to weight
1 hp:10.3 lb
1hp:7.7lb
1hp:6.8lb
1 hp:7.7 lb
1 hp:8.3 lb
0-60
4.7 sec
4.4 sec
4.1 sec
4.3 sec
4.2 sec
1/4 mile
13.4 @
101.4 mph
12.7 @
115.2 mph
12.2 @
119.6 mph
12.8 @
112.5 mph
12.4 @
113.8 mph
slalom
71.1 mph
68.5 mph
68.6 mph
67.4 mph
68.7 mph
skidpad
0.98g
0.94g
1.04g
0.95g
0.92g
While not huge numbers by sports-car standards, when applied to a sub-2000-lb. car, they're more than enough to propel the Elise forward with giant-threatening velocity. Give it a healthy dose of throttle and the little Lotus powers briskly off the line, accelerating with minimal effort even from as low as 3500 rpm. Thanks to the revised engine management, VVTL-i actuation (Toyota's variable valve timing and lift) now hits at 6200 rpm (vs. the Ce1icas 6400 rpm), meaning you don't have to wait quite so long for the engine to reach the high-speed cam.
As revs climb and the VVTL-i kicks in, the Elise reacts with an immediate burst of energy accompanied by a more vocal response from the intake and exhaust. Acceleration increases dramatically as well, jumping from Mazda RX-8 levels to Porsche 911 GT3 territory in just a few hundred revs. A shift light signals the approach of redline (8000 rpm), however, the ECU allows brief runs to 8500 rpm for 1.5 seconds or less. Driven this way, 0-60 mph takes just 4.7 sec. and the quarter mile is dispatched in 13.4 sec. at 101.4 mph. Top speed is equally impressive, arriving just a few ticks shy of 150 mph.
Nice as the powertrain is, however, the heart of the Elise (or more accurately, its backbone) is its aluminum space-frame chassis. Constructed of ultra-light extrusions that are bonded together rather than welded, Lotus engineers have created a compact, mid-engine platform that's as light (150 lb.) as it is rigid. Add to that a fully independent double-wishbone suspension with legendary Lotus tuning, and the result is a telepathically responsive chassis that at the same time manages to be surprisingly compliant.
Contrary to initial expectations, the stock suspension setup does an admirable job of soaking up most surface irregularities without transferring undue shock to the passenger compartment. Compared with some European-spec Elises we've driven in the past, which at times could feel quite harsh around town, the U.S. car is much better at isolating occupants from the majority of everyday bumps and bruises. Abrupt impacts can still be jarring, but overall, this newest Elise is a marked improvement over its predecessors.
In the case of our Sport packageequipped test car, some chassis components have been specially tuned for racetrack duty. Compared with stock, the Sport suspension sits on springs that are 10 percent stiffer and utilizes track-tuned shocks with height-adjustable spring perches. Its forged aluminum wheels are nearly 20 lb. lighter overall and the soft-compound Yokohama A048 tires (l95/50R-l6 front, 225/45R-l7 rear) have been tuned specifically for the Elise. This track-oriented setup does sacrifice a degree of in-town comfort, but most track-driving aficionados are willing to accept the tradeoff (and the Sport package's $2480 price tag) for the added performance it delivers.
For those interested in a less racy Elise, an available Touring package ($1350) adds leather seats/trim, electric windows, full carpeting and extra sound deadening. The running gear remains the same as stock, though the package adds 1 5 lb. to overall weight (funny how the Elise causes one to start counting pounds). If a four-season Elise is more to your liking, an optional $1475 hardtop replaces the standard soft-top to help keep out the elements year-round.
Driven back-to-back at the track, both the stock and Sport package-equipped cars are absurdly fast. With so little mass to drag around, each changes directions with the flick of the wrist yet grips tenaciously when pressed. Braking is rock-solid (a new R&T best of 105 ft. from 60-0 mph), the 4wheel vented discs and ABS work together transparently for major deceleration with minimal concern. Pushed to the limit, both cars rail through turns with just the right combination of traction, balance and momentum. The Sport pack's stickier rubber and 1-in.-wider front wheels/tires deliver more grip across the board and help reduce some of the stock setup's mild mid-turn understeer. The stiffer suspension also makes for a slightly livelier car, one that can be thrown around with enthusiasm and driven pretty much anywhere on the track.
Out on the open road, the Elise possesses a surprisingly accommodating nature. It gets a little boisterous at full throttle and most potholes will still shake your fillings, but overall, it's a highly livable package. In more than 1000 miles of driving from our Newport Beach offices to the Monterey Peninsula and back, the expected aches, pains and long-haul discomfort never materialized. At speeds over 70 mph, the Elise simply sails over the tops of most bumps and remains rock-steady well into triple digits. Wind noise from the soft-top is minimal and freeway passes can usually be accomplished in 6th gear.
Once the road gets curvy, vast reserves of grip instill a sense of confidence that's rarely challenged. The forgiving nature of the chassis and excellent overall balance make it easy for drivers of all levels to get the most out of their respective abilities. At no time do they feel disconnected from what the Elise is doing or vice versa. Each communicates to the other exactly what's happening. Few production cars enjoy such a close connection between driver and vehicle, a special relationship that delivers a singularly enjoyable driving experience unique to the Elise.
Lotus plans to bring 2200 Elises stateside this year with an MSRP of $39,985. Most are already spoken for, so only a select few will enjoy this year's production run. However, if strong demand continues, at least that many, if not more, will arrive next year.
Spend a day of hard driving behind the wheel of an Elise and it all but ruins you for nearly every other sports car on earth. So immediate are its reactions, so effortless its exertions that thinking and doing become one. Every steering, braking and throttle input is met with an instant and exact response. Nothing is lost in translation. There's no waiting, no wondering, just doing. In comparison, most everything else feels imprecise, heavy and slow.
Come to think of it, against the Elise, most everything else is.