Lotus is Back!
By John Oxley
May 30, 2005
South Africa has the ultimate driver's car following the launch of the Lotus Elise sports car in a return to this country by the British marque. But the cars don't come cheap...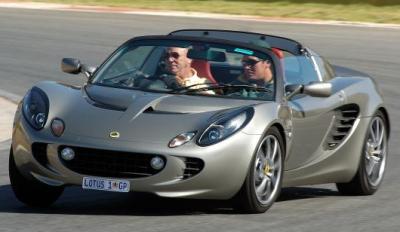 The author having fun in the sun - picture Colin Mileman
The Lotus Elise was launched at Kyalami by Pearl Automotive, a division of Imperial Holdings subsidiary Associated Motor Holdings - and I can tell you the cars are as racy as they look, with unbelievable handling coupled with punch-in-the-back acceleration and brilliant roadholding.
Although restricted by the need to re-learn the Kyalami circuit in only three laps I managed to get the feel of the car and realised that it is as forgiving without traction control as most cars laden with electronic gizmos.
And my feelings were confirmed in an awesome display of sideways (yes, sideways from a mid-engined car) driving by Matt Bekker, Lotus UK's principal vehicle dynamics engineer - a man who knows the car intimately, and how to take it to its absolute limits.
Light weight
The secret to the car's handling is Lotus's policy of ensuring great ride and handling in the simplest package, using light weight and technological design innovation to achieve those goals.
Thus we see the Elise with a bonded extruded aluminium tub clad with the company's hallmark glass reinforced plastic (GRP) bodywork, a transverse engine mounted behind the driver, and driving through the rear wheels, and racing-derived brakes, Brembo at the back and AP racing up front.
ABS is fitted. However, Lotus has specifically tuned the system so a skilled driver can almost get to lockup before it intervenes.
Two Elise models will be available on the SA market - the Elise, and the Elise 111R. - and both have stunning styling, with a low and sleek nose, massive air intake side pods, and a cheeky tail with big round lights.
I'm not going to try to describe the cars - the pictures here tell it all.
The Elise has a 1.8-litre Rover K-Series engine similar to that currently fitted to the Land Rover Freelander, producing 89.7 kW at 5 600 r/min and 168 Nm of torque at 4 500 r/min. A five-speed manual gearbox is standard.
Power output
Although power output is modest for a car of this type, its light weight of only 785 kg means the little two-seater rockets from rest to 100 km/h in a devastating 5.9 seconds, and on to a top speed of 202 km/h.
Six-spoke alloy wheels shod with 175/55R16 front and 225/45R17 rear Bridgestone Potenza tyres are standard, but there's not spare wheel, only a puncture repair outfit.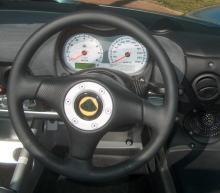 A foldaway soft-top is standard for the targa-top vehicle - it rolls up and fits into the small boot at the back of the car - and a hardtop is optional.
A strong recognition feature from the back is the single-piece rear diffuser under the tail, while inside the car cloth seats are standard and leather or alcantara optional.
Windup windows are standard, with electric windows optional. The steering wheel is covered with a mixture of perforated and plain leather.
A Blaupunkt front loader/CD radio is standard, as is air conditioning.
Price: R375 000
The Elise 111R moves things up quite a few notches.
Most importantly is its Toyota VVTL-i engine as fitted to the RunX RSi. This superb unit produces a storming 141 kW at 7 800 r/min and 181 Nm at 6 800 r/min.
And this is more than enough to propel the 111R from 0 - 100 km/h in 5.2 seconds - quicker than a BMW M3 - and up to a top speed of 241 km/h. Zero to 160 km/h comes in just 13 seconds and the 860 kg car has a power-to-mass ratio of 165 kW/ton.
A bespoke exhaust system has been developed for the Elise 111R with the twin exhaust pipes exiting through the rear diffuser.
The all-aluminium lightweight Toyota C64 six-speed gearbox is fitted with an all-new Lotus designed and developed shift operating mechanism.
With the closest ratios and gearset afforded by the transmission, the gearbox offers a fast, precise and light gearshift.
Standard equipment for the Elise 111R includes a glove-leather steering wheel centre, perforated leather gearlever gaiter, a polished aluminium handbrake sleeve, air-conditioning, electric windows, leather-covered sun visors, a half leather interior, an interior stowage net, revised instrument panel graphics, face level air vents, central door locking, Blaupunkt Lausanne radio CD-R/W player and Blaupunkt high performance front and rear speakers.
Foot rest
The 111R also gets eight-spoke alloy wheels, auxiliary front driving lamps, a three-piece rear diffuser, and a lightweight aluminium passenger footrest,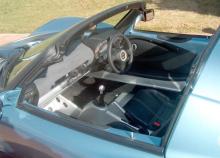 Other features include auxiliary front driving lights, a choice of either full leather or Alcantara trim, a soft-top with sound and thermal insulation, an upgraded Blaupunkt Woodstock DAB radio, CD-R/W and MP3 player, interior stowage net, sound insulation, and full carpet with a lightweight aluminium passenger footrest.
Options also include metallic paint and a body coloured hard top.
Price: R480 000.
There are no pretensions with the Elise - it is first, foremost and forever a driver's car, a true sports car, and the interior shouts it long and loud.
The interior
Getting in entails sliding over a wide sill and into composite sports seats designed to hold driver or passenger tightly under the high g-forces experienced on cornering, acceleration and braking.
The driver is faced with a race-designed steering wheel covered in leather, and behind that is a simple instrument binnacle containing round analogue gauges revcounter (reading to 8 000 r/min in the Elise, 10 000 r/min in the 111R) and 250 km/h speedo.
Fuel and water temperature are shown on an LCD readout panel.
The fascia is plain, trimmed with black alcantara on top, and the feeling of racing breeding shows in the plain aluminium centre partition that separates the driver and passenger, the aluminium gear knob, and the aluminium pedals - the latter adjustable to suit different drivers.
On the 111R luxury touches include leather on the doors, and a mixture of leather and cloth on the seats.
On the track
Unfortunately there was no opportunity to drive the car on the road, but its track manners are impeccable.
Start up the engine, and it roars into life right behind the driver's head in a delicious howl.
The low mass of the car means the Toyota engine pulls smoothly without feeling short of breath - until you hit the pedal harder, the revs climb, and the car literally blasts forward.
Corners come up very quickly, and it's here that one realises just how superb the chassis setup is.
Each lap you go deeper and deeper into the corners, turn, and boot on the power, and the car responds in like fashion, until eventually you feel the tail come out slightly on the exit, and you know you've got it right!
Go too far, though, and as one of our number learned, you have to be cat-quick to catch it.
Yet at no time did I feel stressed in the car - in fact my one regret was that I didn't have another few laps as I got more and more confident with the car, and the Kyalami circuit.
All together a fantastic experience made memorable by the snarling, sliding lap beside maestro Matt Bekker!
Summary
Pearl has set up its first dealership in Bryanston, Gauteng, - alongside its flagship Bentley dealership - with Cape Town to follow in July, and hopes to have dedicated Lotus showrooms in all main centres.
Currently only the Elise will be offered, but it is hoped a new supercar planned by Lotus for 2007 will also arrive here.
Only 36 cars have been allocated per year, but managing director Albert Venter says initial response indicates he may have to apply for additional cars.
Whether this happens or not remains to be seen.
Certainly it was amazing to learn that there were 30 people wanting to buy the 20 Renault Clio V6 mid-engined cars allotted to South Africa, so clearly there IS demand for super toys of this ilk, and obviously money to buy them.
The Lotus cars have been banned from production racing in South Africa, but if you want to get the feel of a real racing thoroughbred the Elise is the answer.
Yet at the same time it has enough comfort features to make it an alluring and almost sensible car in which to commute.