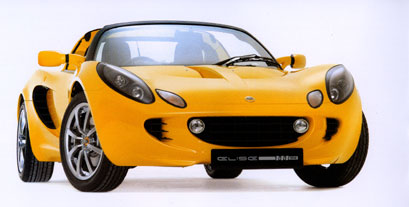 BETTER THAN THE BEST
The Elise 111I range uses the K-Series 160ps Variable Valve Control (VVC) engine and is controlled by the Lotus developed K4 engine management system. The engine management system has been specially tuned to give maximum power all the way up to the top end of the rev range and combined with the Elise's light weight design gives CO emissions of just 163qlkm.
The new 160ps VVC engine derivative, coupled with the Elise's extraordinarily light weight further enhances the supercar-crushing performance of this Lotus. With performance figures of 0-62mph (IOOkm/h) in 5.1 seconds and 0-100mph (16okmlh) in an astonishing 14 seconds and a top speed of 132mph (212kmlh), this powerful new version of the award winning Elise should prove all but unbeatable, even by sports cars costing several times as much.
Despite its awesome performance, the Elise 111 range remains civilized yet fun to drive on motorways or when cruising around. The newly developed Lotus gearbox ratios have been created to maximize the power and torque of the 160ps VVC engine giving excellent in gear performance and maximum driver enjoyment whilst offering an ideal cruising ratio.
To accompany the new engine and increase in power and torque, the Elise 111 also features a number of important changes. One of the most distinctive features are the new lightweight 8 spoke nickel polished wheels giving benefits through reduction of unsprung mass, and the addition of a new F1 style three element rear diffuser improvising the overall aerodynamic performance,
Three special Elise 111 and Elise 111 is graphics are one of the giveaways to the identity of this powerful new Elise, The distinctive Elise 111 graphics are located above each side repeater and on the rear screen.
The introduction of the entry level Elise 111 and the luxury 111S version including full leather interior, carpets and uprated audio system raises the number of production Elise derivatives to five; Elise standard, Elise Race Tech, Elise Sports Tourer, Elise 111 and Elise 111S. Besides these, Lotus Sport offers after market performance upgrades that increase power output to 135ps and for trackday fans 190ps.
The Elise 111 range is available from all UK dealers, in all EU countries and can be ordered with Air Conditioning and Hardtop options.
Lotus Life
Lotus Life is the club magazine suppored by Lotus. It contains articles on new cars, history of old cars, and club activities. Sean Feast is the editor and writer. Clare Stasiak (Cstasiak@lotuscars.co.uk) can be contacted for membership information.
June/July 2002