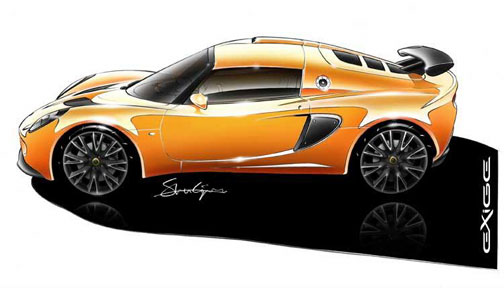 Picture from Pistonheads September 2003
New Exige to Change the Rules: Announcing the Lotus Exige
Hethel, UK
8th September 2003
Not since the arrival of the Elise has any car made such an impact. Now, as the current Elise improved on the original icon, so the Exige is to perform the same feat. The new Lotus Exige bears all the hallmarks of a true racer. Large air intakes and front splitter dominate the cars aggressive front stance. Sweeping lines and extended air scoops lead into the commanding rear haunches and spoiler, proudly displaying the cars racing intent.
With Lotus Design working in conjunction with Lotus engineering and aerodynamic teams to achieve an optimum driving experience, the Exige performs as dynamically as it looks. Powered by a 1.8 litre 4 cylinder 16 valve engine with VVTL-i variable valve technology and mated to a close ratio six-speed manual gearbox, the Exige will sweep effortlessly past 60mph in under 5 seconds whilst breaking the 140mph mark with ease. With an output of 190bhp, the Toyota Motor Corporation manufactured engine is perfectly suited to the Exige, revving to around 8350rpm.
As with any Lotus, perfect dynamics are key to the product. Tuned by Lotus' world famous Ride and Handling team, every conceivable component, such as suspension, wheels and tyres have been developed to provide the ultimate performance both on and off the track.
The Exige will be unveiled at the 2004 Geneva Motorshow for the UK, Europe and Asia-Pacific markets. Details of specifications and price will be announced closer to this unveiling date.
The K-Series engine will continue to be used within the Elise range for the foreseeable future.
Notes to Editors
A high-resolution picture of the rendering of the new Lotus Exige can be downloaded from the media centre of the official Group Lotus website at www.lotuscars.co.uk >> media centre > > photo-library. The PIN is 190528
For further details please contact;
PR Department,
Group Lotus plc,
Potash Lane,
Hethel,
Norwich,
Norfolk,
NR14 8EZ
Tel: +44(0)1953 608264
Fax: +44(0)1953 608111
pr@lotuscars.co.uk