Thursday 6th May 2004
EV Offshore Group win national award for Lotus Cars promotion
A world-wide marketing DVD produced in Norfolk to promote the new model Lotus Elise has won the top corporate production award for 2004 from the national Institute of Videography.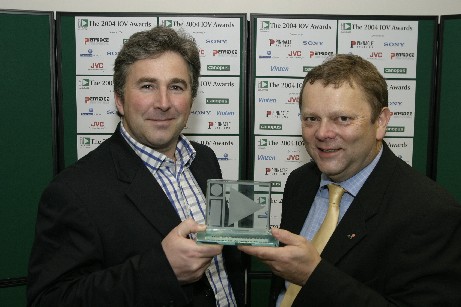 EV Production's "Lotus: Change the Rules" combines sports car action footage - some of it acquired using the production company's trademark mini-cams - with archive footage and computer graphics to convey the speed and excitement of the Lotus experience. EV Production is part of the EV Group, which includes EV Offshore, world leaders in the design, manufacture and operation of subsea and downhole camera and inspection systems.
"The Lotus project was a real challenge, said director Mark Wells. "They had complicated messages to deliver to a range of different audiences across the world, both about the company and the product. We had to shoot attractive, action footage of their latest cars and use it in a package which included archive material from every source under the sun - from 16 millimetre film to U-matic tape. So we needed to evolve a style which allowed it all to go together with a coherent look and feel. With our motor-sport experience, journalism and broadcast production skills, we are one of the few companies in the country that could have taken it on."
The end product was a segmented DVD with a number of versioned and additional sequences, some with English language voice-over and graphics, and some without.
Alastair Florance, Lotus Car's Head of PR, was delighted with the award - and the DVD. "It's fantastic to win the award," he said. "We wanted something really special to promote the latest Elise - the best Elise yet - and this production, describing the car and putting it in the context of Lotus' history, certainly did the job."
Jonathan Thursby, Chairman of the EV Group, said the award showed EV was the organisation of choice to meet corporate media requirements across the board. "We have the crews and the skills for any kind of industrial video, whether it be offshore inspection or location filming, a training, safety or complete corporate presentation," he said.
Mark, who is MD of EV Productions, and his fellow director, Jonathan Thursby, received the award at a prestigious Gala Dinner held at Stoneleigh Park near Coventry, which was part of the Institute of Videography's 2004 two-day Annual Convention. The event prides itself on being the UK's leading showcase of video technology and expertise.