LOTUS DELIVERS FIRST ELISE
DULUTH, GA (July 19, 2004)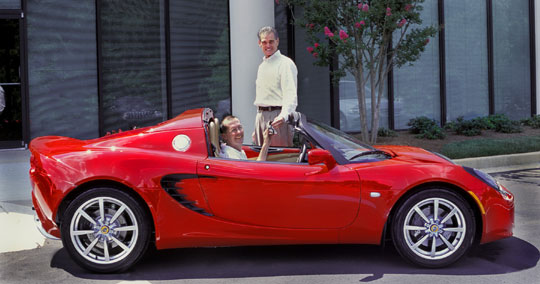 The first production Lotus Elise has been delivered to its owner, little more than six months after the car's official U.S. introduction at the 2004 Greater Los Angeles Auto Show. Lotus Cars USA CEO John English presented the keys to Lotus enthusiast and Georgia resident Chris Smith at the company's new, expanded headquarters here on Wednesday. Smith placed a deposit almost three years ago and purchased his car through Lotus of Atlanta, last year's leading Lotus dealership.
"It's an incredible honor to be the first Elise customer," said Smith. "I'm going to get through the break in period and after that it's all out driving. I think the Elise has really recaptured the spirit of the original Elan and Lotus Seven from the sixties and would make Colin Chapman proud." Chapman started Lotus in 1948 and was known for his Performance through Lightweight philosophy. Smith has been a long time Lotus fan and the owner of several Lotus cars, including a 1974 Europa, a 1991 Elan and two Esprits. "In 1991 I bought my first Esprit, a 1987 Turbo, which until now was the most exciting day in my life."
Lotus Cars USA CEO John English said, "We couldn't be happier for Chris and for everyone on the Lotus team who have worked so hard to make this day happen." He added, "We're looking forward to delivering more cars in the coming weeks and a very bright future for Lotus in the coming years."
First year Elise production will be between 2200 and 2400 units and the company has already exceeded that in customer deposits. At current ramp-up Lotus estimates it will have delivered 260 retails nationwide by the end of summer with full production capacity reached by November. Lotus Cars USA director of sales and marketing Mark O'Shaughnessy forecasts existing order banks will be filled by the end of the first quarter 2005. Lotus currently has 39 dealers in 29 major markets.
About Lotus Cars USA
Lotus is one of the world's best-known British performance brands with a reputation for innovation and success through a steady stream of winning racing cars and memorable sports cars. The first Lotus car was built in 1948 by founder Colin Chapman (1928-1982). The Lotus Engineering Company has pioneered automotive systems and components still in use today.
Lotus Cars and its sister company Lotus Engineering are owned by Group Lotus, PLC, headquartered in Norfolk, England. The location is home to design, manufacturing, research and development and sales facilities. While Lotus Cars continues to design and build sports cars revered for their performance, style and innovation, Lotus Engineering develops advanced automotive systems and components for many of the world's leading automakers. Together, these two enterprises are a powerful team, committed to changing the rules that define automotive excellence.
Contact:
Russell Datz, BrandwarePR
Office: 718.352.5422
Mobile: 917.678.8038
rdatz@brandwaregroup.com