Kim Ogaard-Nielsen, as Chief Executive Officer.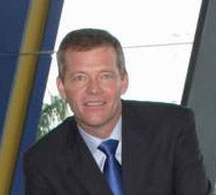 From: Public Relations <PR@lotuscars.co.uk>
Date: November 30, 2004 3:56:27 AM PST
To: Subject: Group Lotus plc News Release Kim Ogaard-Nielsen is appointed a s CEO of Group Lotus plc
Hethel, UK
30 November 2004
Kim Ogaard-Nielsen is appointed as CEO of Group Lotus plc
Group Lotus plc, announces the appointment of Mr. Kim Ogaard-Nielsen, as Chief Executive Officer.
Mr. Ogaard-Nielsen (46) is a Danish national and has extensive managerial
and international experience from a variety of industries. His early career
was within the transport sector and included assignments in Denmark, Hong
Kong, Japan, and Switzerland for A.P.Moller/Maersk and later Norasia Lines. Later he co-founded an IT-based consulting and outsourcing business, IBIS Corporation, which primarily focused on business process re-engineering and improvement through the application of web-based technology solutions.
Kim is looking forward to his new role: "We are facing tough challenges over the next few months and I am looking forward to working with my colleagues to tackle these global issues and to drive the business forward. We are fortunate to have a brand that is world renowned for producing great cars and providing innovative engineering services; couple this with our passionate staff and we have the ingredients for a company that has a bright future."
Notes:
High-resolution pictures of Kim Ogaard-Nielsen, and Lotus products (Elise and Exige) can be downloaded from the media centre of the official Group Lotus website at http://www.grouplotus.com/mediactr. The image library is for registered users only. Members of the press may register for the media centre.
About Group Lotus plc:
The main operating subsidiary of Group Lotus plc is Lotus Cars Ltd which has two operating divisions - Lotus Cars and Lotus Engineering: Lotus Engineering provides comprehensive and versatile consultancy services to many of the world's OEMs and Tier 1 suppliers, offering a full engineering service from initial concept and project design through development to full production prototype build. Lotus Cars builds and commercialises Lotus sports cars, Elise and Exige; builds sportscars for General Motors and manufactures the advanced composite front and rear crash structures for Aston Martin V12 Vanquish.
For further details please contact;
PR Department
Group Lotus plc, Potash Lane, Hethel, Norfolk, UK, NR14 8EZ
Tel: +44(0)1953 608264
Fax: +44(0)1953 608111
Email: pr@lotuscars.co.uk
_______________________________________________________
Lotus Engineering - Change the Rules
_______________________________________________________
"This e-mail and any files transmitted with it are confidential and are intended solely for the use of the individual or entity to whom they are addressed. This communication may contain material protected by attorney/client privilege. If you are not the intended recipient or the person responsible for delivering the e-mail to the intended recipient, be advised that you have received this e-mail in error and please contact the Group Lotus IT Service Desk.

Unauthorised use, dissemination, forwarding, printing or copying of this e-mail and its contents is strictly prohibited.
Please note that neither Group Lotus plc nor the sender accepts any responsibility for viruses and it is your responsibility to scan the e-mail and attachments (if any).
Please note that in order to investigate unauthorised use and compliance with internal policies, incoming and outgoing communications may be monitored and intercepted by Group Lotus plc.
Postmaster at lotuscars.co.uk.
http://www.lotuscars.co.uk
http://www.lotuseng.com
http://www.lotussport.com
Group Lotus plc (company registration no. 606189)
Lotus Cars Ltd (company registration no. 895081)
Registered Offices: Hethel, Norwich, Norfolk, NR14 8EZ, England"