Jadi Lotus Elise S2 1:18
Jadi Modelcraft has created this 1:18 scale model of the Lotus Elise Mk II, model 111S. The model comes in red, blue and yellow and is made in China. It is die cast metal with plastic interior, base, and trim.
Revell (Germany) sells the same model but in right hand drive configuration. The bottom of the model identifies the manufacturer as Jadi.
The model shows good detail, with plastic parts fitting well to the metal body. The paint application shows some waves, probably due to lack of preparation. The logos, badges and lettering are all excellent as is the detail around the head lights. There is even a prop rod (pinball term) to hold open the engine lid.
The model comes with a removable top that simulates the removable soft top. The proportions appear to be correct, but we here in America do not have the real thing to compare. Note the car is left hand drive, another tease that the car may finally appear here.
As I was taking additional pictures, I was surprised at how the appearance of the car changed as you changed your point of view. There were some less than flattering lines when viewed from a higher perspective. There are other views that are impressive, making the car very appealing.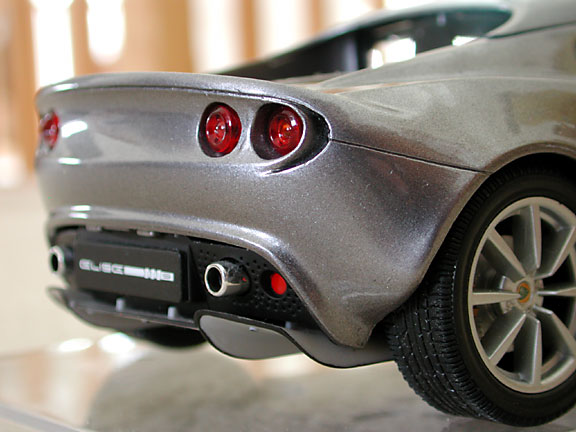 I have disassembled this model and repainted it Titanium Silver.
---
Adamant King took the following photographs of a yellow Jadi model and with lighting tricks and perhaps some computer tricks, turned it into a chrome orange Elise.