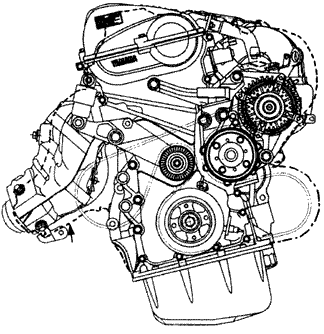 Toyota 2ZZ-GE engine
Elise Toyota Engine Comments
By Jeff Chan
www.jeffchan.com
The Lotus Elise is a favorite sports car throughout the world due to its low weight, excellent handling, and effortless performance. With an innovative bonded aluminum chassis, uncompromised suspension design, minimal weight, and mid-engine placement, it's a thrilling and responsive car to drive. While the Elise chassis was designed for worldwide use, its 1.8 liter Rover 'K' engine had never been certified for use in the U.S., so there was little possibility of the car coming to America unless a different engine could be found.
Rover K Engine
Rover's K engine was a clean sheet of paper design with some innovative features such as through bolting of the bottom and top ends through the block and lightweight construction. In the initial Elise S1, Rover's K Engine made the same 120 horsepower as it did in the MGF and other British cars. In later Elise models it made 135, 143, 156 and 190 horsepower, with the main improvements coming through increasingly sophisticated valve control which yielded better breathing. 190 horsepower versions were used in the racing-oriented Elise Sport 190 and Exige.
While the Rover K engine had some innovative features and was relatively light, it was never designed to meet U.S. emissions requirements. The K engine was a relatively new design in 1995 when Lotus proposed its use in the original Elise. But by the time Lotus decided to bring Elise to the U.S., the K would no longer meet upcoming European emissions requirements either, so Elise would soon be needing a new engine for all markets.
With the parts supply for Lotus' only U.S. street model Esprit drawing to an end, it finally became crucial for the company to find a way to bring Elise to America. In addition to keeping the dealer network alive, supplying Elises to a previously untapped U.S. market would also bring vitally needed revenue to the small but ferociously creative and influential car manufacturing and engineering consulting company.
Roger Becker goes to Japan
Long-time Lotus development engineer and driver Roger Becker flew to Japan with the idea of sourcing Toyota's new, 1.8 liter, Yamaha-designed 2ZZ-GE engine for use in a world version of the Elise. While his courtship gestures to the giant manufacturer were initially rejected, Becker persisted and succeeded in gaining a contract for the engines. It may have helped that Lotus and Toyota have a long history together, including Toyota purchasing engineering services from and indeed a minor ownership stake in Lotus during the 1980s.
Toyota's first All-Aluminum Engines
The 2ZZ-GE and the distantly related, lower-powered 1ZZ-GE are used in the Celica, Corolla, Matrix and other cars throughout the Toyota lineup worldwide.  Somewhat surprisingly, they are the company's first all-aluminum engines. Being in wide use throughout the Toyota world means these engines have broad parts and service support, thus forming a good basis for the new, worldwide Lotus Elise model.

While comparisons of the 1ZZ-GE and 2ZZ-GE are natural since the more mundane 1ZZ-GE was a benchmark for the later 2ZZ-GE, we will focus solely on the higher performing engine. Different bore and stroke measurements and valvetrains mean the two engines end up with different blocks, heads, pistons, valves, cams, rods, cranks, and so on. They are truly different engines with little in common other than a similar displacement and a few general dimensions.
The 2ZZ-GE in the Elise
Elise is coming to America with Toyota's Yamaha-designed 2ZZ-GE in 2004. This is the most recent in a series of Toyota performance engines created by Yamaha. As with the earlier Yamaha-designed Toyota 4A-GE which is the basis of Formula Atlantic racing engines, the 'G' designation of the 2ZZ-GE indicates a 50 degree included valve angle, which is a geometry selected for better breathing and higher performance than the flatter combustion chamber designs which promote lower emissions at the expense of power.
| | |
| --- | --- |
| Displacement (cc) | 1795 |
| Bore x Stroke (mm) | 82 x 85 |
| Compression | 11.5 |
| Valve Train | DOHC 4 Chain Driven VVTL-i |
| Aspiration | natural |
| Cylinder Block | Aluminum w/MMC liner |
| Bore Pitch (mm) | 87.5 |
| Bore wall (mm) | 5.5 |
| Valve Dia. (mm) | Int 34 Exh 29 |
| Max Power | 135kw/7600rpm |
| Max Torque | 180Nm/6800rpm |
| Size (LxWxH) (mm) | 652 x 608 x 659 |
| Dry weight | 115kg |
The 2ZZ-GE is Toyota's first all-aluminum engine, meaning it uses aluminum for both its block and head. This material and a high degree of engineering for weight reduction makes the 2ZZ-GE one of the highest performing engines available in its displacement class when power-to-weight ratio of the engine itself is considered. This light and powerful engine is therefore ideally suited to the light Elise sportster.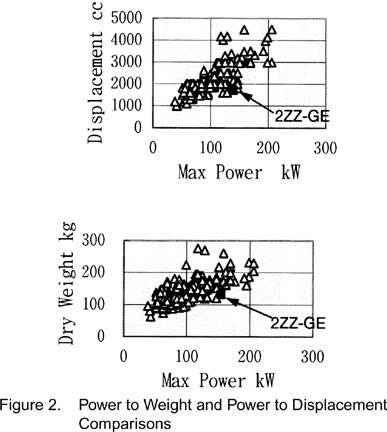 SAE Technical Paper 2000-01-0671
These figures will change when Lotus modifies the engine control
This new Yamaha/Toyota engine is equally advanced and competitive with the latest engines from Honda and others. Like Honda's recent iVTEC engines, the Yamaha/Toyota VVTL-i engines feature variable valve timing, lift, and phasing.  The main benefit of this more flexible breathing is that the 2ZZ-GE has improved torque at low and medium rpms compared to prior engines with simpler variable valve timing.  Increased low and midrange torque comes in addition to the improved power at high rpms which variable valve timing traditionally brings.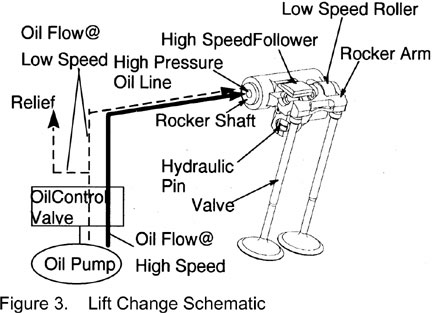 SAE Technical Paper 2000-01-0671
Lotus Tuning
Toyota's 2ZZ-GE versions found in the U.S. make ten fewer horsepower at 180 hp than the same engine in the rest of the world which has 190 hp. However Lotus has retuned the 2ZZ-GE for use in Elise, smoothing out the torque dip at the 6000 rpm cam changeover point and strengthening the torque in the other rpm ranges. In addition to the improved torque Lotus brought the peak horsepower back up to 190 in their U.S. version of the engine. These adjustments were largely accomplished by reprogramming the Engine Control Unit (ECU or engine computer). Toyota has apparently expressed interest in the changes Lotus made to broaden and even the torque and increase the power. Changes to the Lotus version of the engine are not purely electronic, however, as a new intake and exhaust are also fitted. The exhaust is so fully optimized that altering it reportedly results in a significant power loss. Aftermarket tuners and parts buyers beware!
Transmission and Gear Ratios
The 2ZZ-GE engine used in Elise is borrowed from the Celica GT-S, and it shares the same 6-speed manual transmission and gear ratios as the top Celica model. However with the much lighter Elise to move, the gear ratios are put to more pleasant and effective use in the Elise. The significantly lesser vehicle weight together with the improved torque from Lotus' engine tuning makes this the best application of the 2ZZ-GE. At some point the paddle shifters optionally found in the Celica GT-S may find their way into Elise.
| | |
| --- | --- |
| Manual -- Standard | 6 speed |
| Gear Ratios 1st | 3.166 |
| 2nd | 2.050 |
| 3rd | 1.481 |
| 4th | 1.166 |
| 5th | 0.916 |
| 6th | 0.725 |
| Reverse | 3.250 |
| Differential Ratio | 4.529 |
2002 Celica Technical Specifications
Despite a 154 pound weight gain due to air conditioning, electric window lifts, dual oil coolers and the larger engine, the new edition of the Elise continues to offer outstanding performance.  Ian Kuah reviewed a prototype of the U.S. Elise in the March 2004 issue of Sports Car International, a U.S. magazine with a worldwide audience and writers.  Through his interviews with Lotus engineers he obtained the following weight increases for the revised Elise:

| | |
| --- | --- |
| 2ZZ-GE Engine | 64 pounds |
| C64 Transmission | 13 pounds |
| Air Conditioning | 22 pounds |
| Twin Oil coolers | 29 pounds |
| Other modifications | 26 pounds |
Kuah also mentions that the new engine is proving to be very clean.  He reports that European LEV1 emissions certifications were "easily breezed through" and LEV2 certification is underway.

The increased power and torque of the new engine and still-light final weight allow the car to improve upon the power-to-weight ratio of the original Elise. As any racer will attest, this ratio is what matters and Elise has by far the most favorable ratio of any car in its class. This translates into outstanding performance both on the track and at the gas pump, with 36 miles per gallon achieved. This is a car that can compete with Porsches, Ferraris, Corvettes and the like at a fraction of the price and with far greater ease due to a very significant weight advantage and outstanding engineering in all areas.
Conclusions
No one who drives this car will be disappointed with the performance, especially when they consider that superior performance and a more direct driving experience can only be had in open wheel and sports-racing cars found on race tracks. Knowledgeable racers will confirm that some of the best versions of those pure racing cars are made by Lotus. This company has known how to make great cars for more than four decades and has led the way in Formula One and sports car racing with the monocoque chassis, mid engine placement, lightweight construction, active suspensions, aerodynamic downforce, and many other innovations. Like their racing cars, Lotus road cars have always had excellent handling and performance. With the new Elise and fully modern 2ZZ-GE engine powering it, Lotus is in the enviable position of offering one of the best-performing, most-responsive sports cars ever sold to the public.
2ZZ-GE References and Links
SAE Technical Paper 2000-01-0671 "Development of the High Speed 2ZZ-GE Engine" by Takasuke Shikida, Yoshikatsu Nakamura, Tamio Nakakubo and Hiroyuki Kawase, Toyota Motor Corp.

"The main features of the 2ZZ-GE are the Metal Matrix Composite (MMC) reinforced all-aluminum cylinder block and the intelligent Variable Valve Timing and Lift (VVTL-i) system. These features were adopted for size and performance."

"Other features such as a reinforced ladder frame, and an intake manifold spacer was utilized for a sporty engine sound."

"The 2ZZ-GE delivers maximum power at 7600rpm and maximum torque at 6800rpm."

"The 2ZZ-GE adopted a Variable Valve Timing and Lift system called VVTL-i. The system changes valve timing over the entire speed range in accordance to engine speed and load. This feature is also used in the base engine. VVTL-i also changes valve lift and event angles at 6000rpm from low to high."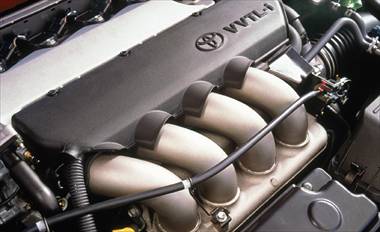 7TH GENERATION CELICA ENGINE INFORMATION & SPECS
Two versions of the ZZ-series 1.8-liter inline four-cylinder engine with dual overhead camshafts and four valves per cylinder have replaced the 3S-series 2.0-L (Japanese) and 2.2-L (U.S.) engines in the previous-generation Celica. The type 1ZZ was first launched in the current U.S. built Corolla, and then adopted in the larger Japanese-market Vista. Below it is fitted with the VVT-i continuously variable intake-valve-timing system and given the FE suffix. The 1ZZ-FE produces 107 kW (145 hp) at 6400 rpm and 170 N•m (125 lb•ft) torque at 4200 rpm on a 10.0:1 compression ratio with regular-grade unleaded gasoline. Above, the 2ZZ-GE is a new-generation engine equipped with a two-stage variable valve lift/timing system called VVT-L on both the intake and exhaust sides, combined with the VVT-i continuously variable intake-valve timing. The 2ZZ-GE puts out 140 kW (190 bhp) at 7600 rpm and 180 N•m (133 lb•ft) at 6800 rpm on a raised 11.5:1 CR with premium unleaded fuel.
The two engines share the common bore pitch of 87.5 mm (3.44 in), but have different block constructions and cylinder dimensions. The 1ZZ-FE's aluminum block has cast-in gray iron liners, which are 2.0 mm (0.08 in) thick, leaving 8.5 mm (0.33 in) of metal between cylinders. The engine has a long stroke of 91.5 mm (3.60 in) relative to the 79-mm (3.11-in) bore, obtaining a total displacement of 1794 cm3. Measuring 639 mm (25.2 in) long, 586 mm (23.1 in) wide, and 632 mm (24.9) tall, the 1ZZ-FE is about 25 mm (1 in) shorter than Toyota's own 4A 1.6-L unit. It has a mass of 102 kg (225 lb).
The 2ZZ-GE features a shorter stroke of 85 mm (3.35 in) to a large 82-mm (3.23-in) bore to attain a higher redline of 7800 rpm versus the 1ZZ-FE's 6800 rpm. The block is made of fine-ceramic-fiber- and grain-reinforced aluminum-silicon alloy. The piston's rubbing surface is iron-plated, and the pistons are internally cooled by oil jets. The 2ZZ-GE's cylinders are tightly packed, with only 5.5 mm (0.22 in) of metal between the adjoining bores. The cylinder block is split at the crankshaft centerline, and the cast aluminum lower block carries five main bearing caps.
Dual overhead camshafts are driven by a single-stage silent chain of 8.0-mm (0.3-in) pitch in both engines. The 1ZZ-FE's camshafts act on four valves per cylinder via shimless bucket-type tappets. The new upright intake port design allows a narrow valve included angle of 33.1°. Valve diameters are 32.0 mm (1.26 in) for intake and 27.5 mm (1.08 in) for exhaust, and their lifts are 9.3 and 8.4 mm (0.37 and 0.33 in), respectively. The 1ZZ-FE adopts Toyota's VVT-i vane-type continuously variable intake valve timing system.
The high-performance 2ZZ-GE's cylinder head is unique to this engine. Valves are inclined at a wider angle of 43° for freer breathing through the upright intake ports. Valves are larger in diameter, at 34.0 mm (1.34 in) for intake and 29.0 mm (1.14 in) exhaust. The 2ZZ-GE combines the VVT-i continuously variable intake-valve-timing device with the new VVT-L, a Honda VTEC-like variable-lift and -timing system, employing two sets of cam profiles for both intake and exhaust. Below 6000 rpm, the VVT-L employs the low- and mid-speed cam profiles, and above 6000 rpm, the high-speed profiles. The high-revving 2ZZ-GE's camshafts are sprayed with lubricant oil. Timing and lift characteristics of the 1ZZ-FE and 2ZZ-GE engine are shown in the table.
Toyota betters Japan's transitional low emission vehicle standards, achieving NOx emission of 0.06 g/km, HC emission of 0.06 g/km, and CO emission of 0.67 g/km on the country's urban 10/15-model cycle. (The forthcoming 2000 national standards stipulate 0.08 g/km, 0.08 g/km, and 0.67 g/km, respectively.)
Celica Engine Timing and Lift Characteristics
| | | |
| --- | --- | --- |
| | Variable system VVT-i | VVT-i and VVT-L |
| | 1ZZ-FE | 2ZZ-GE |
| Intake valve opening | 5-48° BTDC | 10° ATDC to 33° BTDC |
| High-speed intake valve opening | | 15-58° BTDC |
| Intake valve closing | 55-12° ABDC | 58-15° ABDC |
| High-speed intake valve closing | | 97-54° ABDC |
| Exhaust valve opening | 42° BBDC | 34° BBDC |
| High-speed exhaust valve opening | | 60° BBDC |
| Exhaust valve closing | 2° ATDC | 14° ATDC |
| High-speed exhaust valve closing | | 36° ATDC |
| Intake cam lift | 9.3 mm (0.37 in) | 7.25 mm (0.29 in) |
| High-speed cam lift | | 11.2 mm (0.44 in) |
| Exhaust cam lift | 8.4 mm (0.33 in) | 7.25 mm (0.29 in) |
| High-speed cam lift | | 10.0 mm (0.39 in) |
The following information on Toyota's Variable Valve Timing and Lift (with intelligence) system is derived in large from the October issues of Sport Compact Car and Car and Driver. As always, I encourage you to obtain a copy for yourself.
The VVT-i portion of the system continuously varies intake valve timing throughout the rev range by hydraulically rotating the camshaft relative to its drive gear. Note that VVT (without the "i") did not do this continuously. The VVL portion of the system is similar to Honda's VTEC system, incorporating two distinct cam profiles. However, the actual mechanism is quite different. Both cam lobes operate a single wide rocker arm that acts on both intake or both exhaust valves. A needle-bearing roller on the arm follows the low-rpm, short-duration, low-lift lobe, forcing both valves to open and close on that profile. The roller design and roller bearings on the rocker arm pivot help to minimize valvetrain friction. The high-rpm, higher-duration, longer-lift lobe rubs on a hardened steel slipper follower mounted to the rocker arm with a spring. Even though the high-rpm lobe is pushing down further than the low-rpm lobe, the spring absorbs the extra movement. At 6000rpm, the ECU sends a signal to an oil control valve at the end of the camshaft that puts oil pressure behind a lock pin in the rocker arm, sliding the pin under the spring-loaded slipper follower, locking it to the rocker arm and forcing the arm to follow the high-rpm cam profile.