LOTUS PRODUCT SPECIFICATION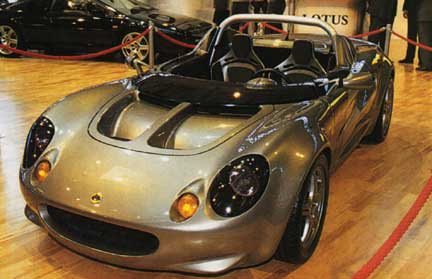 Issue M
February 1999
Clive M Birch
Platform Manager - Elise
LOTUS PRODUCT SPECIFICATION - ISSUE M
Model :- Lotus Elise Sprint
Markets :- Europe
:- February 1999
The current Elise is to be fitted with a VVC version of the Rover K1.8 engine and will receive some minor updates to provide model differentiation and enhancement.
Rover VVC K 1.8 engine (A111E6222F)
Rover PG1 close ratio transmission. (B111F0034).

Ratios :- 1st 2.923, 2nd 1.75, 3rd 1.307, 4th 1.033, 5th 0.848, FD 4.2

New Engine Cover (A111B0324K) and new grilles (A111B0536/7/8/9F) to provide sufficient clearance between Cover and VVC Engine. The engine cover will be manufactured in-house from general purpose GRP
Composite boot box - specified to provide engine clearance and provide improved stowage for hood bows. ( As introduced on base model Elise from September '98 )
Dip Stick Tube replaced with alternative Rover Part LQN100740 (A111E6170F), to provide sufficient clearance.
Spark plug cover plate red colour (A111E0041F)
ECM mounting revised, incorporated with change to composite boot box, to mount new, taller MEMS 2J, ECM (A111E6223F) marked with Lotus label (A111U0458K).
New Engine Coolant Bleed Hose (A111K0040F) required to improve routing between cylinder head and by pass connection.
Support Clip Bracket for Throttle Cable (A111E0036F), supplied with engine, modified to prevent clash with Engine Cover.
Charcoal Canister assembly (C111L0012F) and new associated pipe-work to Roll Over Valve.
New unique Lotus styled front (A111G0013F) and rear (A111G0012F) alloy road wheels by O.Z. Rear road wheel width increased to 7* " with 225/45 Tyre (A111G6021F) fitted as standard. Pirelli tyres.
Decal indicating Elise Sprint model variant on body exterior and facia.
New main wiring harness to suit VVC engine, common on all Elise with bootbox.
New rear wing /spoiler (A111B0553K), available as a delete option without price change.
Headlamp covers (B111U0237/8)and new headlamp mounting bracket and sealing arrangement to attach to revised Front Clamshell.
Rear wheel arch trim (spats) (A111B0540/1K) - Legal requirement to achieve road wheel and tyre coverage on existing body (clamshells).
Front Intake Grille (A111B0485K) - new part to give Sprint model differentiation, moulded polyurethane.
Revised Towing Eye Mounting (A111U0456/7) and Towing Eye (B111B0399) To suit new Front Grille.
Smoked clear lens front indicators with amber bulbs - new lamp holder. (A111M0121F)
Driving lamps fitted as standard on Sprint model.
Interior dash panel inserts (A111V0377K, A111V0073K, A111V0075K) to be self colour, patterned ABS ( base Elise finished in grey Senotex painted ABS).
New ICE aperture blanking plate A111V0373K (self colour, patterned ABS).
New window winder handle assembly ( Aluminium forging ) - (A111U0486F)
Exhaust silencer (A111S0059F) to suit VVC engine and packed tailpipes (B111S0031/2F), tuned to suit pass-by noise legislative requirements.
Cross drilled, cast iron, disk brakes (A111J0141F) will be fitted as standard on the Elise Sprint model.
Increased length boot stay (B111U0435F) to suit new engine cover.
Improved comfort seats with CNC cut foam cushion (A111V0426F). (Sprint model only)
Instrument pack (D111E0001/2F) - incorporating 110 degree water temperature warning.
Chassis Label Type 111SE - (A111U0461K)
Gearbox noise improvement pack : Gearbox mounts, isolated gear change and gear change cable/bulkhead foam seal.

(Note : It is likely that only some parts of this pack will be available for SOP the remainder will be introduced as a running change)
Service Diagnostic Tools
New diagnostic tool MEMS card needed by LCL production line and dealers - required for programming the VVC ECM in conjunction with the 5-AS anti-theft control unit.
Vehicle Weights
| | | | |
| --- | --- | --- | --- |
| Elise Sprint | | | |
| Unladen, lightest | 303 | 467 | 770 |
| Unladen, heaviest | 306 | 473 | 779 |
| Unladen, lightest +75 kg | 340 | 507 | 847 |
| Unladen, heaviest + 75 kg | 343 | 513 | 856 |
| Dry (no oils, fuel, coolant, etc.) | 294 | 420 | 714 |
| Maximum | 376 | 616 | 992 |
---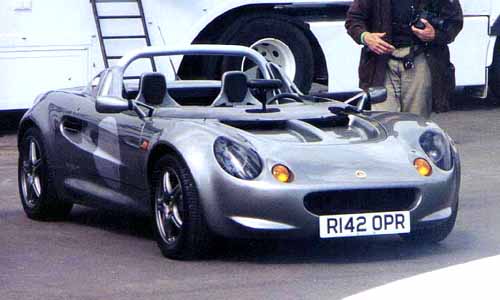 Lotus Sprint
Sheer fluke enabled Ian Coles, director of Lotus dealer the Haydon Group, to get his hands on the unique Elise Sprint concept car. One of his trucks just happened to be at Hethel on Business the day that the Lotus Museum cars were due to be auctioned. Although he knew very little about this 1996 Birmingham Motor show car, Ian decided to take a gamble and brought it, sight unseen, along with the very last M100 Elan S2.
That was in 1988, and while the Elan is now gone, Ian has kept hold of the head turning Elise Sprint. The car has an interesting history. Back in 1996 the then Group Lotus Chairman, Romano Artioli, wanted to know what the effect of removing the Elise's windscreen would be, and from his request came the idea for the concept car. A Standard Elise was donated to the project – it was Chassis number 16, built originally as a training car for the crew on the new Elise assembly line.
The car's standard windscreen was sliced off and replaced by a wrap – around piece of Perspex, best described as a decorative visor. Underneath the leading edge of this visor was a specially shaped duct, intended to funnel the air up and over the driver, to take some of the sting out of the lack of a windscreen. It was a novel idea, but as Ian will attest, it works better in theory than practice, and the best form of defence against the wind when you're driving the Sprint is a full face helmet.
It's on real surprise to learn that despite a good reception from the public at Birmingham, it was decided there wasn't a market for screen less Elise. After the show the Sprint sat in reception at Hethel for a while before being pensioned off to the museum.
When Ian bought the Elise Sprint it was a non – runner, as most styling exercises tend to be, and some sections of it were stylist's clay beneath the titanium paintwork, but he wasn't deterred. I bought it to drive it says Ian and all of the mechanical's were there to make it run. It just needed its plumbing sorted and a very intensive PDI.
We also had to move the battery to the engine bay, as the modified front clamshell made normal access a problem.
We left the washer bottle up front without a screen we didn't think it would matter much. That was the simple stuff.
With the sprint running, a more fundamental problem arose. Chopping off the screen had altered the Elise's weight distribution and aerodynamics. Considerably, I found out the hard way Laughs Ian I had the sprint up to about 100mph, then turned the steering wheel to go around a corner and nothing happened, it just went straight on. Luckily the brakes worked well.
Haydon's engineers found a crude but effective way of curing the problem. They stuck a standard Elise on a rig and determined it's Balancing point, then marked the same pivot point on the Sprint. With the Sprint on the rig, weight was added to the nose until it, too, balanced. The car still doesn't handle with the finesse for a standard Elise, but at least the sprint can now be driven in anger, at high speeds, Without fear of it leaving the road.
It may be an irreplaceable one off, but Ian doesn't hesitate in using it as often as possible. One day OLC caught up with him and the car, Ian had been using it to commute between his business interests in and around Salisbury, despite the very real threat of heavy rain. And he was just getting the Sprint prepared for ' a boys toys' weekend away in France.
Concept cars are rarely seen outside of motor shows and almost never on the public road. It's to Ian's immense credit that he's prepared to take a risk with the Elise Sprint and use it on a frequent basis, rather than lock it away where no one can see it, a car this wild looking mixing with everyday traffic is a sight you won't forget in a hurry.