The Technology of the Lotus Elise 111 Chassis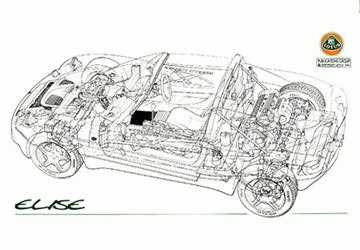 chassis:
All Lotus design, lightweight spaceframe of bonded anodized extruded aluminum with integral roll over hoop, extruded aluminium impact absorbing structure and steel galvanized rear subframe, manufactured by Hydro Aluminium Automotive Structures a.s. Seating for two.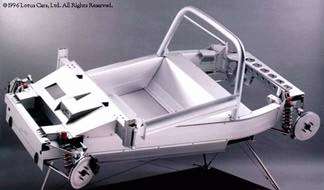 body:
Composite front and rear "clamshell" body sections with frontal safety structure.
transmission:
5 speed transaxle driving the rear wheels.
Synchro on all forward gears.
engine:
Mid-mounted in-line water cooled 1.8 litre 16 valve engine.
Double overhead camshafts with hydraulic tappets.
electronic fuel injection.

electronic engine management system.
Fuel tank capacity; 40 litres (8.8 gallon)
Fuel requirement: 95 RON minimum octane unleaded.
suspension:
rear suspension with inverted monotube damper, extruded upright, aluminium caliper
Rackham also says that the accuracy of construction and stiffness of the chassis has allowed 'a very pure suspension set-up'. The Elise has double wishbones at each end and to save money the system uses the same wishbone bush and outer hall joint for all four converse The suspension is tuneable like a racing car's and is designed to be dropped by 50mm with different dampers.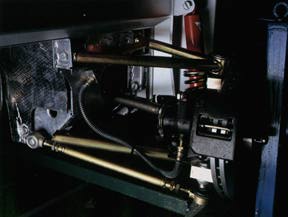 front suspension with inverted monotube damper, extruded upright, aluminium caliper
Independent by upper and lower wishbones, co-axial coil springs and inverted monotube dampers.
Extruded aluminium uprights. Trailing toe-links on rear for compliance steer control.
From Julian Thompson:
"The great thing about using extrusions is that it costs just a few thousand pounds to make a die, so the whole chassis can he tooled up for a fraction of the cost of just one conventional metal pressing. It also allowed Lotus's engineers to design each beam so that it's the perfect shape for the loads it needs to carry. The various beams are then 'harmonised' using computer technology into one unit that is uniformly stiff all oven This would be almost impossible with conventional materials."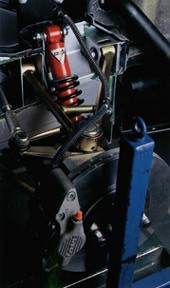 brakes:
282mm aluminium/metal matrix ventilated discs mounted outboard front and rear. Non-servo split circuit hydraulic system. Front brakes fitted with unique Lotus/AP Racing opposed piston calipers.
wheels:
Lotus design 5 spoke alloy
5 1/2J x 15 front
7J x 16 rear.
performance:
Acceleration: 0-100 km/h: 5.9 s
0-160 km/h: 16.5 s
Maximum speed (estimated): 202 km/h (126mph)
tyres:
Unique Michelin Pilot SX.
Front: 185/55R 15 Rear: 205/50R 16
fuel consumption:
Urban: 9.76 l/100 km 28.94 mpg
90 km/h 5.65 l/100 km 49.92 mpg
120 km/h 7.16 l/100 km 39.42 mpg
total CO2 (g/km) = 150
standard equipment:
Alloy wheels, 3 way catalytic converter, coded signal immobiliser, cloth trim interior, black vinyl soft-top, unique Lotus/Nardi steering wheel, STACK electronic speedo and tacho with multifunction LCD readout
optional equipment:
Metallic paint, leather trim options, radio fixing kit, spare wheel/tyre assembly, auxiliary lights, Lotus design luggage kit, coloured and black cloth soft-top, full race packages, floor mats.
warranty:
Elise is covered by a twelve month unlimited mileage factory warranty.
the fine print:
Lotus Cars Limited reserve the right to change prices and specifications at any time with out prior notice. The information contained in this leaflet does not constitute an offer or form part of a contract written or implied. Quoted power, speed and acceleration are computer estimated. Drawings may show optional equipment.
---
miscellaneous information
Here is a throttle pedal extrusion. I thought I could build the car piece by piece, and so I now own a service manual and throttle pedal. Only a few more pieces to go...
The headlamps of the new Lotus Elise are borrowed from the most popular French car of all time...the Renault4. The lights are unusual for having concave lenses and were chosen because they are 152 mm in diameter. They are made by Cibie and, although of traditional constuction, are very light.

The chassis of the Lotus Elise is largely made up of aluninium extrusions, the majority of which are straight. But the side members are curved, which is extremely difficult, and costly, to achieve with an extrusion - so much so that these two parts cost virtually as much as the rest of the chassis.
One of the reasons given for not bringing the Elise to America was because it lacks an airbag. Worse, there was little room to fit one. My wife, a mechanical engineer, receives a trade publication, Machine Design. Upon hearing the bad news, I was leafing through the September 14, 1995 issue and came upon an article, "New airbag is just as safe in half the space", seeming to solve at least one of the problems. The bag was developed by Precision Fabrics Group, in partnership with Sandia National Laboratories.