Lotus Elise: AutoCar article on the Elise Sport
updated December 1997
---
It's a grim old journey from London to Hethel, on the outskirts of Norwich. A long one, too. It takes two hours on a good run, up to four on a bad one. Plenty of time to get back in tune with the Lotus culture; that inimitable way of thinking they have up there.
Chapman may well have died young in 1982, but you can still detect a tangible sense of loyalty to the old man's philosophies from the way they do things at Lotus. They'd never have produced a car like the Elise without it, truth be told.
Even so, more than a few people have expressed doubts about the wisdom of the 190bhp Sport version of the Elise. And this morning, ambling along the A11 with the rest of Norfolk's lethargic commuter belt, on my way to drive this new megacar, I too am beginning to wonder whether Lotus might have gone over the top this time.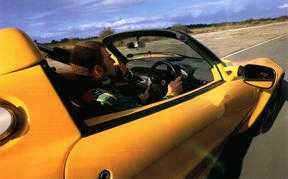 (See thumbnails pointing to more pictures in the Lotus Sport section)
After all, the regular Elise feels so right with the basic 118bhp K-series engine that it seems somewhat misguided to mix so radically with the formula. What's more, just occasionally some of us reckon we've come close to disaster in our long termer, particularly on circuits, which is exclusively where I'll be driving today.
Don't misunderstand us here. The Lotus Elise remains one of the finest handling sports cars ever, in our opinion, yet there comes a point in its handling where the back end can break away sharply if you do the wrong thing with the throttle through a fast corner. So surely a version with a titanic 61 per cent more power and a not inconsiderable 23 per cent more torque is asking for trouble in the wrong hands. Then there's that supple ride, which you'd assume would be ruined once the suspension has been tuned to cope with the extra muscle.

Maybe. Maybe not. This is Lotus, remember, the outfit that invented the very wonderful Elise in the first place. Presumably these same wizards can tweak the double wishbone suspension to perform equally smooth tricks whether it has 118 or 190bhp to deal with.

Well, let's see. The ride height has been lowered by around 15mm at the front and 10mm at the rear, while the spring rates have gone up slightly, as have the response times of the monotube dampers. There are also bigger 16in rear wheels with 225/45 Yokohama A510 tyres and beefier brakes, made out of cast iron instead of aluminium "because the regular brakes go off during track use".

Because light weight remains one of the Elise's core values, thinner body panels have been crafted to offset the extra bulk of the iron brakes, keeping the kerb weight down to 670kg, exactly the same as the claimed figure for the standard Elise.

Vitally, this means the allimportant power-to-weight ratio has catapulted from a none-tooshabby 163bhp per tonne to an eye-watering 283. Or it would have done had Lotus not fitted a new airbox to the Rover/ Caterham-developed engine, which liberates a further 10bhp from the 1.8-litre K, putting the real figure closer to 300bhp per tonne, in spite of the rollover bars behind the superb (optional) race seats and the prominent fire extinguisher down in the footwell. Not even a Ferrari 550 Maranello can match that on paper.

One of the critical reasons why Lotus believes people will flock to this car, in spite of its ludicrous L33,500 price, is that you automatically jump the Elise waiting list if you order one. The Sport bits come as a kit which can be either retrofitted to your current Elise by any Lotus dealer, or by the factory to your brand new one, which is when you jump the queue. The point is, it's not officially sold by Lotus as a complete car (even though it is one in reality). If it was, it wouldn't pass any of the new car noise emissions tests.

If that sounds iffy, worry not. It's how Caterham has been selling cars for years, enabling it to fit super-sporty aftermarket exhausts without having to satisfy the increasingly stringent demands of the government noise inspectors. In any case, Lotus believes Elise Sport owners will use their cars mostly on circuits and only occasionally on the road.

You don't need much of a noise meter to tell how loud this particular bright yellow example is. When I arrive at Hethel I can hear something heinously loud lapping the famous ex-airfield circuit. The now shelved works GT racer, perhaps, out for one last blast before being sold to a wealthy overseas customer?

But when the noise fades and then reappears a minute later, this time in digitally remastered stereo right in front of the reception area where photographer Andrew Yeadon and I are waiting, I realise which car it belongs to. And when its driver blips the throttle for one last time before turning the engine off, causing the exhaust to produce a crack-pop that sees the PR man actually duck for cover, it becomes clea] that there's an aural treat, if nothing else, in store today.

One of the problems with driving new Lotuses at Hethel is that invariably you're first taken round the track by one of their test drivers. They go sideways, but in perfect control for lap after lap, then you're expected to jump in and do the same. Which is invariably when they fall about laughing at you.
This time, at my specific request, we get stuck straight in to the photography session immediately after Matthew Becker has done his inevitable mind-blowing demonstration laps. Not only does this save me blushes but it also means I can settle into this most riotous of Elises at my own pace.
First impressions are totally unexpected. From the passenger's seat, the ride had felt little different from the regular car's over Hethel's bumpy mixture of surfaces, and now that I'm in control it's clear that the suppleness, that unique feeling of flowing in rhythm with the road surface, no matter how pockmarked it is, has been all but maintained. It's marginally firmer in feel and response, but the character hasn't changed a bit. If anything, it feels even better damped than before.
Yet I have to admit that this amazing subtlety of ride also worries me. There is a true hero's bend at Hethel called Windsock. It's one of those towering 110-120mph test track corners that promises serious trouble if you a lose a car there; it's probably one of the reasons why the Esprit is so friendly at the limit. If the surprisingly softly sprung Sport Elise does what I fear it might through here, I'm not sure what will be left of us on the other side.
So I decide to work up to it, and in the meantime it becomes clear that Lotus isn't kidding when it says this car will get to 60mph from rest in 4.4sec, 100mph in 10.7sec and do "about 150mph on a flat road".
Throttle response is blinding in any of the first four gears above 2000rpm. No question that the Lotus airbox and the careful attention paid to underbonnet cooling have paid off in the Elise's case, because the engine is much better mannered at low revs than it is in the Caterhams Seven and 21. In those cars it feels like a fullhouse race engine with only a modicum of compromise for the road. In the Elise it feels like a tractable, useable road engine that suffers from no more than a slightly inconsistent idle.
But boy does it make the 670kg Elise go. There's no specific sweet spot to the power delivery; it just sweeps the Elise forward in one long, linear scream of acceleration that starts at 2000rpm and doesn't let up until the cut-out halts the action at 8000rpm. Because fifth gear has been shortened slightly and the final drive lowered, bringing all the ratios closer together, there is always an instant explosion of acceleration on tap, seemingly no matter what gear you're in.
Yet it never quite produces the sort of performance that makes you feel physically uncomfortable. Although monumentally faster than the regular version, the Sport is always just this side of containable in a straight line despite the huge induction noise and the laughably loud crackles that erupt out of the exhausts on a trailing throttle.
After three of four gentle laps, gunning it down the straights, taking it easy through the corners, I put it to Becker that the Sport manages its power so effectively that maybe it could use even more grunt without feeling stretched. A knowing smile plays across his face and he admits that I'm not the first person to have pointed this out.
By now I'm pretty certain that I know how it'll feel through Windsock on the limit. All the same, it would be churlish not to find out for real.
It takes every ounce of determination I can muster to keep my right boot planted, to not at least stroke the brakes before turning into this evil high-speed bend. But the Elise feels so composed, so planted around the rest of the lap that by the time I arrive at the point of no return I've given up worrying about the outcome.
The front left wing dips visibly as I ease some right-hand lock on to the communicative, non-assisted helm. Almost instantly the body adopts a steady, consistent cornering attitude, with no accompanying drama from the rear. And from here on in it's (relatively) plain sailing. Yes, the rear end moves ever so slightly and the handling goes neutral for a moment in mid-corner, but never does it even threaten to go further than that.
Truth is, the Elise Sport turns out to be the absolute opposite to the over-powered monster I feared it might be. It's a wondrous car. Perhaps even friendlier than the basic version because the extra power means you have more options available when you get into trouble.
And, yes, the cast iron brakes do work beautifully, although there's still no anti-lock, which would be handy when an idiot like me stands on the pedal too hard and ploughs into a chicane sculpted from traffic cones. Nothing that a little T-Cut couldn't shift, fortunately. At least I had something different to think about on that long and tedious journey home. t)
5 NOVEMBER 1997 AUTOCAR