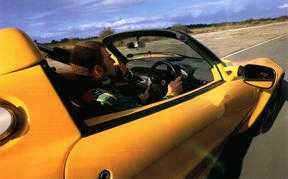 Motorsport is the root of everything Lotus. From the very first racing prototypes designed and built in the 40's by Colin Chapman, through to the development of the very best roadster on the market today, the Lotus Elise, LOTUS SPORT has been created to develop the motorsport link even further with a simple brief.
Design & develop motorsport options for use with all Lotus products that perpetuate the Colin Chapman legacy.
The first results of this brief are now ready. LOTUS SPORT have created and developed a full range of motorsport-ready options for the Lotus Elise. Every part has been designed to significantly enhance both performance and style when used in motorsport activity.
| | | | |
| --- | --- | --- | --- |
| | Green sport racing verion | | Sport as tested by AutoCar, dark magnesium wheels. |
| | engine | | dark mag wheels |
| | racing interior, removable steering wheel and extinguisher release | | Stack Instruments |
AutoCar wrote one of the first articles on the Lotus Sport in the November 1997 issue.
Option List
190 VHPD ENGINE
Part No. A111E6127S
UKP 6,450
A joint RoverSport/Lotus development of the 1.8K series engine. Designed and tested for circuit use to give a stunning 190 Bhp @ 7000 RPM and 190 Nm Torque @ 5650 RPM, revving up to 8000 RPM.
COMPETITION AIR FILTER & COLD AIR BOX
Part No. A111E0020S
UKP 400
A lightweight carbon fibre assembly developed to optimise the 190 VHPD engine's performance.
CLOSE RATIO GEARBOX
Part No. A111F0034S
UKP 1,500
Improved vehicle performance and circuit driveability through the following gear ratios:
1st 2.923 3rd 1.307 5th 0.848
2nd 1.75 4th 1.033 FD 4.2
COMPETITION DAMPERS
Part No.
A111C0116S front
A111D0089S rear
UKP 110 ea
Adjustable Koni dampers modified for circuit use and lower
ride heights.
COMPETITION SPRINGS
Part No.
A111C0099S front
A111D077S rear
UKP 45 ea
Circuit developed to higher spring rates for optimum track performance at the lower ride height.
ANTI-ROLL BAR - front
Part No. A111C0130S
UKP 204
Adjustable higher rate roll bar that fits into original mountings.
UNIBALL REAR TOE LINK ASSEMBLY
Part No. A111D0127S
UKP 150
Circuit developed suspension update designed to cope with the increased loads associated with the use of slick tyres
COMPETITION SILENCER KIT
Part No. A111S0037S
UKP 360,50
Weight saving and noise enhancement.
CATALYST REPLACEMENT PIPE
Part No. A111S0048S
UKP 61,50
Straight through pipe to replace the catalyst for competition use.
OIL COOLER KIT
Part No. A111K0037S
UKP T.B.A
Large capacity cooler system for oil temperature reduction during competition.
FIRE EXTINGUISHER SYSTEM
Part No. A111T0002S h.held UKP 30,64
Hand held or automatic plumbed in systems available.
FIRE EXTINGUISHER SYSTEM
Part No. A111T0004S plumbed
UKP 254,11
 
BATTERY MASTER SWITCH
Part No. A111M6081S
UKP 28
External emergency battery cut-off switch for competition use.
COMPETITION BATTERY
Part No. A111M6078S
UKP 110
A lightweight battery and mounting system.
ROLL CAGE
Part No.
A111A0245S LHD / A111A0246S RHD
UKP 410,97
FIA approved roll over bar with diagnoal brace for circuit use
FUEL CAP
Part No. A111L0043S
UKP 45
Non locking fuel cap.
LIGHTWEIGHT REAR LIGHTS
Part No. A111B0368S
UKP 120
Polycarbonate rear light unit.
COMPETITION DRIVER'S SEAT
Part No. A111V6034S
UKP 340
A unique FIA approved competition seat with mounting system. Provision for six-point safety harness.
COMPETITION STYLE PASSENGER SEAT
Part No. A111V6035S
UKP 305
A standard passenger seat trimmed to match the competition driver's seat.
COMPETITION SEAT BELT
Part No. A111U0376S
UKP 105
FIA approved six-point safety harness unique to the Lotus Elise.
MOTORSPORT STEERING WHEEL
Part No. A111H0022J
UKP 185
Standard steering wheel trimmed in red Alcantara to match the competition style interior.
LOTUS SPORT options are now available to order through all official Lotus Dealers.
The Sprint version is described in this memo from Lotus.
thanks to Mike for the information